These three undecided Republicans will decide if Kavanaugh gets on the Supreme Court
Reporting from Washington —
Three Republican senators likely hold in their hands Brett Kavanaugh's confirmation to the Supreme Court following last week's dramatic hearing into the allegation by Christine Blasey Ford of a decades-old sexual assault. In order for Republicans to confirm Kavanaugh without any Democratic support, they can only afford to lose one of these senators.
Here's a look at why they are undecided and which way they might be leaning: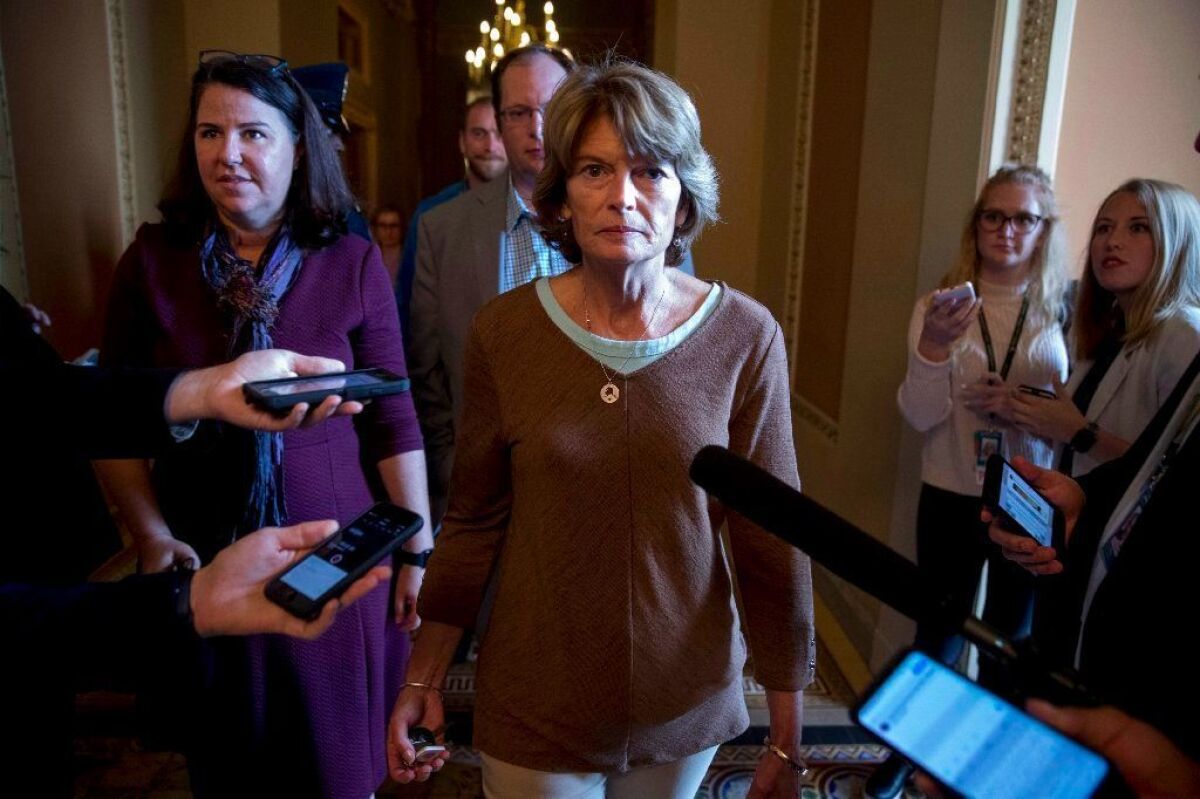 Sen. Lisa Murkowski (R-Alaska)
Concerns: Murkowski has been closely guarded about her opinions on Kavanaugh, but as one of the few Republican senators who supports abortion rights, how the judge might rule on abortion access and the future of the Affordable Care Act have been key issues for her.
But it might come down to more local concerns for Murkowski. The native Alaskan population has flooded the senator's office with calls and letters about their fears about Kavanaugh's past rulings on the environment, climate change and voting rights, as well as a case the Supreme Court is scheduled to hear this year about whether the state or federal government gets to set rules for subsistence fishing by indigenous people. Alaska's native population drove Murkowski's successful write-in campaign in 2010.
Alaska's governor and lieutenant governor, both independents, oppose Kavanaugh's confirmation, which could give her added cover as well.
Murkowski joined other undecided senators who backed Flake's call for an FBI investigation after hearing testimony from Ford and Kavanaugh.
What she has said: "It is important to have a fair process for the sake of both Judge Kavanaugh and Dr. Ford, as well as the integrity of both the judicial branch and the Senate confirmation process."
Leaning: The local pressure is likely weighing on her decision, but Murkowski has a history of being tight-lipped until she votes. Many see her as the most likely Republican to flip and vote against Kavanaugh.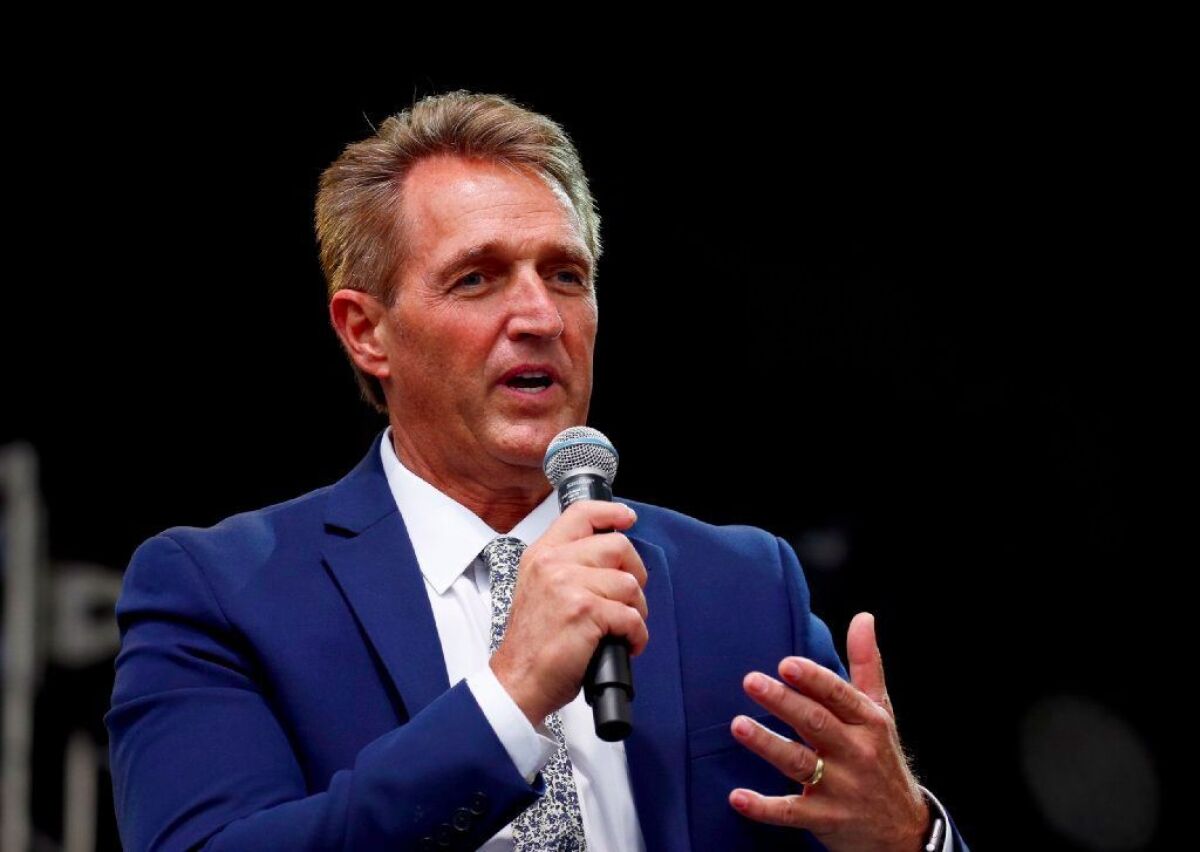 Sen. Jeff Flake (R-Ariz.)
Concerns: Flake says he supports putting a conservative jurist like Kavanaugh on the bench but he has expressed concern about the public's perception of an illegitimate process that would damage the Supreme Court's reputation. Flake is open to voting against Kavanaugh depending on what the FBI finds, he said. After huddling with Majority Leader Mitch McConnell on Friday, Flake told reporters that he has struggled with how to deal with the allegations against Kavanaugh. "It was awful. I think everybody has struggled. It's not just me. Everybody has struggled with this decision."
What he's said: "I agreed to support him before all of this came out. I wanted to support him. I'm a conservative. He's a conservative judge. But I want a process that we can be proud of. And I think the country needs to be behind it and we need a more bipartisan process. That's why this is important."
Leaning: Flake said Friday morning that he would vote yes, only to say hours later that he would withhold his support until the FBI gets a week to investigate. Unless the FBI uncovers something new, he's seen as a likely yes.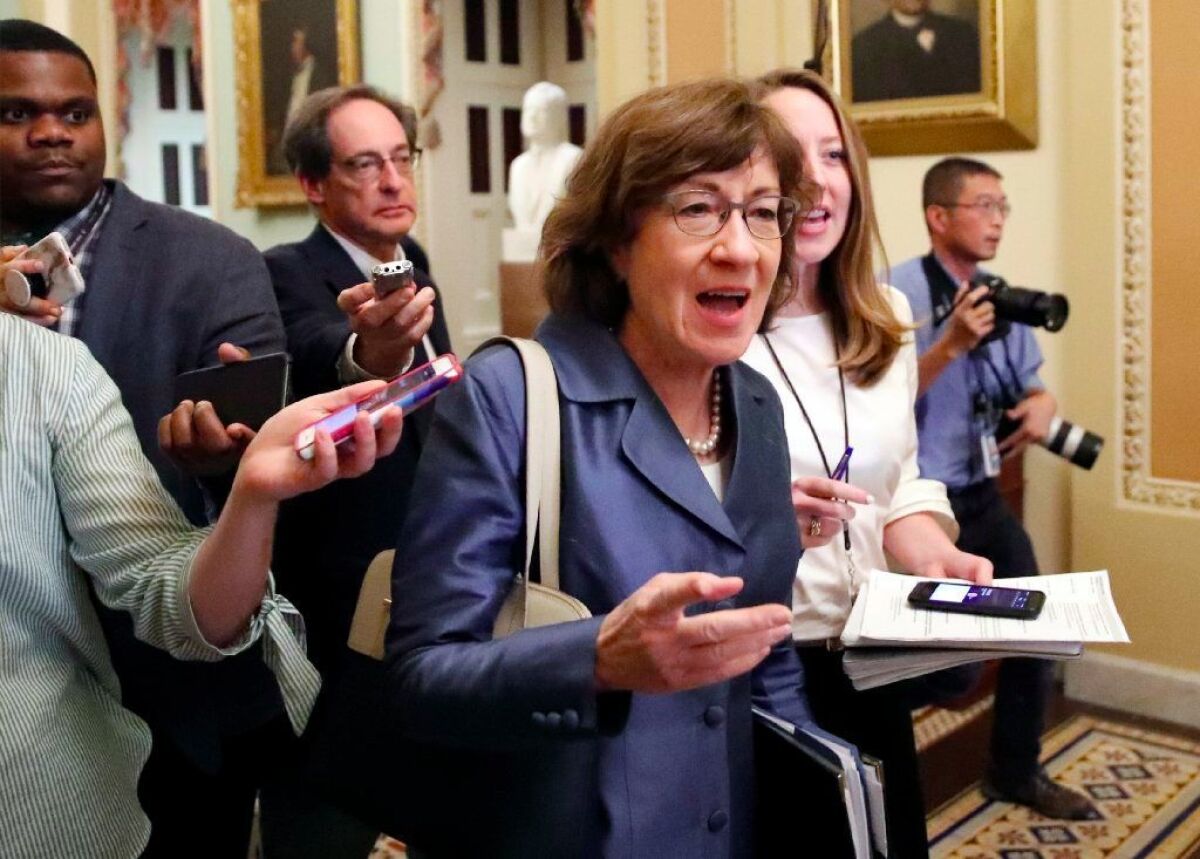 Sen. Susan Collins (R-Maine)
Concerns: Collins' initial concerns centered around whether Kavanaugh would overturn the landmark abortion ruling Roe vs. Wade or restrict access to the procedure. After meeting with Kavanaugh, Collins said she was satisfied with his answers and did not think he would overturn Roe.
When Ford's allegations became public, Collins was one of the first senators to say that she wanted to hear directly from Ford. After hearing from Ford and Kavanaugh last week, and meeting with sexual assault survivors, Collins encouraged calls for an FBI investigation before the Senate votes.
What she's said: "It is reassuring to the public," Collins told the New York Times this weekend. "It shows that Republicans want to make sure that we have all the facts to make an informed decision."
Leaning: Collins' signal that she was comfortable Kavanaugh wouldn't overturn Roe vs. Wade appeared to be a sign that she was going to vote for him. But she's made some strong comments about Ford and her testimony, making that less clear. Collins has been willing to break with her party before, and she never tips her hand until she has to.
More stories from Sarah D. Wire »
More stories from Jennifer Haberkorn »
Follow @sarahdwire on Twitter
---
Life is stressful. Our weekly mental wellness newsletter can help.
You may occasionally receive promotional content from the Los Angeles Times.