Trump sex scandals turn a harsh spotlight on this Beverly Hills lawyer
Most Beverly Hills lawyers are seldom accused of extortion.
For Keith M. Davidson, however, it's not so rare: He is fighting three civil suits by television personalities alleging extortion.
Davidson is the attorney who negotiated payments to porn star Stormy Daniels and former Playboy model Karen McDougal during the 2016 presidential race to keep them quiet about their alleged affairs with Donald Trump.
Both wound up firing Davidson and hiring new lawyers to get their nondisclosure deals voided.
The growing scandal — the president's personal lawyer, Michael Cohen, is under federal criminal investigation for his role in the payoffs — has turned a harsh spotlight on Davidson.
Affable and streetwise, he operates on the fringe of entertainment law. His niche is extracting money from celebrities for clients threatening to release sex tapes or share embarrassing stories with the media.
The upside: It can produce big payouts for attorney and client alike.
The downside: Targets sometimes file lawsuits claiming extortion. No court has found that Davidson actually extorted anyone.
In 2012, Davidson was caught up in an FBI sting operation for trying to get Hulk Hogan to pay a client $300,000 for a secretly taped video of the wrestling star having sex, law enforcement records show. Davidson met Hogan in a Florida hotel room — unaware it was wired with recording devices monitored by FBI agents in an adjacent room.
As soon as Hogan's lawyer, David Houston, handed Davidson the first installment, a phony check for $150,000, FBI agents stormed in and detained him, according to the law enforcement records.
"I was amazed that there was a lawyer actually making a living doing this," Houston said.
Davidson, who initially demanded $1 million from Hogan, was not charged with criminal wrongdoing in that case.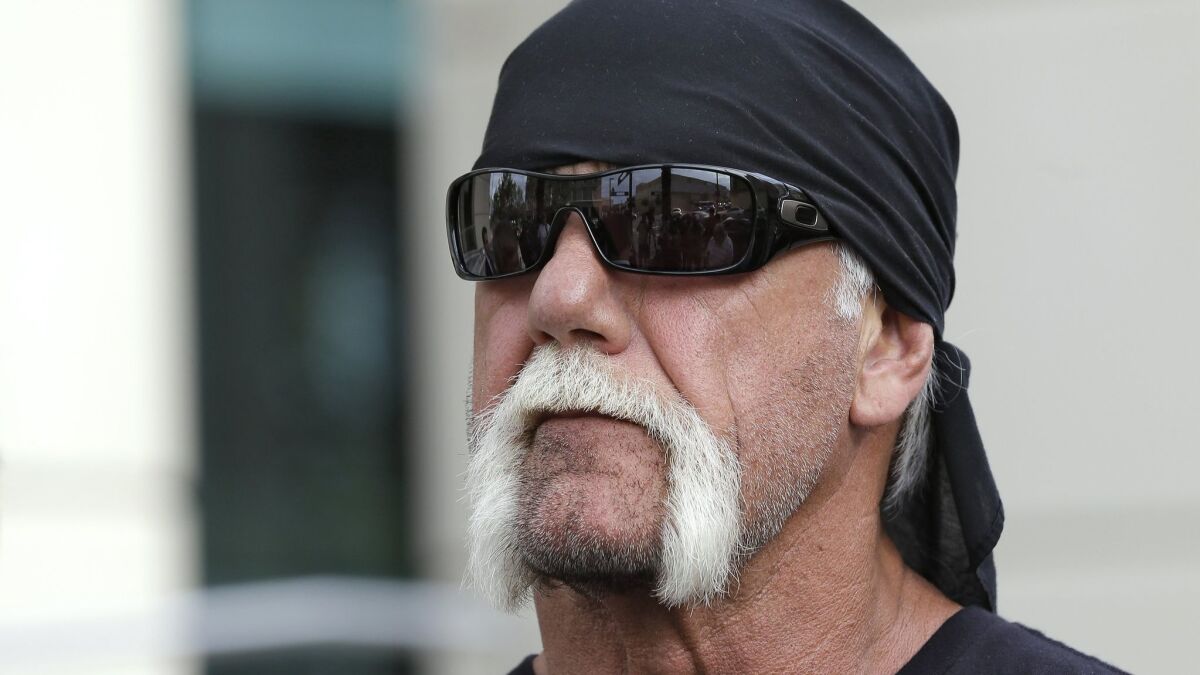 But Hogan, whose real name is Terry Bollea, has sued Davidson for extortion, violation of privacy and other claims.
Davidson declined to be interviewed, but his attorneys have dismissed Hogan's allegations as false and inflammatory.
A spokesman, Dave Wedge, said Davidson "strenuously denies any insinuations of unethical or inappropriate behavior," but can't respond to specific questions because of active legal proceedings and attorney-client confidentiality.
Trump meets his match: Stormy Daniels' combative lawyer Michael Avenatti »
"He regularly takes on — and is successful — with cases that other attorneys don't take," Wedge said. "Keith isn't afraid to take on the wealthy and powerful in order to seek justice for his clients."
Davidson, 47, grew up in Brockton, Mass., a blue-collar town just south of Boston. After graduating from Boston College, he moved to California to attend Whittier Law School in Costa Mesa. In addition to his solo law practice on Wilshire Boulevard, he has managed professional boxers, among them James Toney and Manny Pacquiao.
Davidson's law license was suspended for three months in 2010 after he admitted to professional misconduct — failing to keep a client informed of important matters in a medical malpractice case and not showing up for a court hearing, among other things.
To pick up clients in celebrity cases, Davidson has relied heavily on two L.A. sources, according to the Smoking Gun website: former porn actress Gina Rodriguez, who referred Stormy Daniels to him, and Mike Walters, former chief of the TMZ news desk.
When Daniels' story of a one-night stand with Trump first appeared on a website in 2011, Davidson got a call from Cohen, who was irate.
"It was a lot of chest pounding," Davidson told CNN. "It was a lot of 'how dare you,' and 'this is not a true story,' and 'we're going to come and get you.'"
The story was removed from the web. But when media outlets approached Daniels about Trump in the closing weeks of the 2016 campaign, she had Davidson negotiate a confidentiality agreement. Cohen set up a shell corporation that paid her $130,000 11 days before the November election.
By then, Davidson and Cohen had developed a working relationship. A few months earlier, Davidson had notified Cohen when McDougal signed her confidentiality pact with American Media Inc., the National Enquirer parent company that bought the rights to her story of an affair with Trump, which it never published.
Davidson later told CNN that his heads-up to Cohen was "a professional courtesy." But McDougal argued in a lawsuit against American Media that Davidson was secretly colluding with Cohen behind her back to protect Trump, a close friend of the tabloid company's chief executive.
Davidson denied wrongdoing. McDougal settled the lawsuit with the tabloid publisher on Wednesday.
After the election, Davidson represented another former Playboy model, Shera Bechard, who struck a confidentiality deal with a top GOP fundraiser, investor Elliott Broidy of Los Angeles.
Broidy, who is married, agreed to pay $1.6 million to Bechard, who said she was impregnated by him. His lawyer was Cohen.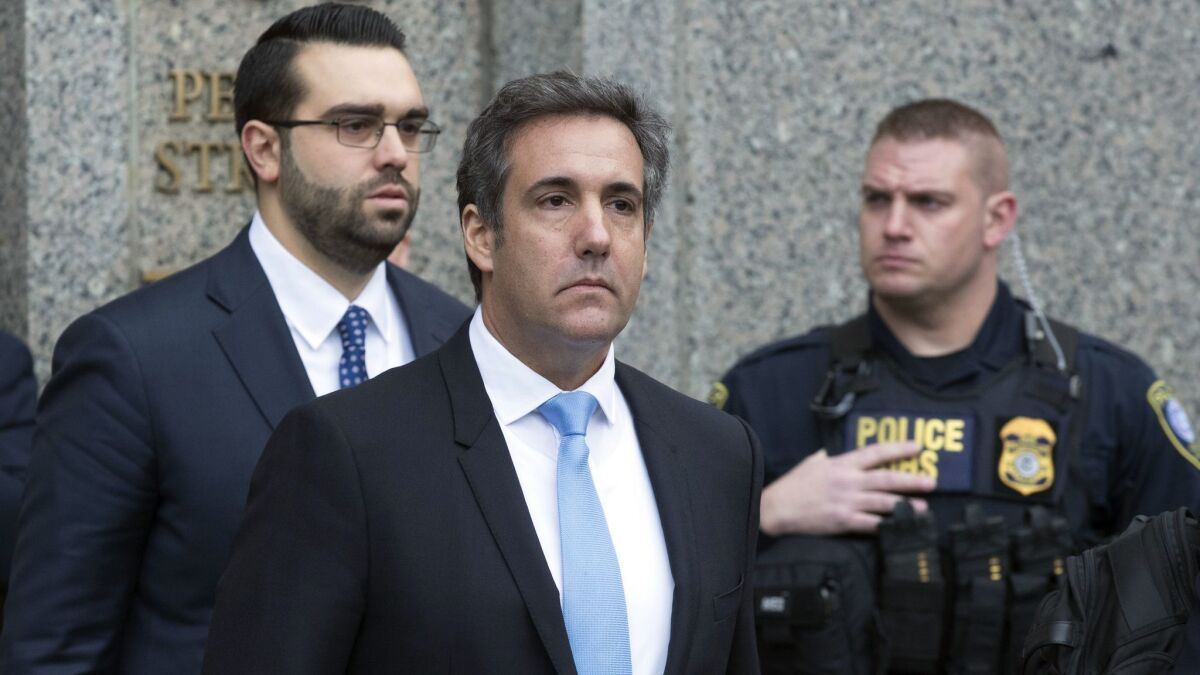 "Mr. Cohen reached out to me after being contacted by this woman's attorney, Keith Davidson," Broidy said in a statement after the Wall Street Journal revealed the arrangement. "Although I had not previously hired Mr. Cohen, I retained Mr. Cohen after he informed me about his prior relationship with Mr. Davidson."
Other Davidson cases are more contentious. Robert Herjavec, an entrepreneur on ABC's "Shark Tank," filed an extortion suit against him in November.
In 2015, Davidson and a former girlfriend of Herjavec's threatened to embarrass the TV celebrity by making public graphic details of his sex life and falsely claiming that he'd given her herpes and sexually assaulted her, the actor's lawsuit claims. Davidson and his client demanded $20 million, according to Herjavec. Davidson has not yet filed a response to the complaint.
In another suit, actor and waiter Gabriel Rueda accuses Davidson of offering him $50,000 if he would stop demanding a 2% "finder's fee" for his role in setting up the May 2015 boxing match between Pacquiao and Floyd Mayweather Jr., reportedly the most lucrative in history.
Davidson told him he would risk losing his restaurant job, acting career and life if he didn't back off, according to the complaint.
"It was coercive, threatening, extortion, intimidation, and an attempt to make me do something illegal by taking tax-free cash under the table," Rueda, who goes by Gabriel Salvador, wrote in a court declaration.
In a court statement, Davidson responded, "I did not try to extort or threaten Salvador in any way."
Davidson's attorneys, John K. Ly and Jason L. Liang, said he was just trying to negotiate a settlement of the "pie-in-the-sky demand for millions of dollars."
"While dramatic, Salvador's allegations against Davidson are pure fiction," they wrote in court papers.
In another court declaration, Houston, the Hogan attorney who worked with the FBI on the sting operation, recalled asking Davidson whether "there was some kind of celebrity sex tape industry in Los Angeles big enough to keep people like him busy."
Davidson replied that most of his targets were not celebrities, but gay people who paid hefty fees for their sex tapes because they were closeted, Houston wrote.
Davidson's attorneys responded in court that Houston's account was "patently false."
In his lone television interview since the Trump sex scandals broke, Davidson put a positive spin on his law practice.
"There are few attorneys that would go against large corporations, powerful celebrities," he told CNN. "And that's one thing that I'm known for."
Twitter: @finneganLAT
---
Life is stressful. Our weekly mental wellness newsletter can help.
You may occasionally receive promotional content from the Los Angeles Times.