Prosecutors say Manafort thought 'the law did not apply to him,' as the trial of Trump's former campaign chairman begins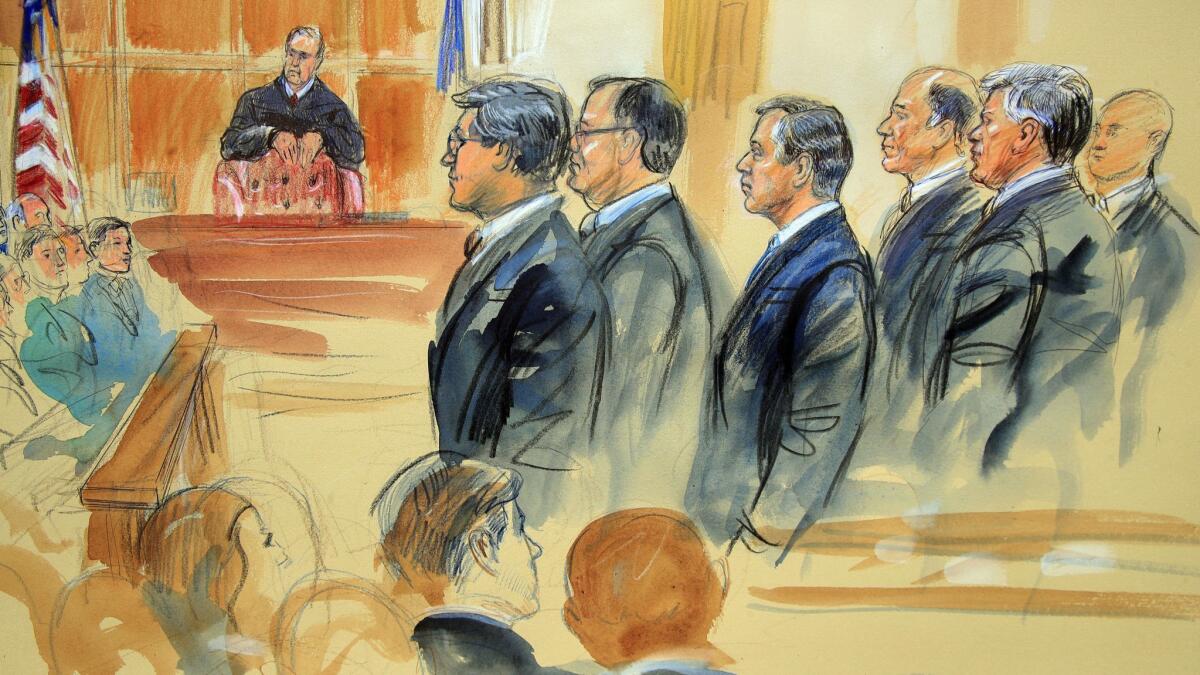 Reporting from Alexandria, Va. —
Paul Manafort's trial began Tuesday with opening statements from prosecutors and defense attorneys, the first salvos in a case that could send President Trump's former campaign chairman to prison for the rest of his life.
Manafort is the first person to face trial on charges brought by special counsel Robert S. Mueller III. He has pleaded not guilty to 18 charges of tax evasion, bank fraud and conspiracy at the federal courthouse in Alexandria, across the Potomac River from the nation's capital.
The special counsel's office has portrayed Manafort as relying on crime to fund his lifestyle of seven homes, fancy cars and a $15,000 custom jacket made from ostrich skin.
"A man in this courtroom believed the law did not apply to him," said prosecutor Uzo Asonye. "Not tax law, not banking law."
Before Manafort guided Trump's campaign through the tumultuous Republican National Convention, he made $60million working as a political consultant for Ukraine's former president, Viktor Yanukovych, according to the special counsel's office. For years, Asonye said, Manafort operated a network of more than 30 offshore accounts to evade taxes.
But when Yanukovych was ousted in 2014, Asonye said, Manafort lost his "golden goose" and turned to bank fraud to boost his income, obtaining loans by submitting false documents to financial institutions.
The prosecutor said the case would hinge not just on witnesses, but on reams of documents collected during the investigation, including some of Manafort's own emails allegedly directing underlings to facilitate his scheme.
"You don't have to take anybody's word for it," Asonye said. "You'll see Manafort in his own words."
Follow the latest news of the Trump administration on Essential Washington »
Manafort's team made clear that they would base his defense on undermining the credibility of Richard Gates, Manafort's former longtime business partner, who worked with him in Ukraine and served as his deputy on Trump's campaign. Gates has pleaded guilty to lying to federal agents and conspiring with Manafort, and has agreed to help prosecutors.
The alleged crimes, defense attorney Thomas Zehnle suggested, were either fabricated or perpetrated by Gates, whom he accused of embezzling money from the consulting firm the two men ran.
"Rick Gates had his hand in the cookie jar," he said. The only thing Manafort is guilty of, Zehnle said, is "placing his trust in the wrong person."
Before working in Ukraine, Manafort advised foreign dictators and warlords in Angola, Zaire and the Philippines — but Zehnle focused more on his experience guiding U.S. campaigns, describing him as a "talented political consultant and a good man."
Over the years, he said, Manafort "rendered a valuable service to our system of government."
U.S. District Judge T.S. Ellis III, who is overseeing the case, quickly established that he would be a forceful presence during the trial, interrupting the opening statements from both the prosecution and defense and urging them to focus on the evidence they plan to present to the jury.
When Asonye dwelt on Manafort's wealth, Ellis chided the prosecutor.
"It isn't a crime to have a lot of money," the judge said.
Earlier in the day, Ellis seated a jury of six menand six women. There are four alternates in case one of the original jurors isn't able to complete his or her service.
The Eastern District of Virginia, where the trial is taking place, has a reputation for speedy proceedings, and Tuesday morning was no exception, with Ellis taking just four hours to winnow the 60-member jury pool down to the final selections.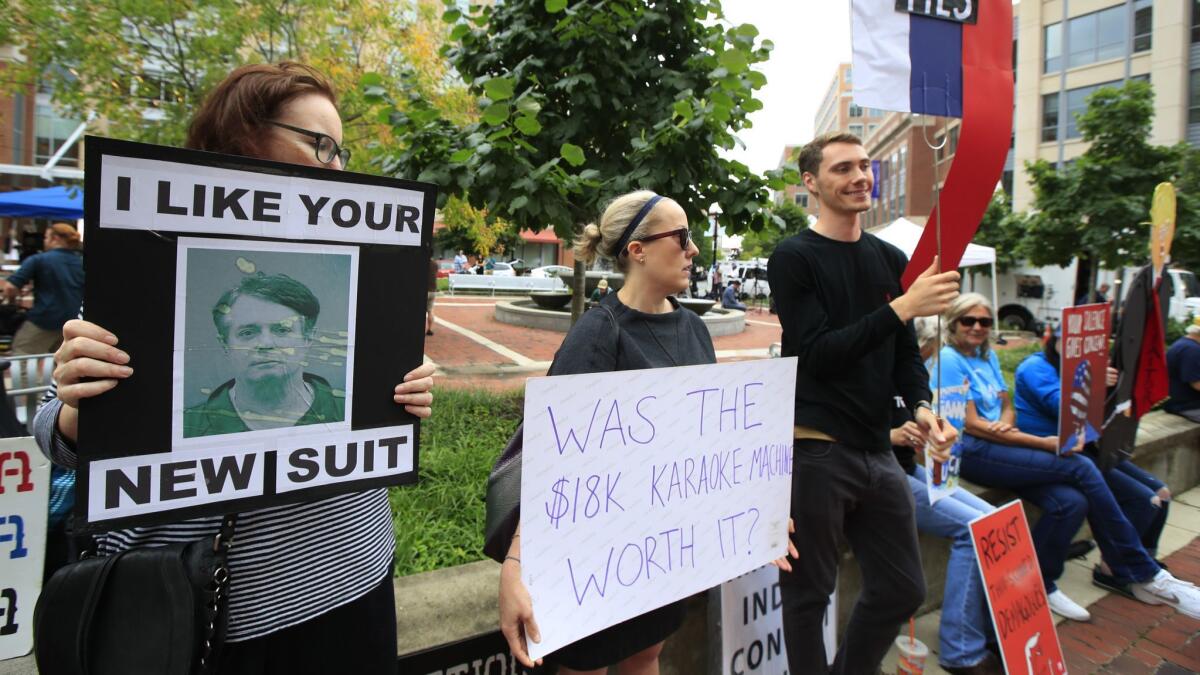 Before court opened, a small crowd of demonstrators gathered across the street from the federal courthouse in Alexandria. "Was the $18k karaoke machine worth it?" one protester's sign read, referring to one of Manafort's extravagant purchases.
"Trump wouldn't spend one second in prison for you!" another sign said.
When Manafort arrived at 9 a.m., the dark-paneled courtroom was already filled to capacity. Dressed in a dark suit and flanked by his attorneys, he appeared calm and expressionless. His wife, Kathleen Manafort, arrived just before jury selection began at 10 a.m. and sat in the front row.
Ellis kept the mood in the courtroom light, telling anecdotes and eliciting laughs from time to time as he questioned the prospective jurors.
"I know I'm predictable," he told one. "My wife says it's one of my only virtues."
As the attorneys on both sides conferred about which jurors to strike from the list, Manafort whispered to his lawyers, who wrote on legal pads and riffled through papers. Manafort took notes during the prosecution's opening statement.
During jury questioning, Ellis disclosed the names of the financial institutions with which Manafort is alleged to have had dealings. The firms were not named in court documents, but had been previously reported in the media: They are the investment banking firm Genesis Capital, Citizens Bank, Banc of California and Federal Savings Bank in Chicago.
Mueller was appointed last year to investigate whether anyone from Trump's team conspired with Russians to influence the presidential election.
The special counsel's office said it began looking into Manafort because of his connections to Russians, and it has accused one of his business partners in Ukraine of having ties to Russian intelligence. However, Manafort has not been charged with campaign-related crimes, and prosecutors have said they don't plan to present evidence of conspiracy with Russians.
Manafort's trial could last roughly three weeks. The special counsel's office has 35 witnesses who could be called to testify, as well as more than 500 pieces of evidence, including photographs and financial records.
Ellis indicated that he planned to move the trial along quickly, and he directed prosecutors to start calling witnesses immediately after opening statements.
Tad Devine, who helped guide Vermont Sen. Bernie Sanders' bid for the Democratic presidential nomination in 2016, was the first person to take the stand. He worked with Manafort on campaigns in Ukraine, and told the jury he was "deeply impressed" by the defendant's work on behalf of Yanukovych.
Under questioning from one of the prosecutors, Devine described Manafort as indisputably in charge of the operation, testimony apparently intended to undermine the defense's effort to portray him as an absent boss who wasn't closely tracking the firm's finances.
"Paul was in charge," Devine said. "Rick [Gates] worked for Paul."
Daniel Rabin, another Democratic political consultant who worked with Manafort in Ukraine, is expected to be called as the second witness when the trial resumes Wednesday.
Manafort faces another trial in federal court in Washington, D.C., next month on related charges, including failing to register as a foreign agent for his work on behalf of Ukraine.
Two of the charges, obstruction of justice and conspiracy to obstruct, were added in June, when prosecutors accused Manafort of trying to tamper with potential witnesses. A federal judge on June 15 sent Manafort to jail for violating his bail based on the evidence behind those new accusations.
Before being transferred to a detention center near the courthouse, Manafort had an unusually cushy stay behind bars at the Northern Neck Regional Jail in rural Virginia, about two hours from Alexandria, prosecutors said in a recent court filing. He didn't have to wear a prison uniform, and he had his own laptop computer to help prepare for his trial.
---
UPDATES:
3:45 p.m.: The article was updated with the first witness testimony.
2:15 p.m.: The article was updated with the opening statements of the prosecution and defense.
12:50 p.m.: The article was updated with the start of opening arguments and descriptions of the jury selection.
The article was originally published at 11:20 a.m.
Get our Essential Politics newsletter
The latest news, analysis and insights from our politics team.
You may occasionally receive promotional content from the Los Angeles Times.