White House and GOP aim for do-over of failed Obamacare repeal, but chances for agreement are slim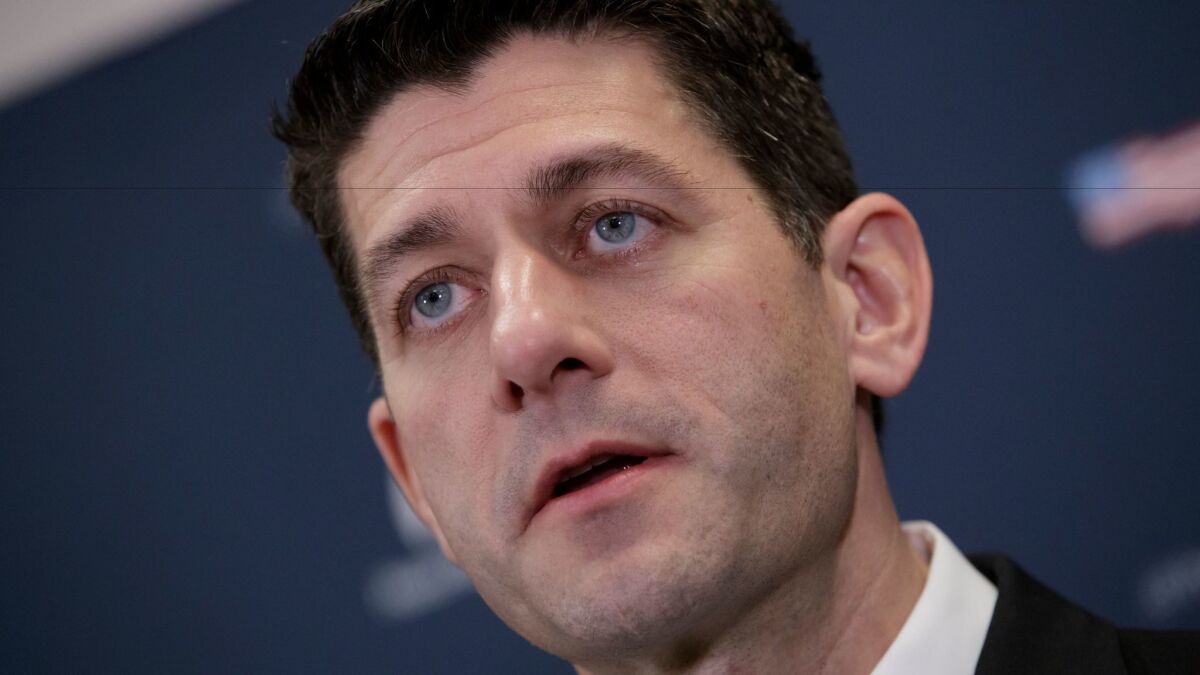 Reporting from Washington —
Frustrated with their failure to repeal Obamacare, and wary of facing voters over spring recess, House Republicans are embarking on another push to salvage President Trump's promise to replace the Affordable Care Act.
The White House is leading the effort, and Vice President Mike Pence presented lawmakers options in a flurry of closed-door meetings set to stretch late into Tuesday evening. Some Republicans say they want to stay in town this week to finish the job.
But chances remain slim that Republican leaders can build consensus among the GOP factions — the conservative House Freedom Caucus and more centrist Tuesday Group — that doomed the last effort. House Speaker Paul D. Ryan (R-Wis.) lowered expectations that a deal could be struck soon.
"Look, the president would like to see this done," White House Press Secretary Sean Spicer told reporters during an off-camera briefing Tuesday.
"I'm not going to raise expectations," Spicer said. "But I think that there are more and more people coming to the table with more and more ideas about [how] to grow that vote."
The revived effort shows the risks ahead for Trump's party after Republicans promised for years they would undo the healthcare law once they had control of Congress and the White House, only to botch it with last month's abandoned vote.
Trump lashed out in anger at the Freedom Caucus after the failed effort, tweeting criticism of the group. When he called out leaders by name in high-profile attacks, the move backfired, and others came to their defense. The result was more political infighting in the GOP.
But now, as Trump approaches the first 100 days of his presidency without the key legislative win — and GOP lawmakers head home for two weeks — they have common cause in urgently searching for a better message, or to at least show voters they have not given up.
"We've said we'll stay," said Rep. Scott Perry (R-Pa.), a Freedom Caucus member. "A lot of us have said we should stay and do it."
The new proposals being floated are mostly tweaks to the bill that Ryan engineered with other party leaders, which failed to generate enough support for passage.
That legislation, the American Health Care Act, would have resulted in as many as 24 million more Americans being without health insurance, largely by clipping federal subsidies to help some Americans buy health insurance and scaling back the expansion in some states of Medicaid for lower-income patients.
The measure that House Republican leaders championed was deeply unpopular, and even now, nearly two-thirds of Americans said it is a "good thing" that it did not pass. At the same time, 75% of Americans — and a majority of Republicans — say Trump and his administration should do what they can to make the current law work, according to new polling from the nonpartisan Kaiser Family Foundation.
Pence is presenting options that the administration hopes could win over more Freedom Caucus members without chasing away those from Tuesday Group.
The vice president met with both flanks late Monday and was back on Capitol Hill for meetings Tuesday with Ryan and other Republicans, including a large session that spilled into the evening.
"The ideas that were tossed around were not rejected out of hand," said Rep. Morgan Griffith (R-Va.), a Freedom Caucus member.
But details were still being drafted. "I don't want people to get overly optimistic," he said.
Under the proposal from the White House, the states would have the option of doing away with requirements in the healthcare law that insurers provide a minimum level of 10 "essential benefits" in policies, including those for pregnancy care, mental health treatment and other services.
Conservatives want to end those Obamacare regulations because they believe fewer rules will lead to cheaper plans — bringing costs down for consumers.
States would also be allowed to do away with the so-called "community rating," which would allow prices to rise for some patients, effectively gutting Obamacare's guarantee that people could get coverage even if they are sick. The guarantee would become meaningless if, for example, a cancer patient could not afford a health plan that covers chemotherapy.
The White House is also talking about beefed-up funding for the so-called high-risk pools that would offer coverage to sick people who could not get policies on the existing insurance market.
Many states, including California, operated such pools before the Affordable Care Act, but they proved inadequate for covering sick patients, and many were forced to limit enrollment or cap coverage.
Republicans may also revive an earlier idea, raised last month, to continue an Obamacare 0.9% payroll tax on high-income earners to produce $15 billion in revenue toward ensuring coverage for various patients.
"We're at the concept stages right now," Ryan said.
The speaker assembled about 200 votes for last month's effort, shy of the 216 needed for passage. He has largely stayed behind the scenes as the White House leads this new effort.
Democrats, who have opposed Republican attempts to gut the Affordable Care Act, will almost certainly reject these latest changes, which they argue will lead to bare-bones policies with little coverage, leaving more Americans without healthcare.
Spicer said Pence and White House Chief of Staff Reince Priebus, who have been leading the discussions, both "feel very optimistic with the tone of the conversation and the ideas that are coming out and the willingness of folks to find common ground."
But House Republicans remained hesitant to suggest a deal could be struck in the days ahead.
"It's too early to tell," said Rep. Mark Meadows (R-N.C.), chairman of the Freedom Caucus. "There's a possibility, I don't know."
"We're not there yet," said one GOP aide, granted anonymity to discuss the situation. "It's not clear any of this will result in any movement from where they are."
Staff writer Noam N. Levey in Washington contributed to this report.
ALSO
Trump voters would be among the biggest losers in Republicans' Obamacare replacement plan
How the Senate's once-revered traditions are falling victim to partisan divide
Failure of GOP healthcare bill leaves Republicans running Obamacare. That could open the way for bipartisan changes
Get our Essential Politics newsletter
The latest news, analysis and insights from our politics team.
You may occasionally receive promotional content from the Los Angeles Times.