Manafort, Trump's campaign chair, shared polling data with Russian during 2016 campaign, court filing says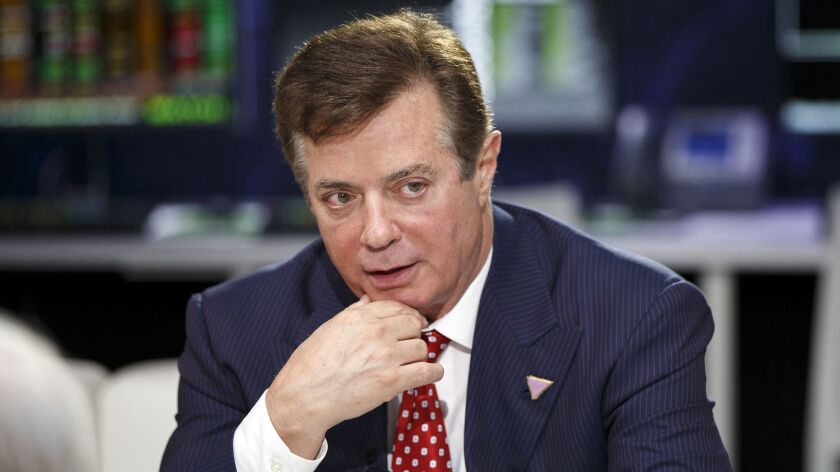 Reporting from Washington —
Paul Manafort, President Trump's former campaign chairman, apparently shared polling data during the 2016 presidential campaign with Konstantin Kilimnik, a business partner in Ukraine who allegedly has ties to Russian intelligence, according to a court filing released Tuesday.
It's unclear whether the interaction involved internal campaign data and when exactly it occurred. But the information could have provided Russians with valuable knowledge about the presidential race at a time when Moscow was undertaking a covert effort to sway the election to Trump by releasing hacked Democratic Party emails and spreading misinformation on social media.
Tuesday's disclosures add to the list of previously unknown contacts among Trump advisors and Russians, and they provide a glimpse of how Manafort could have been an important conduit for communicating with Moscow.
The revelation became public accidentally in a document filed by Manafort's lawyers. The lawyers were seeking to rebut accusations from special counsel Robert S. Mueller III that Manafort lied to prosecutors after agreeing to cooperate as part of a plea deal.
While issuing their denial, the defense lawyers recapped some of Mueller's accusations. One of the allegations was that Manafort had lied about communications with Kilimnik including "sharing polling data ... related to the 2016 presidential campaign."
Follow the latest news of the Trump administration on Essential Washington »
The detail was one of several that was supposed to be redacted from the publicly released document, but it was easily discerned by reporters and analysts. The inadvertent disclosure also revealed that Manafort and Kilimnick met in Madrid, and that on multiple occasions they discussed a possible peace plan for Ukraine, which Russia invaded in 2014.
Kilimnik worked with Manafort — who is awaiting sentencing for bank fraud, tax evasion and conspiracy — when he was advising Ukraine's pro-Russian government.
Rep. Adam B. Schiff (D-Burbank), chairman of the House Intelligence Committee, said his panel was not previously aware of the episode involving polling data and called it "deeply alarming." He questioned whether Manafort might have passed along the information to show Trump was viable as a candidate or to help Russians guide their social media efforts.
"If there was a benign explanation, why would he lie about it?" Schiff said in an interview.
Manafort's lawyers said it wasn't surprising that he failed to recall conversations that "happened during a period when Mr. Manafort was managing a U.S. presidential campaign and had countless meetings, email communications, and other interactions with many different individuals, and traveled frequently."
Jason Maloni, a spokesman for Manafort, later clarified that the Madrid meeting occurred in early 2017, after Trump was elected.
A spokesman for the special counsel's office declined to comment.
Manafort has denied any wrongdoing related to the election.
Mueller has charged 33 people in his investigation, including several of Trump's former top advisors. He has also indicted 25 Russians who worked for the Internet Research Agency, a so-called troll farm that targeted U.S. voters with inflammatory and false information on social media, or the GRU, a military intelligence agency that hacked Democratic Party emails and released them through WikiLeaks.
No Americans have been charged with conspiring with Russians during the campaign, and Trump has repeatedly denied that there was any collusion between his team and Moscow.
It was previously revealed that Manafort offered in an email to Kilimnik to provide "private briefings" about the campaign to Oleg Deripaska, a Russian oligarch with Kremlin ties.
Manafort, a veteran Republican consultant, first came under scrutiny, prosecutors said, because of his "long-standing ties" to Russians and questions about whether he might have served as a "back channel to Russia" during the campaign.
Before joining Trump's team, Manafort advised Ukrainian President Viktor Yanukovych, who was ousted in 2014. He worked with Kilimnik, who was born in Ukraine when it was part of the Soviet Union and served in the Soviet Army as a translator. Kilimnik has denied having connections to Russian intelligence, an allegation made by the special counsel's office.
As part of Mueller's investigation, Manafort was charged with evading millions of dollars in taxes on income earned in Ukraine, then obtaining fraudulent mortgages to maintain his luxurious lifestyle when his income dried up after Yanukovych was toppled.
He was jailed last June, when U.S. District Judge Amy Berman Jackson said he violated his bail by reaching out to potential witnesses in his case.
Kilimnick was charged with obstruction of justice and conspiracy to obstruct justice as part of the same scheme. He has not appeared in court to face the charges, and the indictment refers to him as a Moscow resident.
Manafort was convicted of eight counts of bank fraud and tax evasion in federal court in Virginia. He later pleaded guilty to two counts of conspiracy to avoid a second trial in Washington on related charges. According to his lawyers, Manafort met a dozen times with prosecutors and investigators and testified twice before the grand jury last fall.
His agreement with the special counsel's office collapsed, however, when Mueller accused him of lying in interviews.
Manafort's lawyers said he did not intentionally attempt to mislead the special counsel's office and "indeed, it is fair to say that mistakes and failed recollections are common."
They described the interviews as grueling.
"He was awoken before dawn, transported to the Special Counsel's offices in Washington, and interviewed for many hours (usually the entire day)," the lawyers wrote. "These circumstances weighed heavily on Mr. Manafort's state of mind and on his memory as he was questioned at length."
They also said Manafort has been suffering in jail while awaiting sentencing. Manafort is in solitary confinement "to ensure his safety," the lawyers said, and that has "taken a toll on his physical and mental health."
They said Manafort, 69, suffers from severe gout that has occasionally left him in a wheelchair, and he also struggles with depression and anxiety.
Manafort is scheduled to be sentenced on Feb. 8 in Virginia and March 5 in Washington. More legal back and forth is expected before then.
Jackson ordered prosecutors to provide more details on their allegations of lying by Monday, and Manafort's team can respond by Jan. 18. If a hearing is necessary, it will be held on Jan. 25.
Twitter: @chrismegerian
---
For reporting and exclusive analysis from bureau chief John Myers, get our California Politics newsletter.
You may occasionally receive promotional content from the Los Angeles Times.