Who's governor of California? This week, it's not Jerry Brown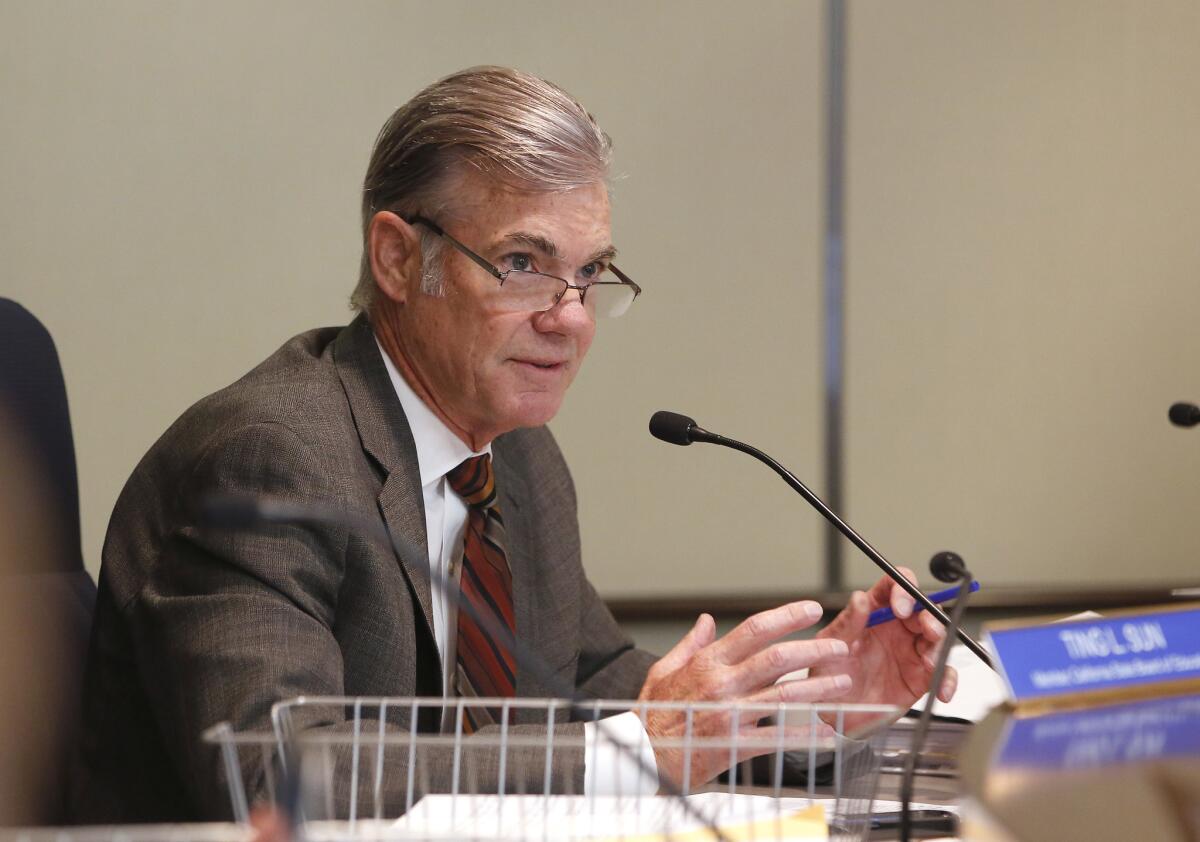 Reporting from sacramento —
Few would doubt that, in the event of a major emergency in California over the next few days, Gov. Jerry Brown would be fully engaged and directing state personnel even as he sits thousands of miles away at the Democratic National Convention in Philadelphia.
There's just one problem with that scenario: Brown, under the provisions of the California Constitution, won't be the actual governor until he ventures back across state lines.
"Don't worry, you're in safe hands," said Supt. of Public Instruction Tom Torlakson, who on Monday night became California's acting governor.
Since its first constitution was drafted in 1849, California law has dictated that a governor must be within the state borders to have the powers of the office. Half a dozen times this year, Brown has left the state and officially transferred the job of governor to someone else — in most cases, Lt. Gov. Gavin Newsom.
But Newsom also is in Philadelphia this week. As is Senate President Pro Tem Kevin de León (D-Los Angeles), the next in the gubernatorial line of succession.
As state schools chief, Torlakson is No. 9 on the list. Eight higher-ranking statewide officials, all Democrats, flew east to attend the four-day national convention.
"It's very, very rare to get anywhere past the first three," said Alex Vassar, a state policy analyst who also studies California's legislative and constitutional history.
The geographic requirement of being California's governor dates back to the state's inception in 1849, remaining untouched through successive eras of instant global communication. The state is not alone in its outmoded legal language; 19 other states also remove power from a traveling governor, although some do so only during a prolonged absence.
California Politics Podcast: Philadelphia preview, Obama endorses Harris »
At times, the law has hindered quick action. In 1965, Gov. Edmund G. "Pat" Brown was in Greece when the riots in Watts erupted, leaving a largely inexperienced lieutenant governor to lead the initial response. His son, the current governor, left California for less than two days in 1979 to find the lieutenant governor — a Republican — had appointed a presiding appellate judge. Brown quickly returned and withdrew the appointment.
No real drama has happened since then. In most cases, acting governors consult with the real governor's top staff in the event of a crisis. More often than not, acting governors issue honorary proclamations, like the one De León issued this month honoring Dodgers announcer Vin Scully.
Because the law specifies state borders, short trips can lead to a flurry of official executive authority notifications. Last August, Brown attended an environmental summit on the eastern shore of Lake Tahoe — the Nevada side — and had to, for several hours, formally cede his authority over the government a few miles away.
A bill to allow a traveling governor to remain in power, championed by the Times editorial board and others, fizzled in the Legislature 2003. In 2008, three additional state officers were added to the list of who, if needed, may serve as governor: superintendent of public instruction, insurance commissioner and chairperson of the California Board of Equalization.
"The bill had no opposition," recalled Vassar, who helped draft the proposal. "It was that much of a sleeper."
On Monday, there were three different governors by the time the sun had risen and set on the Golden State. Brown's midday departure left the reins of power in the hands of Assembly Speaker Anthony Rendon (D-Paramount), whose late afternoon flight to the East Coast meant the torch was passed to Torlakson.
"We got the memo from the governor's office," he said.
The 67-year old Democrat, a longtime state legislator, could throw the state's governing system into limbo should he leave California before Brown or others return later this week. That's because the two officials next in line, Insurance Commissioner Dave Jones and Board of Equalization Chairwoman Fiona Ma, also are in Philadelphia.
"If he leaves the state, that's the end of the line," Vassar said. "It would have to be interpreted by someone."
Torlakson's message: Don't worry.
"I'll be in Sacramento," he said in an interview Monday. "It's a different job, a different title, but it's still me."
Follow @johnmyers on Twitter, sign up for our daily Essential Politics newsletter and listen to the weekly California Politics Podcast
ALSO:
Brown, Garcetti among California Democrats speaking at the convention
Acting governor declares "Vin Scully Day"
Get our Essential Politics newsletter
The latest news, analysis and insights from our politics team.
You may occasionally receive promotional content from the Los Angeles Times.