House Democrats rally to protect Mueller after Sessions' ouster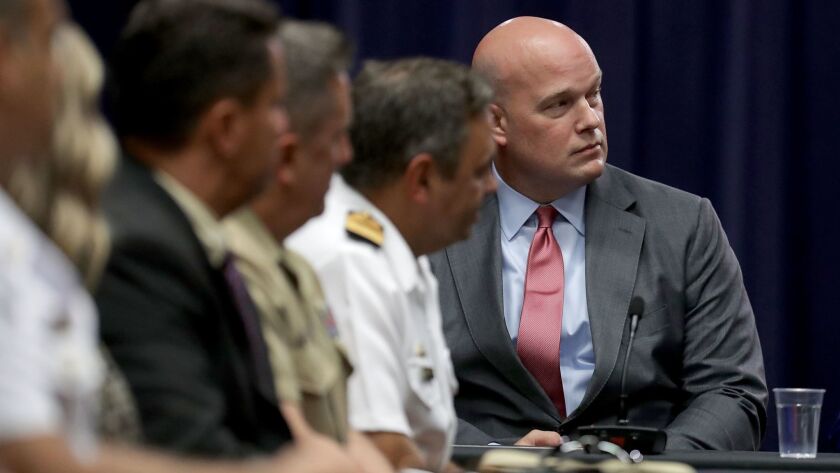 Reporting from Washington —
House Democrats scrambled Thursday to shield the special counsel investigation after the new acting attorney general, Matthew Whitaker, signaled he would not recuse himself from supervising the high-stakes probe even though he has repeatedly denounced it in public.
They vowed to revive congressional inquiries of President Trump and formally requested that senior administration officials — including FBI Director Christopher A. Wray and CIA Director Gina Haspel — preserve records involving the special counsel's office and Trump's decision to oust Jeff Sessions as attorney general.
Thousands of protesters rallied in front of the White House, in New York's Times Square and elsewhere to demand Whitaker not interfere with the Russia investigation led by special counsel Robert S. Mueller III. Many fear Whitaker will cut Mueller's budget or impede the probe in a partisan effort to protect Trump from further scrutiny.
The brewing political and legal battle erupted two days after Democrats won a majority in the House, empowering them to hold oversight hearings and demand sensitive documents, and one day after Trump named Whitaker as the interim replacement for Sessions, who was forced to resign.
"We're not as powerless as we were on Monday," said Rep. Eric Swalwell (D-Dublin), a member of the House Intelligence Committee. "We now have the authority to be a check on abuses of power."
Check out up-to-date results from the midterm elections »
House Minority Leader Nancy Pelosi, who is front-runner to become House speaker and had called for unity after Tuesday's hard-fought midterm election, tweeted that it was "impossible to read" Sessions' ouster "as anything other than another blatant attempt by @realDonaldTrump to undermine and end Special Counsel Mueller's investigation."
"Given his record of threats to undermine and weaken the Russia investigation," Whitaker should follow in Sessions' footsteps and recuse himself, she added.
Whitaker does not plan to step aside from supervising Mueller because he was not a government official when he criticized the investigation, according to a person familiar with his thinking who was not authorized to speak publicly.
Democrats, ethics experts and some former Justice Department lawyers expressed concern about Whitaker's sharp criticism of the federal investigation into Russia's interference in the 2016 election, and whether Trump or his aides cooperated with it or committed other crimes.
In June 2017, for example, Whitaker dismissed the central question that Mueller's team is trying to answer, saying in a SiriusXM satellite radio interview unearthed by the Daily Beast that "the truth is there was no collusion with the Russians and the Trump campaign."
In August 2017, Whitaker tweeted a link to an article that referred to the "Mueller lynch mob." He also penned an op-ed for CNN warning that Mueller's probe was at risk of becoming a "witch hunt," echoing Trump's language.
Mary McCord, a former national security lawyer at the Justice Department, said Whitaker's comments "would cause the ordinary person to question whether he can possibly be impartial in taking over responsibility for the special counsel investigation."
David Laufman, a criminal defense attorney and former national security prosecutor at the Justice Department, said Whitaker's appointment "raises serious and legitimate concerns about the ability of the special counsel's office to continue and complete its essential mission without political interference."
With a new target in their sights, Democrats began revving the engines on the committees they will control in the next Congress, which begins in January.
Rep. Adam B. Schiff (D-Burbank), who is expected to lead the House Intelligence Committee, says he wants to determine whether Russians have "financial leverage" over the president by laundering money through the Trump Organization.
"There's nothing the president cares more about than his wealth," Schiff said.
Another avenue of investigation, Swalwell said, is determining whether Donald Trump Jr., the president's eldest son, talked to his father after meeting with a Russian lawyer who promised dirt on Hillary Clinton during the 2016 campaign.
Trump Jr. had a phone conversation with somebody at a blocked number while arranging the meeting, but Republicans running the committee did not want to subpoena the records to determine who the person was.
The changes at the Justice Department and on Capitol Hill come at a critical time for the Russia investigation.
Prosecutors are deciding whether to charge Roger Stone, a longtime Trump associate under scrutiny for his alleged ties to WikiLeaks, the organization that released tens of thousands of hacked Democratic Party emails during the 2016 campaign.
Russian military intelligence officers stole the emails as part of Moscow's covert effort to boost Trump's candidacy, according to U.S. intelligence agencies and the special counsel's office. Stone has denied any wrongdoing or connection to WikiLeaks.
At the same time, Trump's legal team is reportedly preparing answers to written questions from Mueller's prosecutors. The two sides have negotiated for months over a possible interview of Trump.
As Mueller's new supervisor, Whitaker could impede the push for a presidential interview. Mueller would likely need to ask his permission before issuing a subpoena to compel Trump to testify before a grand jury.
Jay Sekulow, a lawyer for the president, said on his radio show Thursday that he didn't expect Whitaker's appointment to affect "day-to-day operations" of Mueller's team.
"Does it affect how we interact with the special counsel's office? No," Sekulow said.
Whitaker's appointment still could face a legal challenge.
Neal Katyal, an acting solicitor general under President Obama, and George Conway, a prominent conservative lawyer, argued that Whitaker can't serve as acting attorney general because he wasn't confirmed by the Senate, a requirement under the Constitution's Appointments Clause.
"It's illegal," they wrote in a New York Times op-ed. "And it means that anything Mr. Whitaker does, or tries to do, in that position is invalid."
Whitaker has made no secret of his dim views of the Russia investigation, or even of Deputy Atty. Gen. Rod Rosenstein's decision to appoint a special counsel after Trump fired FBI Director James B. Comey in May 2017.
"Hollow calls for independent prosecutors are just craven attempts to score cheap political points and serve the public in no measurable way," Whitaker wrote in the Hill a week before Mueller was named.
Two months later, Whitaker suggested on CNN that Trump could limit the Russia probe by replacing Sessions with someone who, instead of firing Mueller, "just reduces his budget to so low that his investigation grinds to almost a halt."
Justice Department officials are expected to seek guidance from department ethics officials about potential conflicts. It is not clear whether Whitaker has asked the attorneys to review his comments, and a spokeswoman declined to comment on the matter.
Senate Majority Leader Mitch McConnell (R-Ky.) has blocked proposed legislation intended to shield the special counsel from being fired. But a handful of Republicans called Thursday for protecting Mueller.
"It is imperative that the important work of the Justice Department continues, and that the Mueller investigation proceeds to its conclusion unimpeded," tweeted former Republican presidential nominee Mitt Romney, who was elected Tuesday as a senator from Utah.
It's unclear when Trump will nominate a permanent successor to Sessions, and the Russia probe will almost certainly become a major factor during Senate confirmation hearings.
"No new Attorney General can be confirmed who will stop that investigation," said Sen. Lamar Alexander (R-Tenn.) in a statement.
Activists launched protests they had prepared for more than a year in case Mueller is fired or the investigation is otherwise threatened. About 2,500 gathered in front of the White House at dusk, holding signs and listening to speakers warn of a "constitutional emergency" caused by Trump.
"We are going to fight like hell every step of the way. We are going to work our ass off to make sure he does not commit crimes against this country," Neera Tanden, president of the Center for American Progress, told the crowd.
"Normally I watch the news, but tonight I thought I better get down there," said Angela Schreiber of Bethesda, Md., standing in the crowd. "I'm worried. This Whitaker seems kind of frightening."
Times staff writers Eli Stokols and David Willman contributed to this report.
Twitter: @chrismegerian
Twitter: @DelWilber
---
Get our Essential Politics newsletter
The latest news, analysis and insights from our politics teams from Sacramento to D.C.
You may occasionally receive promotional content from the Los Angeles Times.