Supreme Court halts gerrymandering cases in Ohio and Michigan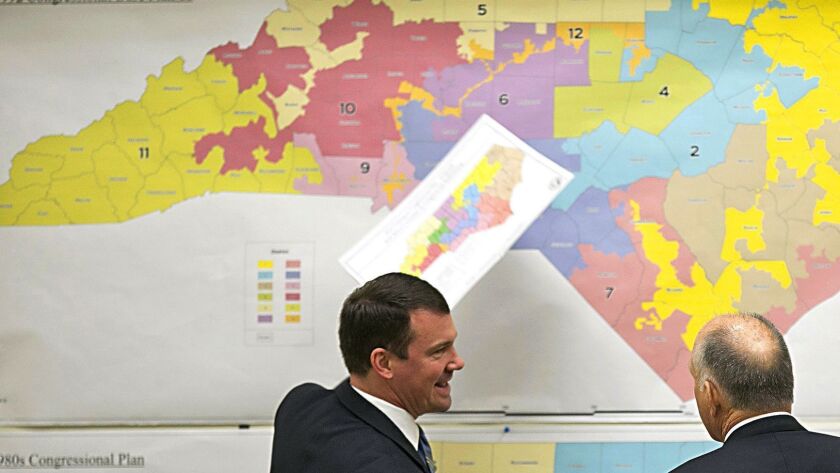 Reporting from Washington —
The Supreme Court agreed Friday to put on hold partisan gerrymandering cases from Ohio and Michigan, temporarily sparing Republican lawmakers in those states of the need to redraw congressional districts by the summer.
The high court's emergency order came as no surprise. The justices are weighing partisan gerrymandering cases from North Carolina and Maryland, and are expected to hand down rulings by the end of June. At issue is whether state lawmakers violate the Constitution if they drew an electoral map to entrench their party in power.
That ruling will determine what happens in Ohio and Michigan as well.
Federal judges in Ohio and Michigan had ordered the two states to begin immediate work on redrawing their electoral maps, but the Supreme Court suspended those rulings in a pair of brief orders. There were no dissents from the justices.
The court's conservatives, led by Chief Justice John G. Roberts Jr., have been skeptical of authorizing judges to decide whether politics played too much of a role in drawing election districts.
But three-judge panels in Ohio and in Michigan chose to address the issue head on this spring, and they struck down the GOP maps in those states on the grounds they were drawn to ensure Republicans would win a large majority of the seats.
In Ohio, Republicans regularly won 12 of the state's 16 congressional seats, even when the voters were evenly divided between the parties.
In a May 3 ruling, the judges in the Ohio case issued a 301-page opinion and said Republican leaders "manipulated district lines in an attempt to control electoral outcomes." In doing so, the GOP leaders violated the 1st Amendment by discriminating against voters based on their political views, the ruling said. A separate three-judge panel said the same about Michigan's election map, which helped the GOP win nine of 14 seats.
The skewed maps worked as planned last year in Ohio and North Carolina, despite a Democratic wave in the November elections. None of the congressional seats switched parties in those two states, although one North Carolina race has yet to be resolved.
To the surprise of the lawyers representing Ohio and Michigan, the judges refused to put their rulings on hold pending the outcome of the case in the high court. Ohio lawmakers were given a deadline of June 14, and Michigan's were told they must have a new map by August.
The lawyers for both states filed emergency appeals with the Supreme Court on May 10, urging the justices to put their cases on hold pending the rulings on partisan gerrymandering.
---
Get our Essential Politics newsletter
The latest news, analysis and insights from our politics teams from Sacramento to D.C.
You may occasionally receive promotional content from the Los Angeles Times.