Trump's emergency declaration hits Senate roadblock; House Democrats signal new probes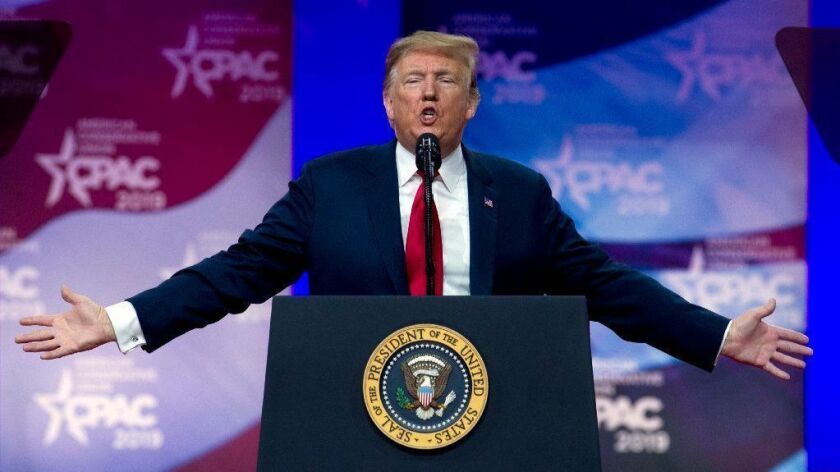 Reporting from Washington —
President Trump's relations with Congress took a sharp turn for the worse Sunday as his emergency declaration for a border wall hit a roadblock in the GOP-controlled Senate, and House Democrats signaled a sweeping new probe of whether the president obstructed justice and abused his power.
Taken together, the restiveness in both chambers signals a rocky two years ahead for Trump, even as he seeks to move past a bruising week. He returned home empty-handed from a summit with North Korea's leader, and his former personal lawyer, testifying before Congress, painted a devastating portrait of criminality and bad character on the president's part.
The setback to Trump's emergency declaration, which the House has already voted to challenge, came in the form of a reported decision by Kentucky Republican Sen. Rand Paul to become the fourth senator on his side of the aisle to commit to voting for a Democratic-backed resolution to rescind Trump's declaration. That would be enough to allow the resolution to pass the Senate, assuming all Democrats support it.
Trump, angry that Congress refused to provide him with border wall money, said he will veto the measure. He says the emergency declaration will enable him to divert money from the military and other government programs to build a wall.
While neither chamber appears to have mustered a veto-proof majority, the show of opposition to Trump's solution for fulfilling his signature campaign promise to build a border wall would represent a stinging rebuke from his own party.
The report of the latest GOP defection on Trump's controversial emergency declaration came Sunday from the Bowling Green (Ky.) Daily News, which said Paul — a staunch Trump backer in many key battles — planned to join three other Republicans who have already pledged to block the declaration.
If Paul and the others follow through, it would force Trump to wield the first veto of his presidency and represent a rare break with his party on a key issue.
The newly empowered Democratic House, meanwhile, signaled Trump faces new scrutiny on several fronts. The head of the House Judiciary Committee, Rep. Jerrold Nadler (D-N.Y.), said his panel would open a probe into whether the president obstructed justice and abused his power.
Nadler, interviewed on ABC's "This Week," sketched the broad outlines of a sweeping investigation that would seek documents from dozens of organizations and individuals, including the president's eldest son and his closest business associates.
"Tomorrow, we will be issuing document requests to over 60 different people and individuals from the White House to the Department of Justice, Donald Trump, Jr., to [Trump Organization Chief Financial Officer] Allen Weisselberg, to begin the investigations to present the case to the American people about obstruction of justice, corruption and abuse of power," Nadler said.
On impeachment, however, the New York Democrat cautioned against any rush to judgment. "Before you impeach somebody, you have to persuade the American public that it ought to happen," Nadler said on the ABC show.
Trump tweeted Sunday that he was an "innocent man being persecuted," and renewed his attacks against investigators, the news media and his former personal lawyer Michael Cohen, who last week publicly implicated the president in an array of wrongdoing.
In dramatic televised testimony on Capitol Hill, Cohen said Trump ordered a hush-money payment to adult-film actress Stormy Daniels in an effort to prevent details of their alleged affair from emerging before the 2016 vote. He also said he believed Trump knew in advance of a WikiLeaks dump of emails damaging to Hillary Clinton.
Cohen's high-profile appearance before the House Oversight Committee coincided with Trump's trip to Vietnam for a summit with North Korean leader Kim Jong Un, from which he returned empty-handed.
On Sunday, Trump's national security advisor, John Bolton, painted the summit as a success and defended Trump for saying he took Kim "at his word" that the North Korean leader was unaware of the maltreatment that left captive U.S. student Otto Warmbier with irreparable brain damage.
Warmbier, a 22-year-old University of Virginia student, died days after being returned home in 2017 in a comatose state.
"When he says, 'I'm going to take him at his word,' it doesn't mean that he accepts it as reality — it means that he accepts that was what Kim Jong Un said," Bolton said on "Fox News Sunday."
In a separate TV appearance, though, the national security advisor carefully sidestepped his own views on Kim's culpability. Critics, including Warmbier's parents, Fred and Cindy, said after the summit that they hold the North Korean leader responsible, because almost nothing of import happens in North Korea without his assent.
"My opinion doesn't matter," Bolton said on CNN's "State of the Union" when pressed by host Jake Tapper on whether he thought Kim bore the blame.
While Bolton was defending Trump's performance in Hanoi, the president's allies pushed back hard against accusers who say Trump improperly interfered in the Russia investigation being carried out by special counsel Robert S. Mueller III.
One of Mueller's areas of investigation is whether the president obstructed justice. "It's very clear that the president obstructed justice," Nadler said on ABC.
That prompted an angry outburst from the House minority leader, Rep. Kevin McCarthy, who appeared on the same show.
"I think Congressman Nadler decided to impeach the president the day the president won the election," the Bakersfield Republican said.
But McCarthy appeared to break ranks with Trump when asked during the interview whether North Korea had "murdered" Warmbier with its leader's knowledge.
"I think Kim knew what happened, which was wrong," he said.
Another public rebuke of Trump from within GOP ranks on Sunday came from Rep. Justin Amash of Michigan, who disputed Trump's wall emergency. "I think the president is violating our constitutional system," he told CNN's "State of the Union."
In the Senate, Sens. Lisa Murkowski of Alaska, Susan Collins of Maine and Thom Tillis of North Carolina have also said they would vote for the Democrats' measure to rescind the emergency order. Several other GOP senators have voiced serious concerns.
Congressional Republicans, though, have largely marched in lockstep with Trump over the Russia-related investigations by Mueller and congressional Democrats, even as another key Democratic committee chairman pledged heightened efforts to determine whether Russia had gained leverage over Trump through his web of financial interests.
Rep. Adam B. Schiff, the Burbank Democrat who heads the House Intelligence Committee, said his panel would be looking into how Trump managed to secure bank loans at a time when he was being shunned by Wall Street. Schiff also said his committee would follow up on Cohen's assertion that Trump continued his efforts throughout the campaign to secure a deal to build a tower in Moscow, and lied about doing so.
"We'll need to talk to some of the banks that have been doing business with Mr. Trump…like Deutsche Bank, which has had a history of laundering Russian money," Schiff said on CBS' "Face the Nation."
The committee would soon be calling in Trump Organization officials and longtime Trump associate Felix Sater to ask them about the Moscow project and related matters, he said.
"There are any number of witnesses that can shed light on whether America's national security is compromised because the president has been pursuing financial interests with the Russians," Schiff said.
But Republicans insisted nothing Cohen had said gave them pause about Trump's business entanglements, or about his campaign's knowledge of Russia's activities in the run-up to the election.
"I don't think the president has lied about Russia at all," said Rep. Jim Jordan of Ohio, the ranking Republican on the House Oversight Committee, who played a prominent role in attacking Cohen as a liar during last week's hearing. Cohen has pleaded guilty to lying previously to Congress.
---
Get our Essential Politics newsletter
The latest news, analysis and insights from our politics teams from Sacramento to D.C.
You may occasionally receive promotional content from the Los Angeles Times.