Trump's immigration plan draws harsh reviews from left and right, and some conservatives label him 'Amnesty Don'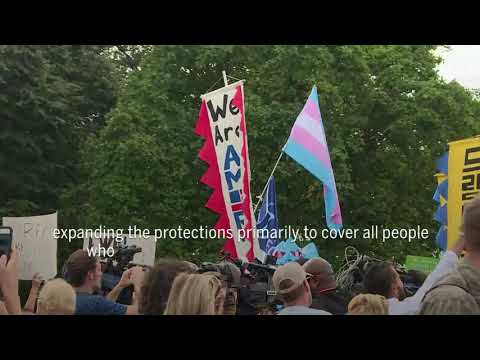 President Trump is testing the loyalty of his most ardent conservative supporters, proposing a pathway to citizenship for 1.8 million young immigrants who came to the U.S. illegally as children, while demanding that Democrats support $25 billion for
Reporting from Washington —
President Trump is testing the loyalty of his most ardent conservative supporters, proposing a pathway to citizenship for 1.8 million young immigrants who came to the U.S. illegally as children, while demanding that Democrats support $25 billion for border security, including his proposed border wall, and strict new limits on legal immigration.
The 1.8-million figure would go well beyond the nearly 700,000 immigrants currently covered by the Obama administration's Deferred Action for Childhood Arrivals program, expanding the protections primarily to cover people who were eligible for DACA but did not apply.
The White House designed that element of the plan in hopes that it would provide a strong enticement for Democrats, who offered little sign of support on Thursday.
But the plan quickly generated opposition from some Republican conservatives.
"Amnesty comes in many forms, but it seems they all eventually grow in size and scope. Any proposal that expands the amnesty-eligible population risks opening Pandora's box," said Michael A. Needham, the head of Heritage Action for America, an influential conservative group. "That should be a nonstarter."
And even before details of the plan emerged, blowback was building among parts of Trump's base.
"Immigration Shock: Amnesty Don Suggests Citizenship for Illegal Aliens," read a headline on Breitbart News, the conservative, nationalist website once run by Trump's former strategist, Stephen K. Bannon.
At the same time, advocates for immigrant rights warned Democrats against taking Trump's bait and accepting restrictive changes to the immigration system in return for legalizing the so-called Dreamers, a group that polls show has broad support among Americans.
"This is the play being run from the White House: 'You guys are desperate for Dreamer relief. We want most of our agenda and a little bit of yours,'" said Frank Sharry, executive director of the immigrant advocacy group America's Voice.
The White House proposal, overall, would reduce legal immigration by 50% by sharply limiting which family members can be sponsored by new citizens and permanent legal residents, Sharry said, adding that the move would "destroy what has been the cornerstone of our immigration system."
The American Civil Liberties Union called the White House plan a "hateful, xenophobic immigration proposal that would slash legal immigration to levels not seen since the racial quotas of the 1920s."
Greisa Martinez Rosas of United We Dream, one of the leading Dreamer groups, called the plan "a white supremacist ransom note."
The heated warnings from both left and right illustrated how the immigration issue can create tension within both parties.
A bipartisan group of Senate moderates hopes those tensions will lead both sides to accept a compromise, arguing that both Democrats and Republicans need to give ground. Yet the internal divisions, especially among Republicans, have repeatedly scuttled past legislative efforts on the issue.
The new proposal emerged as Trump met with global leaders in Davos, Switzerland, leaving aides back in Washington to catch up after he unexpectedly announced an emerging immigration plan to a group of reporters Wednesday evening.
The announcement came when Trump crashed a meeting that White House Chief of Staff John F. Kelly was about to have with reporters. The president staged an impromptu 15-minute news conference at which he said he had just written "something out" that included a path to citizenship for Dreamers that would take 10 to 12 years.
"If they do a great job, I think it's a nice thing to have the incentive of, after a period of years, being able to become a citizen," Trump said.
Leniency for the Dreamers must come along with border security upgrades and changes in other aspects of immigration law, including family-unification and diversity visas, Trump said.
On Thursday, Kelly visited Capitol Hill to describe the administration's emerging proposal to lawmakers. Later, White House officials sent Republican leaders a one-page description of the new plan and briefed reporters on it.
Senate Majority Leader Mitch McConnell (R-Ky.) offered a tepid response to the proposal.
"I am hopeful that as discussions continue in the Senate on the subject of immigration, members on both sides of the aisle will look to this framework for guidance as they work towards an agreement," he said in a statement.
Other Republican senators who back restrictions on immigration, led by Sen. Tom Cotton (R-Ark.), endorsed the White House proposal.
Democrats were mostly negative.
"President Trump and Republicans will not be allowed to use Dreamers as a bargaining chip for their wish list of anti-immigrant policies," California's Sen. Dianne Feinstein wrote in a Twitter statement.
Sen. Richard J. Durbin (D-Ill.), who has been a leading Democratic advocate for Dreamers, said in a statement that "the White House claims to be compromising" but the plan "would put the administration's entire hardline immigration agenda — including massive cuts to legal immigration — on the backs of these young people."
A bipartisan group of senators has been meeting daily in the office of Sen. Susan Collins (R-Maine) in the rush to develop legislation ahead of a self-imposed Feb. 8 deadline.
Collins told reporters that she had discussed the issue with Trump earlier in the week and urged him to protect Dreamers.
"I told him I thought a path to citizenship was the right way to go for these young people who were brought to this country through no decision of their own, and that we also did need to beef up border security because of the flow of drugs into this county that have ravaged so many communities," she said.
"He listened very carefully," she added.
White House officials hope the president's plan will help shape the bill in the Senate, pushing it in a direction acceptable to Trump's supporters. A broad Senate vote in favor of the bill along with Trump's backing would send a strong signal to the House, where the GOP majority has shown less interest in a bipartisan immigration deal, and a significant faction of Republicans are hostile.
Hard-line conservative Republicans in the House have grown adept over the years at outmaneuvering their leadership on immigration. In 2013, given their opposition, House GOP leaders didn't even consider a bipartisan immigration reform bill that passed the Senate 68 to 32.
Yet Republicans have an incentive to try to reach a deal, even though a path to citizenship for Dreamers would be a reversal for many in the party. They want to avoid a scenario in which the popular DACA recipients are detained and forced to leave the country while the GOP has control of Congress and the White House.
"On the Republican side, there's a clear understanding they want to deal with DACA," said Sen. Mike Rounds (R-S.D.), a former governor.
Beyond the path to citizenship, the White House plan includes a list of provisions that would shift the immigration system in a more conservative, restrictionist direction.
Trump wants the current diversity visa lottery, which is geared toward people from countries that do not send many immigrants to the United States, replaced with a system that has slots for certain nationalities or a skill requirements.
He also wants to limit the family members that citizens and permanent residents can help resettle in the U.S. Under the proposal, citizens and permanent legal residents could sponsor their spouses and nonadult children. Current law allows them to sponsor parents and, in some cases, siblings and adult children.
The White House would apply the new limits on family unification prospectively, continuing to process a backlog of hundreds of thousands of visa applications, many of which have been pending for more than a decade.
The proposal would also put $25 billion in what the White House referred to as a "trust fund" that could be used for building walls or fences along the southern border as well as for other security purposes.
But lawmakers said the White House must provide more guidance on the other aspects of an emerging deal, especially because they could take fire from the party's restrictionist wing. They recall Trump's promise at the White House earlier this month to take the "heat" on the issue.
"I think the president has to lead here," said Sen. Shelley Moore Capito (R-W.Va.). "He says he's willing to take the flak. No matter what you do, you're going to have flak."
And some remained opposed to any deal that would legalize the status of the Dreamers.
"It would be a serious mistake for Congress to pass legislation that provides amnesty or a path to citizenship for those here illegally," Sen. Ted Cruz (R-Texas) told reporters.
"It is utterly inexplicable we see Republicans falling all over themselves to gallop to the left of Obama in a way that is contrary to the promises that we made to the voters who elected us," he said.
Twitter: @ByBrianBennett
Twitter: @LisaMascaro
---
UPDATES:
7:15 p.m.: This article was updated with additional reaction.
5:30 p.m.: This article was updated with additional reaction.
This article was originally published at 4:55 p.m.
Get our Essential Politics newsletter
The latest news, analysis and insights from our politics team.
You may occasionally receive promotional content from the Los Angeles Times.