Lawsuit alleging that President Trump's business dealings violate the Constitution is allowed to proceed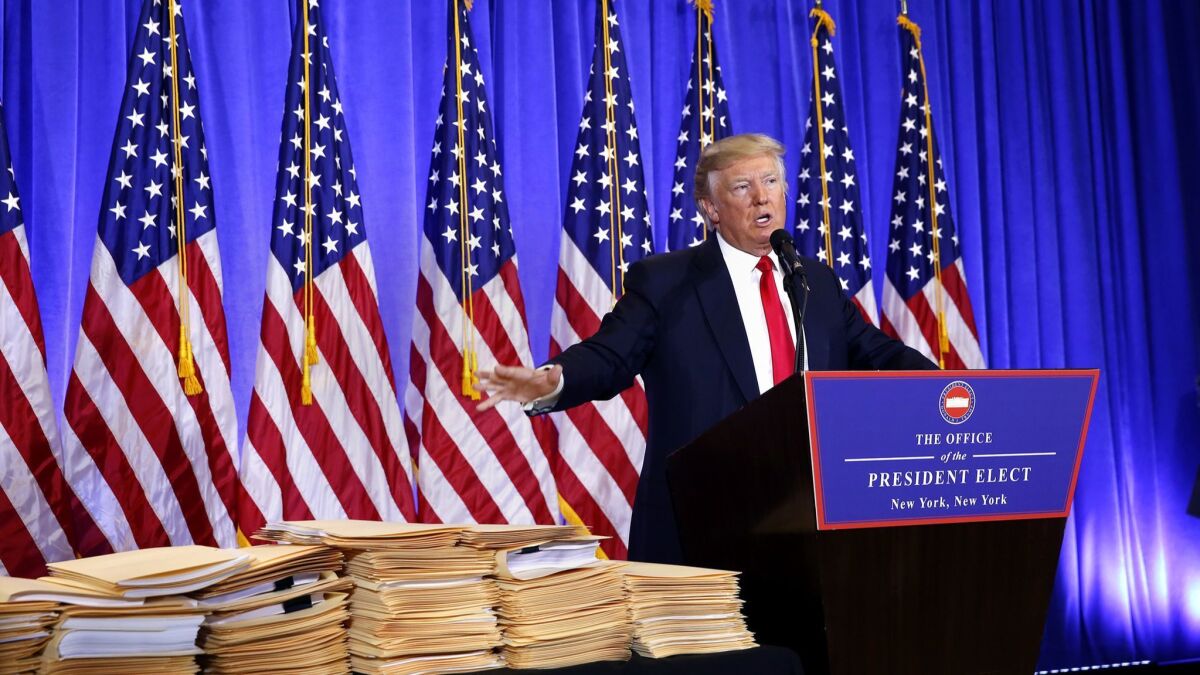 Washington Post
A federal judge on Wednesday rejected President Trump's latest effort to stop a lawsuit that alleges Trump is violating the Constitution by continuing to do business with foreign governments.
The ruling, from U.S. District Judge Peter Messitte in Greenbelt, Md., will allow the plaintiffs in the case — the attorneys general of Maryland and the District of Columbia — to proceed with their case, which says Trump has violated the Constitution's little-used emoluments clause.
The plaintiffs now want to interview Trump Organization employees and search company records to determine which foreign countries have spent money at Trump's hotel in downtown Washington.
The Justice Department and Trump's attorneys did not immediately respond to requests for comment. They could try to appeal the decision to a higher court and ask Messitte not to allow the attorneys general access to Trump Organization employees and books until the appeal is decided.
The lawsuit, filed last year by D.C. Atty. Gen. Karl Racine and Maryland Atty. Gen. Brian Frosh, both Democrats, cleared an initial hurdle in March. Back then, Messitte settled one legal question, ruling that the plaintiffs had legal standing to sue the president in the first place.
He also limited the scope of the case to Trump's Washington hotel; previously, the plaintiffs had also wanted to search for foreign-government spending at other Trump properties as well.
The next unsettled question: What exactly is an emolument?
That is a question that has remained unanswered for more than 200 years.
The Constitution bars federal officials from taking emoluments from any "King, Prince, or Foreign State." The Founding Fathers' intent had been to stop U.S. ambassadors overseas — emissaries from a new, poor, fragile country — from being bought off by jewels or payments from wealthy European states.
But the modern meaning of the clause has not been settled because most presidents — acting on the advice of their attorneys — had steered clear of business entanglements while in office.
Trump, on the other hand, has kept ownership of his business empire, including more than 10 hotels and golf clubs around the world. Although Trump has said he gave up day-to-day management of his businesses, he still owns them and can withdraw money from them at any time.
Some of his customers have been foreign governments. In particular, the Trump International Hotel on Pennsylvania Avenue in downtown Washington — just blocks from the White House — has rented out large ballrooms to the embassies of Kuwait and the Philippines and hosted visiting leaders from Malaysia and Romania.
At the hearing in June, the plaintiffs had argued that when applied in a modern context, the Constitution's ban on emoluments should ban transactions such as those.
They said that emolument in this case should not just mean an outright gift but also any transaction that gave Trump "profit, gain or advantage." That means it would apply to transactions in which a foreign government paid Trump's company for a service or a hotel room.
But Justice Department attorneys, defending the president, said that this definition twisted the Constitution's original meaning.
They said the president is not breaking the law when foreign officials book rooms or hold events at his Washington hotel because they are paying for something and not giving Trump a gift.
If the plaintiffs are allowed to conduct "discovery" at Trump's hotel — examining its books to identify its foreign customers — that could require the president to provide more detailed information about his personal finances. Trump broke with presidential tradition when he refused to make public his tax returns.
The plaintiffs in this case said last month that, through the discovery process, they would try to gain access to Trump's tax returns, which detail the functions of his businesses as well as his personal spending.
Before Trump took office, his company said it would donate all "foreign profits" collected by the business to the federal treasury. At the end of last year, the Trump Organization said it donated $151,470 in February. But it declined to explain the details behind that number — giving no information about which countries those profits came from or what the Trump Organization's total revenue from foreign governments had been.
In a separate lawsuit, 200 Democrats in Congress asked a U.S. district judge to force Trump to seek congressional approval before accepting emoluments. The judge in that case has not ruled on the merits of the suit.
---
Life is stressful. Our weekly mental wellness newsletter can help.
You may occasionally receive promotional content from the Los Angeles Times.