Trump moves to sharply restrict asylum, as major immigration issues head toward Supreme Court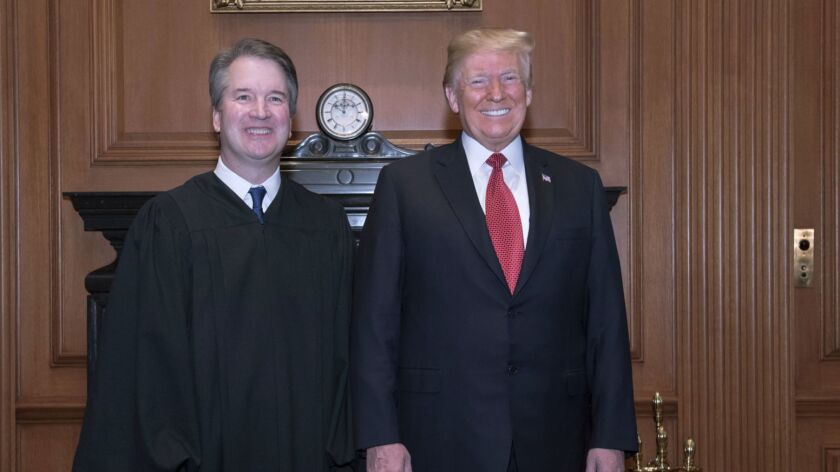 Reporting from Washington —
The Trump administration announced a major new effort to restrict people from claiming asylum at the U.S. border, setting up a legal battle over the president's authority over immigration.
The announcement Thursday came only hours after the 9th Circuit Court of Appeals ruled against President Trump in another high-profile immigration dispute — this one involving treatment of the so-called Dreamers, young people brought to the U.S. illegally as children.
Immigrant rights groups promised to challenge the new asylum rules as soon as they go into effect, calling them a clear violation of U.S. law.
Administration officials expect both cases to be headed to the Supreme Court this spring. That would test the willingness of the court's newly reinforced conservative majority to back up the president on his signature issue.
The new asylum rules, the latest salvo in Trump's effort to shut off the flow of people, mostly from Central America, crossing into the United States from Mexico, aims to bar ten of thousands of claims for refuge filed each year.
The rules would seek to deny asylum to the vast majority of those who cross the border illegally rather than at a designated port of entry.
Roughly 97,000 people in the fiscal year ended Sept. 30 claimed they had a "credible fear of persecution" — the legal test for asylum — and surrendered to the Border Patrol, according to government statistics. Most entered illegally, rather than at the official entry ports, which in the last year have often had huge backlogs.
Although most eventually lose their asylum claims and are deported, about 6,000 people in the last year won asylum cases.
The 9th Circuit ruling involves the fate of nearly 700,000 young people who have been shielded from deportation by an Obama-era program known as DACA, for Deferred Action for Childhood Arrivals.
Trump has been trying for more than a year to end DACA, despite claiming sympathy for the young people involved. He has repeatedly been stymied in court. The latest ruling marked the first time that an appeals court has ruled on the issue.
The 3-0 ruling, in a case brought by the University of California on behalf of students covered by DACA, upheld a decision by a federal judge in San Francisco that in January halted Trump's order. Issuing a nationwide decree, the judge said the president and his top advisors failed to set out a legitimate reason for revoking the Dreamers' shield.
In his announcement last year, Trump said he was ending DACA because then-Atty. Gen. Jeff Sessions determined that President Obama had exceeded his authority in setting up the program. The appeals court said that Sessions was wrong.
Obama's order was "a permissible exercise of executive discretion" that allowed the Department of Homeland Security to "devote much-needed resources to enforcement priorities such as threats to national security, rather than blameless and economically productive young people with clean criminal records," appeals court Judges Kim McLane Wardlaw, Jacqueline H. Nguyen and John B. Owens wrote.
Trump ultimately could rescind DACA, but the decision cannot rest "solely on an erroneous legal premise," they added. All three judges are Democratic appointees.
Although the administration lost in court, its lawyers will be happy to have a ruling. They've been eager to get the issue before the Supreme Court, where they are confident they will prevail.
The president has also been looking forward to a Supreme Court test of the DACA issue. Asked at his news conference Wednesday whether he thought that the administration and Congress could work out a deal on the issue, he said that would come only after court action.
"We could have done some pretty good work on DACA," he said. "But a judge ruled that DACA was OK. Had the judge not ruled that way, I think we could have made a deal. Once the judge ruled that way, the Democrats didn't want to talk anymore. So we'll see how it works out at the Supreme Court."
If the court follows its normal schedule, the justices could grant the administration's appeal on the issue in January, hear arguments in April and issue a ruling by late June.
By then, the justices could also be facing a test of the administration's new asylum rules.
Under U.S. law, anyone who claims a credible fear of being persecuted in his or her home country has a right to an asylum hearing. Those who ultimately are granted asylum can live and work in the U.S. legally.
Trump has made the asylum system a central political issue, claiming repeatedly this fall that caravans of thousands of migrants from Central America are forming an "invasion" of the U.S. He has suggested, without evidence, that some of the people in the migrant caravans could be terrorists.
Reporters who have traveled with the caravans have found thousands of bedraggled people, many of them women and children, fleeing violence and other conditions in their home countries that many describe as desperate.
Administration officials have been telling reporters that they expect legal challenges to the new rules and that while they might lose cases in the lower courts, they expect the Supreme Court to rule on their side.
Officials say that many migrants are being coached by smugglers to say the "magic words" that trigger an asylum hearing, knowing that the wait for a hearing can be from six months to years in some cases. Although government data show that most migrants show up for their hearings, many don't, and administration officials say the system is being abused.
In a joint statement Thursday, acting Atty. Gen. Matthew Whitaker, whom Trump appointed Wednesday, and Homeland Security Secretary Kirstjen Nielsen cited the same legal authority for clamping down on asylum claims that Trump relied on for his controversial ban on travel from several mostly Muslim countries.
"The president has the broad authority to suspend or restrict the entry of aliens into the United States if he determines it to be in the national interest to do so," the statement said.
"Our asylum system is overwhelmed with too many meritless asylum claims from aliens who place a tremendous burden on our resources, preventing us from being able to expeditiously grant asylum to those who truly deserve it," it continued.
The new rules are expected to take effect late Friday after an official proclamation by Trump, officials said.
Currently, those who claim asylum outside ports of entry are interviewed by an asylum officer and released with a court date if they are determined to have a credible fear of persecution.
Under the new rules, people who are caught crossing illegally will still have the right to claim asylum but will be given a negative determination in most cases unless they can show they are victims of torture or meet a higher standard for proving persecution. They can then be scheduled for removal from the country within 20 days.
Asylum applicants will still have a right to an appeal, according to an administration official who was not authorized to speak about the policy on the record. That could allow some to receive asylum, but officials expect the vast majority will be deported.
Adults arriving alone will be prosecuted for illegal crossing, the official said. That's a misdemeanor for which the sentence is typically time already served awaiting trial.
The administration has been trying to get criminal convictions on the record of as many illegal border crossers as possible. People who have been convicted once and are later caught crossing illegally again are subject to felony prosecution and a heavier sentence.
Adults who are caught crossing with children will not be prosecuted, but will also receive a negative decision on most asylum claims, officials said.
Immigration advocates said Thursday that those moves violate long-standing U.S. law and international treaties that give those fleeing persecution a right to have their claims heard.
"U.S. law specifically allows individuals to apply for asylum whether or not they are at a port of entry. It is illegal to circumvent that by agency or presidential decree," said Omar Jadwat, director of the ACLU's Immigrants' Rights Project.
Jodi Goodwin, an immigration attorney based in south Texas who has handled asylum cases for two dozen years, said the administration's new approach "will mean an awful lot of people being processed at the ports of entry, which is fine if our government actually processes people — which is not what they have been doing."
Immigration advocates say the U.S. and Mexican governments often have closed access to the entry points, creating delays that can last weeks, with potential asylum applicants stranded in dangerous territory.
Trump began his day at the Supreme Court where he watched as new Justice Brett M. Kavanaugh took a ceremonial oath in the courtroom. Trump also visited briefly with eight justices to take photos.
Missing was Justice Ruth Bader Ginsburg, 85, who fell in her chambers on Wednesday. She went to a hospital during the middle of the night. She had three fractured ribs and was "admitted for observation and treatment," the court said in a statement.
Twitter: DavidGSavage
Times staff writer Molly Hennessy-Fiske in McAllen, Texas, contributed to this report.
---
Get our Essential Politics newsletter
The latest news, analysis and insights from our politics teams from Sacramento to D.C.
You may occasionally receive promotional content from the Los Angeles Times.