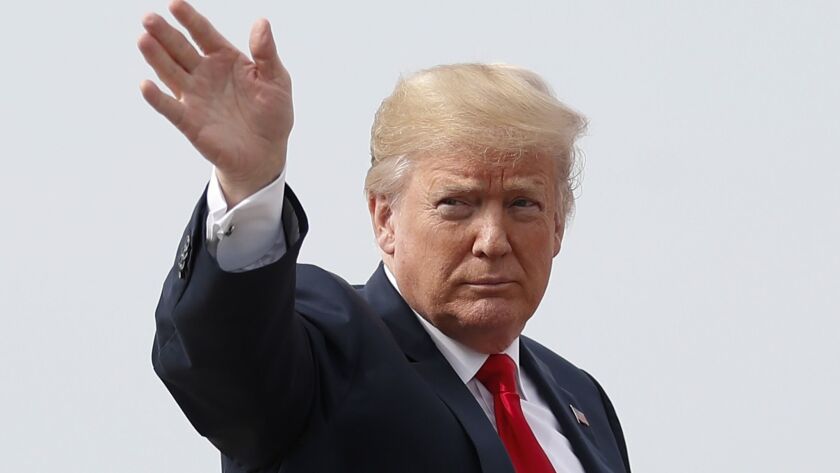 Reporting from Washington —
With bright lights illuminating the middle-of-the-night darkness on the tarmac and a gigantic U.S. flag as a backdrop, President Trump strode toward waiting cameras with three Americans newly freed from prison in North Korea. He gushed that North Korean leader Kim Jong Un "really was excellent" to them. He joked to reporters that their appearance "probably broke the record for television ratings at 3 o'clock in the morning."
The theatrics continued hours after that arrival celebration at Joint Base Andrews, Md., outside Washington. With a morning tweet, Trump announced that "the highly anticipated meeting between Kim Jong Un and myself will take place in Singapore on June 12th," adding details that the president had teased out for weeks.
Americans are now accustomed to Trump's penchant for turning domestic policy battles and global disputes into media narratives, complete with heroes, villains, moments of high tension, happy endings and, of course, a star — himself. But the first reality television host to assume the role of president is treading new ground in dealing with North Korea, an isolated, nuclear-armed foe that has used brutal tactics against its own people as well as foreigners to keep the Kim dynasty's grip on power.
Otto Warmbier, a college student who was the last American to leave captivity in North Korea, came home in June in a coma from his apparent tortures and died a week later. Kim's release this week of the remaining, seemingly healthy U.S. citizens held prisoner — a goodwill gesture in advance of the summit — was celebrated by Americans across the political spectrum, with even some of Trump's toughest critics giving him some credit.
While Trump paid tribute to Warmbier at Andrews, he did so without indicting Kim for the young man's treatment — or for the imprisonment of the three men beside him. He left it to one of the three captives, Kim Dong-chul, to briefly describe the forced labor he endured.
The celebration was at odds with past administrations' lower-key receptions for Americans released from foreign prisons.
Bill Richardson, a former congressman, New Mexico governor and United Nations ambassador, twice brokered the release of prisoners from North Korea. He recalled that both instances attracted broad media attention but that neither time were he and his party greeted by a president upon their return.
Trump's tarmac fete was reminiscent of the televised Rose Garden victory party he hosted with House Republicans last year after they voted to repeal President Obama's healthcare law. The string quartet and self-congratulations proved premature — predictably, many said. The measure died in the Senate.
Similarly, Trump's celebratory words and optimistic predictions for the upcoming summit — "I think it will be a big success," he told reporters as he left for a political rally in Indiana on Thursday afternoon — belied the fact that, just as with healthcare, the harder negotiations are ahead.
"Collectively, this raises even higher expectations for the summit," Richardson, a Democrat, said in a telephone interview from Madrid.
Richardson said he believes that many of the administration's efforts leading up to the summit have been positive, including the talks between Kim and Secretary of State Mike Pompeo and Trump's entreaties to China, North Korea's patron, to join in wielding economic pressure. But he said he worries that Trump's propensity to wing it with world leaders, and to set unrealistically high expectations, will leave him at a disadvantage with North Koreans, who prepare relentlessly for such meetings and know exactly what they want to achieve.
"The potential danger is the president's own style of tweeting and insults and hyping everything," Richardson said, "going from 'Rocket Man' to 'honorable man,' hyping the hostage release. It was a decent gesture, but the reality is the North Koreans have been [capturing] these detainees for years, using them as bargaining chips."
Trump, more than any president in memory, has treated foreign policy as a battle of individual personalities rather than competing national interests, according to security specialists and former government officials. He has tended to regard interactions with other leaders as individual transactions, often divorced from broader strategic concerns and the imperative to draft longer-term deals.
"It is impossible to separate his own sense of self from anything he does on the world stage," said Suzanne Maloney, deputy director of the foreign policy center at the Brookings Institution, a think tank in Washington.
Such an approach is dangerous, she said, not least with an autocrat like Kim. If Trump invests too much in an outcome without understanding the risks, implications and fallout, Maloney said, "it's a recipe for disaster."
"If he sees himself as the only relevant actor," she added, "he will be a bull in a china cabinet."
Trump's showmanship was on similar display in the run-up to his withdrawal this week from the 2015 Iran nuclear deal, forged by Obama with the leaders of Germany, Britain, France, China and Russia, as well as Iran. Before Trump withdrew, German Chancellor Angela Merkel, French President Emmanuel Macron and British Foreign Minister Boris Johnson all traveled to Washington to make a final case to Trump for the accord.
The European leaders "were all humiliated, frankly," said Barbara Slavin, an expert on Iran at the Atlantic Council, a foreign policy center.
"Donald Trump sat back and enjoyed as they entreated him to stay within this deal," she said. "President Trump toyed with them like a cat with a mouse, and then simply did what he intended to do anyway."
Even as Trump has damaged relations with allies by his rejection of multinational deals on Iran, trade and climate change, he has delighted many of his core supporters and crowed to them of "promises kept." His dealings with North Korea have won him broader support. A Pew poll released Thursday showed that a large majority of Americans, 71%, approve of his negotiating with North Korea over its nuclear program; just 21% disapprove.
Americans are closely split over whether they think North Korea is serious about negotiating. Nearly half, 49%, say the leadership in Pyongyang is not serious about addressing concerns regarding its nuclear program, compared with 38% who believe it is serious. Unlike most issues, there's very little partisan division over how Americans view Kim's seriousness.
That unity is in contrast to how Americans regarded dealing with Iran in 2015, when Republican skepticism of Obama offset Democratic optimism for the deal, dragging down the overall support level.
Even as foreign policy experts are largely supportive of Trump's diplomatic efforts toward North Korea, they worry he has not prepared the American public for what promises to be a long slog that could take years of negotiations.
Presidents Clinton and George W. Bush tried and failed to persuade North Korea to abandon its nuclear program, and Pyongyang cheated on the deals it did agree to. Negotiations for the Iran deal began while Bush was president and took a decade of negotiations to complete, under Obama.
North Korea is likely to frustrate the administration more than once as the process moves along. Kim sees nuclear weapons as central to his survival. While Trump has said he wants North Korea to abandon its arms and nuclear infrastructure, Richardson said that the administration should count it as a victory to win inspections that would allow Americans to catalog North Korea's nuclear arsenal.
Alexandra Bell, an expert in arms control, said, "He needs to know the asks and red lines, stick to the plan and react to what's put on the table. You have to be very disciplined."
She said the North Koreans will attempt to take advantage of Trump's ego and his need to be seen as the victor. The danger is that Kim might make an offer that could be detrimental to the United States, Bell said, and Trump accepts it in his eagerness to make a deal.
"The president's done well to get this far," said Nicholas Burns, a former career diplomat who served presidents of both parties. He noted that Kim and Trump were threatening to blow each other up as recently as the fall.
"The challenge here is: Will the president have the strategic patience?" Burns said. "Because this is not going to be a one-day summit and the future of North Korea is going to be resolved."
Follow the latest news of the Trump administration on Essential Washington »
Twitter: @noahbierman
---