Why Trump's Playboy Playmate sex scandal is just another ho-hum day in his presidency
Most politicians would have been swallowed up in scandal after new details emerged Friday of an alleged affair — with a Playboy Playmate, no less — that occurred the same weekend of a reported dalliance with a porn star.
Not Donald Trump.
In eight pages of handwritten notes published by the New Yorker, 1998 Playmate of the Year Karen McDougal recalled having sex with Trump in 2006, a few months after his wife, Melania, gave birth to their son, Barron.
McDougal said one of their sexual encounters took place at the same Lake Tahoe golf tournament where porn actress Stephanie Clifford, known as Stormy Daniels, says that she, too, had a tryst with Trump.
The president denies both affairs, but the women received money to keep the matters quiet.
Americans have known for years about Trump's history of adultery, most famously his 1989 cheating on his first wife, Ivana, with his soon-to-be second wife, Marla Maples.
He won the presidency despite accusations of sexual harassment or assault by more than a dozen women, along with an "Access Hollywood" audiotape of Trump boasting that his star power allowed him to grab women by their genitals.
"If you assume someone is a devoutly religious, family-values person, something like this will absolutely destroy their reputation and level their career," said Lara M. Brown, who runs the Graduate School of Political Management at George Washington University.
"If, on the other hand, you believe this is who they are going in, which, if you heard the 'Access Hollywood' tape or listened to interviews with Howard Stern, then this is more confirmation of your belief and your expectations."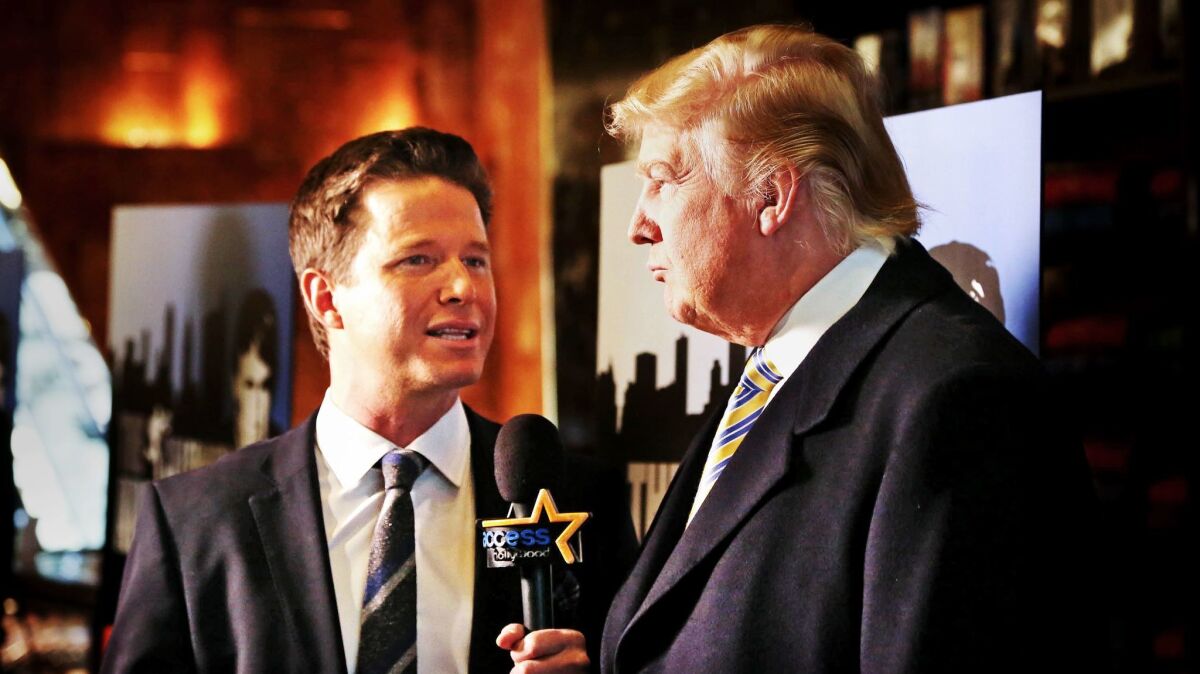 Also, Trump's checkered New York business career — bankruptcies and alleged real estate swindles, among other things — inoculates him from some of the harm that a more conventional politician might suffer as details emerge on the hush money received by McDougal ($150,000) and Clifford ($130,000).
"His business reputation is not necessarily one of high character," said Brown, an expert on political scandals.
Still, Trump is weathering a rough patch in his presidency, and the McDougal distraction is no help.
The White House's apparent overlooking of domestic abuse allegations against former senior Trump aide Rob Porter could worsen Republicans' troubled standing among women at a time when the #MeToo movement threatens to fuel GOP setbacks in November's midterm election.
McDougal, who confirmed the authenticity of her notes in an interview with New Yorker writer Ronan Farrow, said she was speaking out in part because of the #MeToo movement.
"Every girl who speaks is paving the way for another," she told the magazine.
Trump and McDougal met at a pool party at the Playboy Mansion, where Trump was taping an episode of his television show, "The Apprentice," McDougal wrote in the notes. Their affair lasted nine months, she said.
The New Yorker article, citing previously undisclosed texts, emails and legal records, elaborates on a Wall Street Journal report in 2016 about a deal requiring her to keep quiet about the alleged affair.
It included the $150,000 payment to McDougal from American Media Inc., publisher of the National Enquirer, which never printed her story about Trump. David Pecker, chairman and CEO of AMI, is a close friend of the president.
In the supermarket tabloid world, suppressing a story as a favor to a friend or gossip source is known as "catch and kill."
The National Enquirer published harshly critical articles on Hillary Clinton, but not Trump, during the presidential campaign. AMI denies paying anyone to protect Trump from damaging stories.
McDougal's comments appeared to buttress the accounts of two other women who said Trump pursued them for sex in the early years of his marriage to Melania Trump. Both cases have sparked legal action against the president.
Trump lawyer Michael Cohen told the New York Times this week that he used "personal funds to facilitate a payment of $130,000" to Clifford just before the November 2016 election. In return, Clifford reportedly agreed to keep quiet about the alleged affair.
The nonpartisan watchdog group Common Cause has filed a Federal Election Commission complaint saying the payment was an illegal campaign contribution, which Cohen denies.
Like Clifford, McDougal says she had sex with Trump at the American Century Celebrity Golf Championship in Lake Tahoe in July 2006.
The other woman, Summer Zervos, a former contestant on "The Apprentice," has accused Trump of trying to force himself on her in 2006. She filed a defamation suit against him after he called her a liar.
All three women say their interactions with Trump included encounters in a bungalow at the Beverly Hills Hotel. All three also say they were escorted to the bungalow by Keith Schiller, a longtime Trump bodyguard who left his job in September as the director of Oval Office operations and deputy assistant to the president.
Kathleen Hall Jamieson, a University of Pennsylvania expert on politics and media, said the McDougal and Daniels cases were likely to have minimal political impact on Trump, whose most loyal supporters have ignored all manner of controversial statements and behavior by the president.
"Both instances in the news right now are consensual," she said. "So it's easy for voters to say, 'That's Melania's concern, not the voters' concern' unless there are legal implications, which could be violating the campaign finance laws."
Scott Basinger, another expert on political scandal, suggested Trump is also shielded by the us-versus-them tribalism of the country's politics and the support of Christian conservatives who might have been expected to respond with outrage, or at least disappointment, at his sordid conduct.
"They've said pretty explicitly that they're going to give him a mulligan on his personal life and anything that happened before he became president is not of interest to them," said Basinger, who teaches at the University of Houston.
"As long as people believe he can deliver judges like Neil Gorsuch" — Trump's nominee to the U.S. Supreme Court — "they're willing to overlook everything else."
Whether the first lady is willing to overlook reports about her husband's sex life is another matter.
On Friday, Melania Trump broke with protocol and did not walk with her husband across the South Lawn to Marine One, driving separately to Joint Base Andrews for the flight to Florida.
She canceled her recently scheduled trip with the president to Davos, Switzerland, declined to ride in his limo from the White House to the Capitol for the State of the Union address and has been seen swatting his hand away from hers — fueling chatter on the state of their marriage.
Twitter: @finneganLAT
Twitter: @markzbarabak
---
UPDATES:
Feb. 17, 8:40 a.m.: This article was updated with additional details on Melania Trump.
Feb. 16, 4:45 p.m.: This article was updated with new information throughout.
12:15 p.m.: This article was updated with additional details of McDougal's allegations.
This article was originally published on Feb. 16 at 9:35 a.m.
---
Life is stressful. Our weekly mental wellness newsletter can help.
You may occasionally receive promotional content from the Los Angeles Times.