Trump fully endorses Roy Moore after urging from Bannon, amid tight polls in Alabama race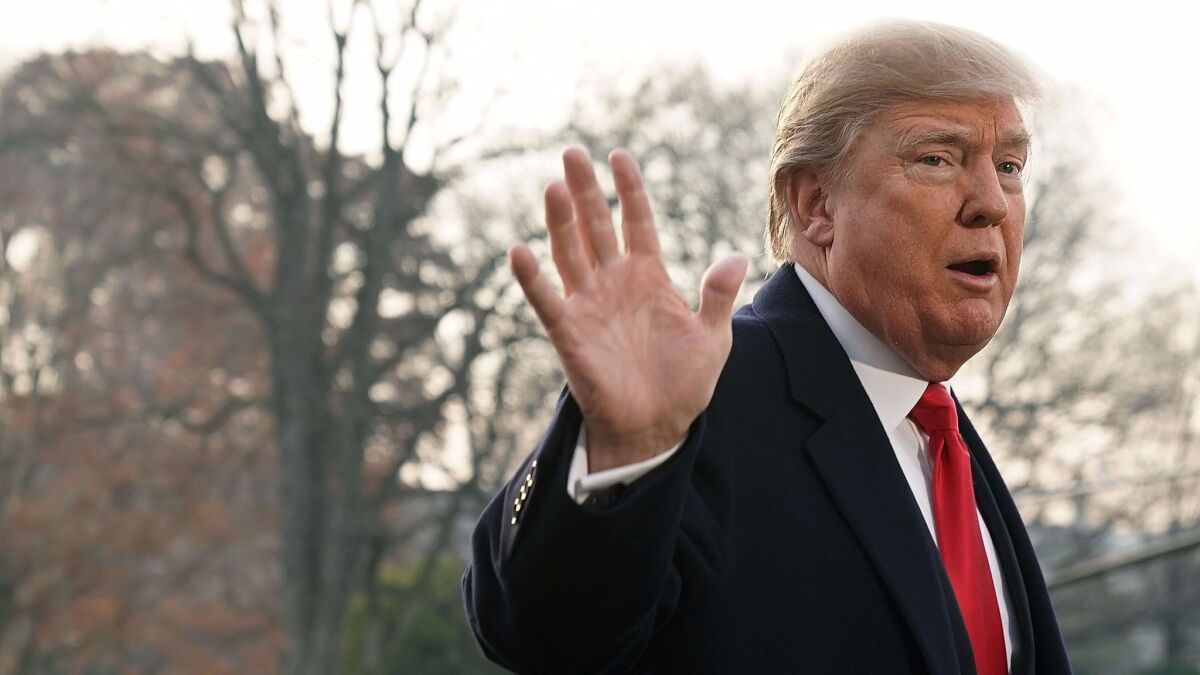 Reporting from Washington —
President Trump on Monday fully endorsed Roy Moore, acting to back the Alabama Senate candidate after conversations with his former strategist, Stephen K. Bannon, who has advocated Moore's candidacy.
Trump's early morning tweets marked his first all-out endorsement of Moore, who has been accused of making unwanted sexual advances on teenage girls. They came after Republican leaders began to back away in recent days from previous threats to expel Moore if he were to win the Dec. 12 election.
Trump called Moore on Monday morning.
"Go get 'em, Roy!" Trump told Moore, according to a description of the phone call that Moore posted on Twitter.
"Just got off the phone with President Trump who offered his full support and said he needs a fighter to help him in the US Senate," Moore wrote.
Trump's strong support came after a couple of polls showed Moore starting to reestablish a lead over Democrat Doug Jones, providing an argument to Moore's backers that Trump's support could make the difference in the race.
A Washington Post poll released Saturday, however, showed the race near a dead heat.
Overall, polling by several organizations has shown the race close despite Alabama's heavy Republican tilt. In addition to the usual margin of error in polls, the outcome is even harder to predict because of the difficulty in knowing who will turn out to vote in a special election held a couple of weeks before Christmas that has been roiled by the accusations against Moore.
Some advisors to the president were concerned that if Trump didn't come out more forcefully in favor of Moore, the former Alabama state judge could lose, according to people familiar with the conversations who spoke anonymously to comment on the internal discussions.
The question of whether to back Moore continues to split Republicans. A few hours after Trump's tweets, Mitt Romney, the Republicans' 2012 presidential candidate, repeated his opposition to the Alabamian.
Moore's election would be a "stain on the GOP and the nation," he wrote on Twitter. "No vote, no majority is worth losing our honor, our integrity."
Romney has been pondering a possible Senate race in Utah if the state's senior senator, Orrin Hatch, retires. Trump, visiting Utah on Monday, publicly asked Hatch not to retire.
Senate Majority Leader Mitch McConnell (R-Ky.) and House Speaker Paul D. Ryan (R-Wis.) have previously called on Moore to step aside, saying they believe the allegations. Some Republican senators said last month that if Moore were to win the election, they would move to expel him.
But in a sign that the GOP is warming to the candidate, the Republican National Committee revealed Monday night that it would resume financial support of Moore.
McConnell said Sunday on ABC News that the decision, at least for now, should be left to Alabama voters. Also, in an interview on CBS, McConnell would not commit to supporting an ethics investigation into the allegations should Moore win.
"We will swear in whoever is elected and see where we are at that particular point," he said.
Bannon, by contrast, has supported Moore consistently and has argued the candidate is popular with Trump's most ardent supporters. He recently talked with Trump about putting the president's full weight behind Moore, according to a person close to the White House who spoke on the condition of anonymity to describe internal discussions.
In November, Trump pointed to Moore's denials of the allegations from several decades ago and spoke against voting for Jones, but did not explicitly endorse Moore.
Trump is not campaigning for Moore directly, but is scheduled to hold a rally on Friday in the Florida Panhandle, which shares a media market with Mobile, Ala. The special election is to fill the seat of Jeff Sessions, who is now U.S. attorney general.
Moore has denied the allegations and recently denied knowing any of the women who had described Moore's actions to reporters. One woman who told the Washington Post that she dated Moore when she was 17 showed the Post a handwritten note Moore had given to her at the time that she recently found in a scrapbook, according to an article published Monday.
Some Republican strategists fear that if Moore is elected, GOP candidates across the country will be saddled with his reputation. Indeed, Democrats in Pennsylvania are already bringing up Moore's name in an effort to fend off a push by Republican Rep. Lou Barletta to defeat incumbent Democratic Sen. Bob Casey.
"The people of Pennsylvania deserve to know if Congressman Barletta believes Moore's accusers and if he wants to serve in the Senate alongside a man accused of child molestation," Pennsylvania Democratic Party spokesman Max Steele said in a statement. "Silence is not an option."
On the ground in Alabama, where voters rarely see Democratic challengers pull close to Republicans, Moore called the atmosphere "intense," writing in a fundraising appeal to supporters that "left-wing foot soldiers — aka 'community organizers' — are descending on Alabama to volunteer for Doug Jones and create chaos and trouble on the ground at my events."
Jones' campaign claims to have launched "the most robust get-out-the-vote program Alabama has seen in a generation" with volunteers knocking on more than 100,000 doors and making some 800,000 phone calls in the last month and a half.
Trump was late to come to Moore's side. During the Republican primary, the president supported Luther Strange, a former Alabama state attorney general and an early supporter of Trump's candidacy for president. Strange was also a favorite of McConnell's.
But Trump's support for "Big Luther," as the president called him, put him at odds with Bannon, who began actively campaigning for Moore after leaving the White House in August. Bannon, who has returned to running the conservative website Breitbart News, was drawn to Moore's unapologetic conservative stances and willingness to buck the GOP establishment.
Moore defeated Strange in the primary in September, despite Trump's appearances at Strange's side, showing there was a limit to Trump's ability to influence the votes of even his most ardent supporters.
ALSO:
Russia investigation sheds new light on Jared Kushner's involvement with Moscow
Supreme Court may be about to legalize sports betting in states that want it
California assemblyman accused of forcing lobbyist into bathroom and masturbating
---
UPDATES:
3:35 p.m.: This article was updated with a comment from Mitt Romney and additional details.
This article was originally published at 10:35 a.m.
---
Life is stressful. Our weekly mental wellness newsletter can help.
You may occasionally receive promotional content from the Los Angeles Times.