Trump aide Stephen Miller 'going to clean house' as immigration policy hardens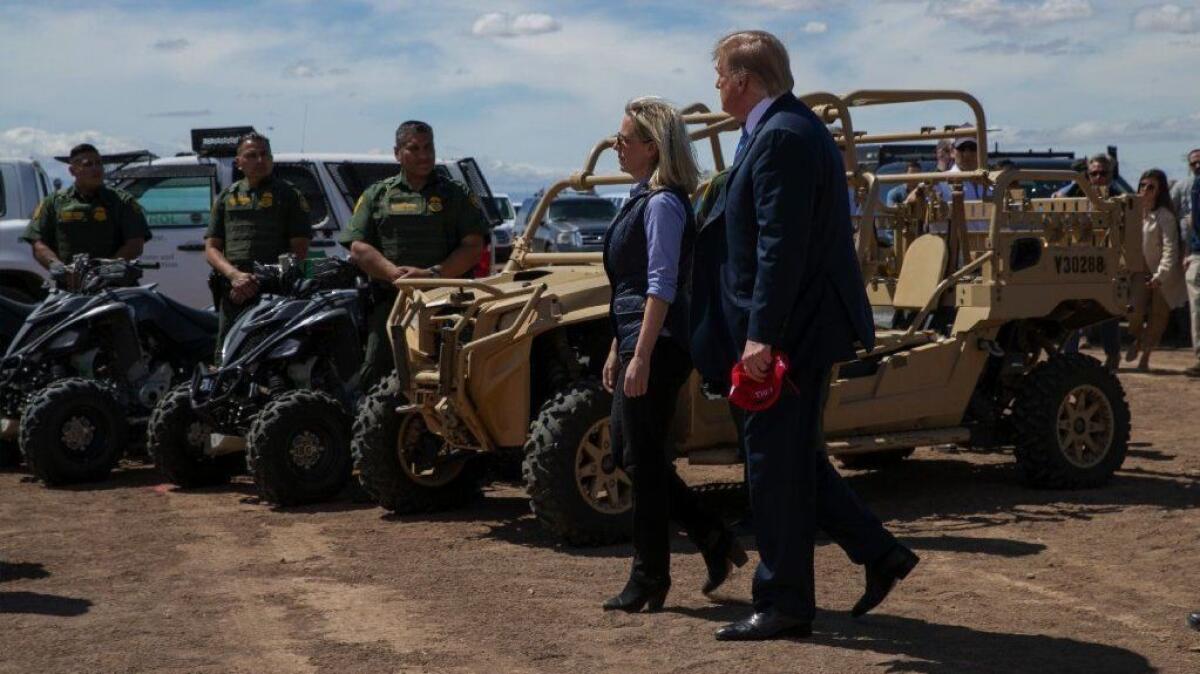 Reporting from Washington —
Shortly before ousting Homeland Security Secretary Kirstjen Nielsen, President Trump said he'll take an even "tougher" tack on border policies that for more than two years, by his own measure, have failed to deter immigration.
Some fear that may include a return of the reviled family separations that Trump was forced to back away from last year, as well as more firings.
But experts cautioned that replacing high-level personnel may not be enough to salvage an immigration policy that isn't working and has been reined in by the courts and Congress.
In the latest example of the administration's string of losses in court, late Monday a federal judge in San Francisco issued a preliminary injunction blocking the Trump administration policy forcing asylum seekers to wait in Mexico.
Roughly 1,000 asylum seekers have been forced to remain in Mexico since the administration announced that policy early this year. The judge gave the administration until April 12 to seek a stay from the court of appeals.
It comes as White House advisor Stephen Miller takes a more prominent role in implementing an immigration policy he has largely orchestrated behind the scenes since Trump took office.
In addition to urging the president to push out Nielsen, Miller, a long-time immigration hardliner, is thought to have other administration officials in his sights.
On Monday, Trump made the surprise announcement that U.S. Secret Service Director Randolph "Tex" Alles would be replaced. Both Nielsen and Alles were closely associated with former White House Chief of Staff John Kelly, who resigned last year after falling out of favor with Trump.
On Thursday night, Trump blindsided many administration officials by abruptly withdrawing the nomination of a career official, Ronald D. Vitiello, to head Immigration and Customs Enforcement.
"Miller's going to clean house," said a former White House official, calling Alles "Kelly's best friend." The former official, who did not want to be identified speaking about his one-time colleagues, predicted more departures. "He's firing all of Kelly's people."
RELATED: 5 misconceptions about the U.S.-Mexico border »
Nielsen, Trump's second Homeland Security secretary, was pushed out largely due to frustration over a recent spike in asylum-seeking Central American families and Trump's growing annoyance that she wouldn't take more aggressive steps.
"Country is FULL!" Trump tweeted shortly after announcing her imminent departure. "… Will Close Southern Border If necessary..."
For Trump and his closest aides — particularly Miller — the tough rhetoric is a red-meat handout to a base they see as critical to winning the White House again in 2020.
At the same time, the moves may be intended to mask the fact that their strategy to ramp-up immigration enforcement has failed to reduce near-record numbers of asylum seekers and families. Hemmed in by U.S. immigration law, a Democratic-led House and the realities of the border, critics and supporters alike wonder where the president can actually go from here.
"Stephen Miller and the administration ran out of options, and resorted to eating their own," said Blain Rethmeier, who worked in President George W. Bush's White House with Nielsen. "Literally absent Congress and the courts, every option has been exhausted."
Miller is consolidating his already considerable power over White House immigration and border security policy, and proving he still very much has the president's ear.
Much of Miller's clout comes from Trump's familiarity with him, said Corey Lewandowski, a former campaign manager for Trump who still spends time with the president.
"He's been there obviously since January '16 so he's a known commodity," Lewandowski said.
Tim Naftali, a presidential historian at NYU, raised concerns about the direction of the administration's latest moves, which he argues are about more than immigration policy.
"This is about how we as Americans define ourselves," Naftali said. "He is looking for people who will implement the harshest, meanest approach to immigration since the 1920s. And he'll keep cycling through people until he finds an implementer of his cruel vision."
RELATED: How border patrol chases have spun out of control, with deadly consequences »
Mark Krikorian of the Center for Immigration Studies, which supports less immigration to the United States, agreed there's not much more a Homeland Security secretary can do, unless the White House demands more dramatic action, such as setting up tent cities along the border.
"I'm just not sure that it's something a different DHS secretary can do, rather than the White House making the decision," he said.
Krikorian does not believe shutting down the border will be back on the agenda any time soon, given that Trump "made the bluster" and then retreated.
Resuming family separations may also be tricky since Trump signed an executive order to stop the practice and spoke out publicly against separations — and a federal judge issued a nationwide injunction to block the practice, ordering the government to reunite families.
For her part, Nielsen made clear Monday that she won't be abandoning her consistent support of the president's policies and won't be trying to undermine him after her departure later this week.
"I share the president's goal of securing the border," Nielsen said outside her townhouse in Alexandria, Va. "I will continue to support all efforts to address the humanitarian and security crisis on the border."
Nielsen had been among the most controversial of Trump's Cabinet secretaries, given Trump's mandate to push boundaries on immigration, an issue that he considers central to his political standing. But her vocal defense was not enough to save her job.
With Trump naming Kevin McAleenan, the Customs and Border Protection commissioner, as acting head of DHS, the administration will soon have no CBP chief. There are also legal questions about why Trump did not follow the mandated line of succession by elevating the deputy Homeland Security secretary, who is also in an acting role.
In an administration already rife with record turnover, the rapid personnel changes could exacerbate internal conflict at the Homeland Security department, the third-largest in the federal government, even as it grapples with what Nielsen and others have termed a "system-wide meltdown" in handling border security and immigration.
Krikorian described a turf war between ICE and Border Patrol, and questioned whether McAleenan will be nominated to permanently lead the department.
"Is McAleenan just a placeholder?" said Krikorian. "I just don't get the sense that he's going to bring about any kind of systemic change … [DHS] Headquarters is full of people who just aren't really super enthusiastic about the president's broad agenda on immigration."
Mark Morgan, a former FBI official who served as chief of Border Patrol under President Obama, said White House officials "need to stop expecting that Congress is going to do their job" and reform immigration laws.
"DHS is going to have to address this issue all alone," he said. He said the administration should keep up the pressure on Mexico to do more to stop migrants from transiting the country to the U.S. border increase the number of immigration judges to more quickly adjudicate cases.
Morgan said he doesn't believe the White House will resume family separations, but added that immediate action must be taken — even if it risks legal action.
"We have to do something," he said. "Even if we lose in the courts, we still gotta do something to stop the incentive [to migrate]."
Get our Essential Politics newsletter
The latest news, analysis and insights from our politics team.
You may occasionally receive promotional content from the Los Angeles Times.