Must Reads: How plans for a North Korea summit collapsed: Trump sought a legacy, underestimated the difficulty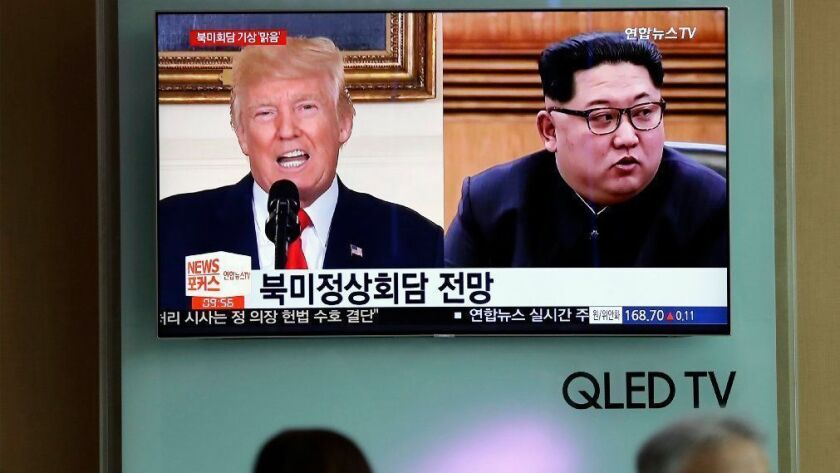 Reporting from Washington —
When it began, with a South Korean official standing outside the White House announcing that the leaders of the United States and North Korea would meet for an unprecedented summit, President Trump believed he had accomplished a historic breakthrough — an accomplishment, he told friends, that would secure his legacy and his reelection.
Eleven weeks later, that heady dream is over — or at least indefinitely deferred — done in by an intractable issue that proved more complex than Trump had understood and the conflicting agendas of other nations, whose leaders did not respond to the mix of threats and blandishments he deployed.
Even as administration officials on Friday held out the possibility of getting the summit back on track, Trump and those around him primarily blamed China, according to accounts by administration officials and others close to the White House, several of whom spoke on condition of anonymity to discuss the deliberations.
Trump hinted at his view of China's role in his brief remarks Thursday explaining the decision to cancel the planned summit with North Korea's Kim Jong Un.
"The dialogue was good until recently, and I — I think I understand why that happened," he told reporters, declining to be specific. "I won't say that. Someday I'll give it to you," he added.
But while Trump privately blamed Chinese president Xi Jinping for souring North Korea on the meeting, U.S. observers, including some close to the White House, said that all along, the prospects for the summit had been caught between two competing currents: Trump's unbridled desire to make history and his advisors' increasing skepticism that Kim was willing to come anywhere close to Trump's fundamental demand that he relinquish his nuclear arsenal.
Some of that tension played out in public as the North Koreans threatened to pull the plug within days of Trump musing publicly about winning a Nobel Peace Prize.
But the roots of the trouble took shape earlier, according to friends of Trump, national security veterans and Korea experts.
On one side was Trump, guided by the desire to captivate a world audience, prove the establishment wrong and win the type of legacy-building achievement that transcends scandals at home in the same way that President Nixon's opening of China survived the tarnish of Watergate.
"He knows he faces pressure on a lot of fronts, and he certainly is primarily focused on the national security imperatives of this, but he was also saying he thinks this could offset some of the negative stuff coming out of the Russia investigation," said a friend who has discussed North Korea with Trump in recent weeks. "His thinking was basically: 'If I can save the world from a nuclear North Korea, who's going vote against me?'"
Another friend, conservative media executive Christopher Ruddy, said earlier this week that the subject had come up frequently, and that Trump "sees the tipping point as pretty close."
"He told me that other presidents have sort of passed the buck and left him this mess," Ruddy said. "He's not the type of guy to run away from a fire."
Follow the latest news on the Trump administration on Essential Washington »
On the other side were national security experts and Asia specialists, many on Trump's own staff, who worried that the president's lack of preparation combined with his zeal for a deal would push him into giving up too much in exchange for symbolism.
Trump, who had taunted and threatened Kim throughout much of his first year in office, in recent weeks had praised the young autocrat numerous times, calling him honorable while promising to ensure his hold on power should he agree to relinquish his weapons.
The president also spoke in lofty terms about the rare opportunity to achieve something transformational for the world if he could broker peace with Kim.
Trump is hardly the first American president stirred by the prospect of a breakthrough with North Korea. Bill Clinton intended to go in the final days of his presidency, for example, but talks never progressed beyond Secretary of State Madeleine Albright's visit because of the protracted presidential election between Al Gore and George W. Bush.
Yet from the beginning, Trump's approach to North Korea faced particular disadvantages, including a lack of experienced advisors, the president's own impulsive nature and internal disagreements about how to approach the talks.
Roughly 100 Americans have been involved in direct negotiations with North Korea, but only a handful of them serve in the current administration. Many of those on the front lines of prior negotiations, who stared North Korean government officials in the eye, were excluded by Trump and his team from the administration, either because they're Democrats or because they're Republicans who signed letters during the 2016 campaign calling Trump unfit for the presidency.
As the summit date neared, those advising the president increasingly worried about his reluctance to learn the intricacies of diplomacy with North Korea, an isolated country that for decades has bedeviled American efforts to curb its nuclear program and chemical weapons stash — the largest in the world.
"There's a group around him trying to help him understand what it's like — how it's not a real estate deal," a longtime GOP lobbyist in Washington who is close to the Trump White House said in the days before the meeting was canceled.
"He's sincere about wanting to fix this, but he believes his personal charisma will take him further than it actually will."
Trump alarmed Japanese allies during an April meeting with Prime Minister Shinzo Abe in Palm Beach, Fla., telling Abe he would rely on his instinct after he sized up Kim, said a former national security official who is in touch with current administration officials and Asian contacts.
"The president will not be staffed on this," the former official said a few days before the cancellation. "He's going to go in and go with his gut, which is nuts."
The Japanese have worried that Trump will agree to withdraw American troops from the Korean peninsula, something he has advocated for decades.
South Korean allies, on the other hand, have been eager for Trump to engage with North Korea — even if Kim declines to give up his weapons — because they believe talks are essential to lowering tensions in the region and allowing the South to reach its own peace deal with Kim.
Trump went with his gut in canceling the summit, as well, deciding early Thursday morning and dictating the letter that was released shortly before 10 a.m. with no warning to South Korea or other U.S. allies.
Those familiar with the White House deliberations said that optimism about the possible summit meeting began to fade earlier this month after Secretary of State Mike Pompeo traveled to Pyongyang for a second meeting with Kim and found that the North Korean leader would not engage substantively with U.S. demands that he fully give up the nuclear arsenal that he, his father and his grandfather, who each preceded him as ruler, had spent more than half a century developing.
In the ensuing two weeks, the North Koreans failed to show up in Singapore for a planned meeting to discuss the ground rules for the summit. The final blow, said a national security ally in regular contact with the White House, came in recent days when the North Koreans refused to allow U.S. officials to monitor what Pyongyang billed as the destruction of its nuclear test site at Punggye-ri.
"All the messaging from the North Koreans was one thing, but they did not allow anyone to witness the destruction of the nuclear test site, which they had promised," the ally said. "That was sort of a red line because we really wanted to see what was there."
"Pompeo and the rest were not willing to overlook these fairly material bad signs when they're not showing up, and they're changing the rules," the person added.
At the same time, North Korean officials began to issue public statements harshly attacking administration officials, notably Trump's national security advisor, John Bolton.
Bolton sat at the other end of the spectrum from Trump in terms of enthusiasm about the prospects of negotiating with Kim. He has spent much of his career warning against negotiations with what he considers rogue regimes, and while those close to the White House say that he hadn't tried to sabotage the talks, they agree that he had worked to temper Trump's high hopes.
In public remarks, Bolton compared U.S. strategy toward North Korea with the negotiations that led Libya to give up its far more modest nuclear program in 2003 in return for economic and diplomatic concessions. As the North Koreans well know, eight years after he ended his nuclear efforts, Libya's leader, Moammar Kadafi, was killed by Western-backed rebels.
But while Bolton was a convenient target for the North Koreans, the role his statements played has been exaggerated, said Michael Green, a former National Security Council official in the George W. Bush administration who was involved in past talks with North Korea.
"I think that's ground noise," Green added. "The reality was: North Korea came to the table because they wanted the president of the United States to give them de facto recognition as a nuclear weapons state," and by now, they feel they have accomplished much of what they sought.
"Just talk of the summit got China to back off on their sanctions," which is "90% of their trade," Green said. "So it's pretty obvious this was their intention all along."
Trump's mistake was to take Kim literally when he expressed a willingness to denuclearize, even as his top national security officials were expressing skepticism, Green added.
"The Libya noise certainly angered the North Koreans, but I don't think that's why this fell apart," Green said. "It fell apart because when Pompeo went to North Korea to pin them down on some nuclear deal, they balked."
Some Trump allies, however, believe the president has been underestimated. They point out that he has been immersed in the Korea issue since he was elected. President Obama told Trump it would be his most daunting problem when the two met at the White House during the transition, a moment Trump likes to recall publicly as he relishes the prospect of succeeding in an area where Obama failed.
"He's been living and breathing this issue," said James Carafano, a fellow at the Heritage Foundation who advised Trump during the transition.
With that investment of time, and Trump's desire to build a legacy, the North Korea file seems unlikely to be closed, even if the summit does not quickly reappear on Trump's schedule.
"I don't think that things are off the rails. I think he wants to keep them on their toes," said a former national security official.
"He didn't want the decision to be in Kim's hands. I don't think they're going to give up on this long-term goal. It's year one."
Stokols is a special correspondent. Special correspondent Matt Stiles contributed from Seoul.
Twitter: @noahbierman
---
UPDATES:
12:30 p.m.: This article was updated to add that Trump administration officials are holding out the possibility of getting the summit back on track.
This article was originally published at 3:35 a.m.
---
For reporting and exclusive analysis from bureau chief John Myers, get our California Politics newsletter.
You may occasionally receive promotional content from the Los Angeles Times.