Nancy Pelosi seems to be the only foe Trump won't personally attack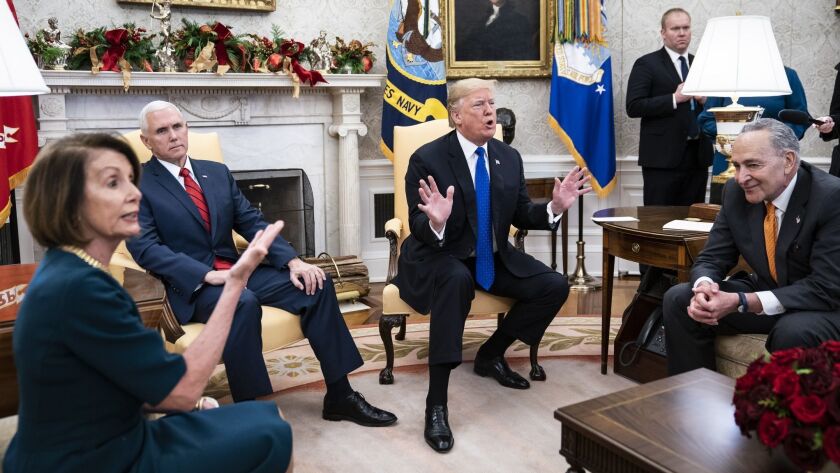 Reporting from Washington —
The Trump playbook on dealing with foes is well-documented: If attacked, strike back 10 times harder; zero in on your enemy's weakest spots; go personal.
Now the often-pugnacious president has a new opponent, Rep. Nancy Pelosi, the Democratic speaker of the House. As the two most powerful elected officials in the country have battled, the spectacle has riveted Washington.
How the two deal with each other has implications beyond just their personal relationship. With power in Washington divided between the two parties for the first time since Trump's election, the ability of the president and the speaker to work together will largely determine whether the U.S. government falls into complete dysfunction for the next two years.
To date, Pelosi appears to have gotten the better of the relationship. She has kept Democrats united amid a partial government shutdown, which is about to move into its fifth week.
Trump faces declining poll ratings, warnings from his own economic advisors that the shutdown could damage the economy, and divisions within his party.
But to the surprise of many, in dealing with this powerful new opponent, he isn't using the playbook he has so consistently followed against others.
A day after Pelosi effectively postponed his Jan. 29 State of the Union address before Congress unless the shutdown ends, Trump canceled the San Francisco lawmaker's planned trip with a congressional delegation to Brussels and Afghanistan — a journey that for security reasons would have used military flights that the executive branch controls.
Unusually, however, he refrained from any of the customary personal snipes or attacks he so often lobs at those who have crossed him.
The most powerful woman in American politics, in fact, has never received a demeaning Trump nickname, a rarity among his rivals. Just ask "Low IQ" Maxine Waters (D-Los Angeles), "Cryin' Chuck" Schumer, "that face" Carly Fiorina, "bleeding badly from a facelift" Mika Brzezinski, "low energy" Jeb Bush, "Fake News CNN," "sloppy Steve" Bannon, or the several people he has dubbed "little," such as Rep. Adam B. Schiff (D-Burbank), Sen. Marco Rubio (R-Fla.) or former Sen. Bob Corker (R-Tenn).
Trump has criticized Pelosi on policy — claiming she is soft on crime, wants "open borders" or seeks higher taxes. But his approach to the 78-year-old leader is, for him, uncommonly respectful.
Even when Pelosi publicly quipped about his "manhood" last year, Trump held his tongue and his thumbs.
Pelosi declined to comment for this story. Those who know both Pelosi and Trump say they can only speculate about the reasons behind the dynamic. Many attribute it to either fear, respect or a realization by Trump that Pelosi will be key to implementing his agenda over the new two years, and avoiding impeachment in the House.
"I just think he has respect for somebody who's strong," said Marc Short, who previously was Trump's top liaison to Capitol Hill. And there's reason to hold his fire: "He'll need her votes" if Trump has even a chance on bipartisan drug pricing or infrastructure legislation, Short said.
Pelosi's Democratic allies prefer to see it as begrudging respect or a healthy fear for her political prowess.
"I think that in his own way, he respects her," said Rep. Anna G. Eshoo (D-Menlo Park), who is close with Pelosi. "If he underestimated her, he joins an army of people who have underestimated her."
Now that Democrats control the House, Pelosi wields significant influence. While Trump's other rivals, including Waters and Schiff, can decide whether to bring legislation requiring the release of his tax returns or pursue an investigation into his dealings with Russia, Pelosi has the power to decide whether and how those efforts proceed.
Short doesn't think Trump is holding back over the threat of impeachment. "She's going to impeach him regardless," he said. Democratic members are "going to demand it."
Barbara Res, a former executive in Trump's company, said Pelosi's gender may have knocked Trump on his heels.
"He's a little bit afraid of her. He's never come across anyone like her — male or female," Res said.
"That's very hard for him because he does not consider females to be his equal," said Res, who worked for years as one of the highest-ranking women in the Trump Organization.
Even when Trump dealt with mayors of New York such as Ed Koch, she said, they had limited power to kill individual development projects, and he could often counter with his own influence.
"This is extraordinary for him. She controls a lot of what he's able to do," Res said. "He's met up against his match and he's stymied and unhappy and that's it."
Rep. Chris Collins (R-N.Y.), who was one of the first House members to endorse Trump, speculated that the president at one point had hoped to start the year with a fresh approach toward Pelosi.
"But he was clear if there's going to be war, there's war," he said, noting that rather than cooperation, Trump has run into strong Democratic opposition, and then the move to block him from addressing Congress this month. "I think the gloves may be about to come off."
Trump's decision Thursday to cancel Pelosi's congressional delegation trip to a war zone — which he called a "public relations event" — could be the most inflammatory thing he's done to her directly. While it may have been "sophomoric," as Sen. Lindsey Graham (R-S.C.) said, Trump avoided making it overtly personal.
"Due to the Shutdown, I am sorry to inform you that your trip to Brussels, Egypt and Afghanistan has been postponed," he wrote in a letter. "I also feel that, during this period, it would be better if you were in Washington negotiating with me and joining the Strong Border Security movement to end the Shutdown. Obviously, if you would like to make your journey by flying commercial, that would certainly be your prerogative."
Pelosi's spokesman said the trip was designed to get intelligence briefings, meet with NATO leaders and thank U.S. troops — and it didn't include a stop in Egypt.
White House officials made clear that the no-trips policy would apply to all members of Congress during the shutdown, not just Pelosi. And after several hours of questions from reporters, White House Press Secretary Sarah Huckabee Sanders announced Thursday evening that Trump would apply the same rule to cancel an event that several members of his Cabinet were anxious to attend.
"Out of consideration for the 800,000 great American workers not receiving pay and to ensure his team can assist as needed, President Trump has canceled his delegation's trip to the World Economic Forum in Davos, Switzerland," she said.
---
Get our Essential Politics newsletter
The latest news, analysis and insights from our politics teams from Sacramento to D.C.
You may occasionally receive promotional content from the Los Angeles Times.