Trump erupts at those who cooperate in the Russia investigation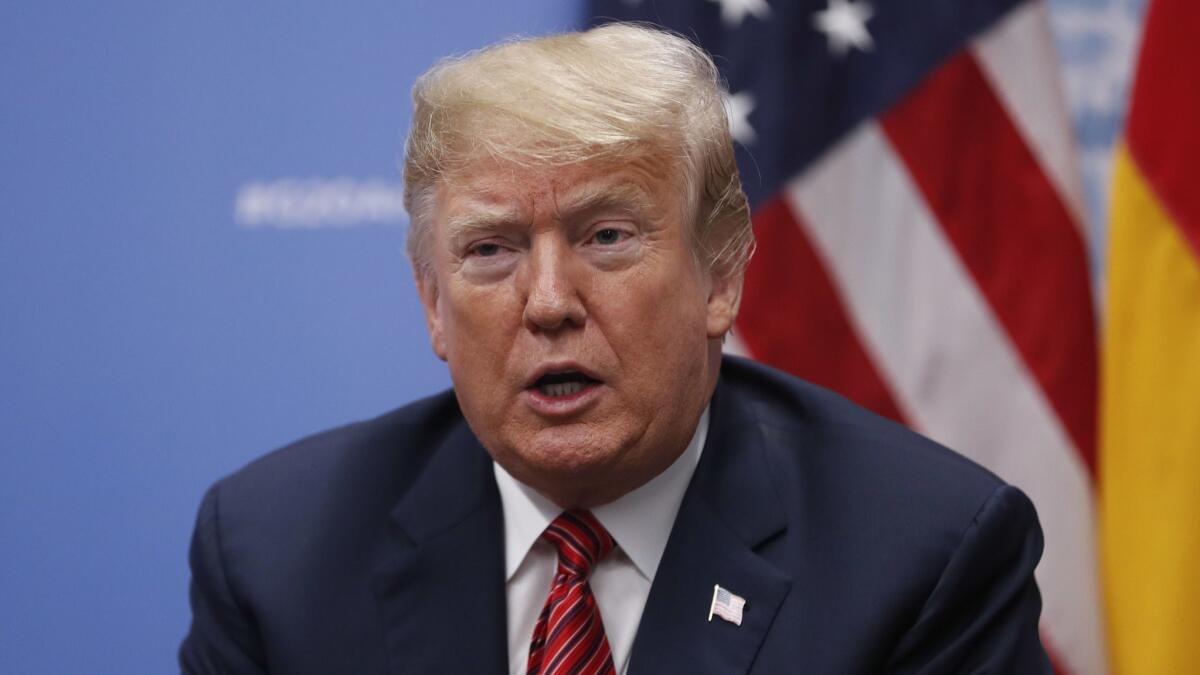 Reporting from Washington —
President Trump's criticisms of the Russia investigation are so common — it's a "witch hunt," rinse, repeat, tweet — that they no longer always register, but several presidential posts Monday may have crossed a legal line.
First he slammed his former lawyer, Michael Cohen, who asked a federal judge to spare him prison time for his crimes, including lying to Congress about pursuing a real estate deal in Moscow on Trump's behalf during the 2016 presidential race. Cohen "lied for this outcome and should, in my opinion, serve a full and complete sentence," the president tweeted.
Next, Trump praised Roger Stone, an irreverent political advisor, who had vowed he would "not be forced by a rogue and out-of-control prosecutor to make up lies and stories." Trump wrote, "Nice to know that some people still have 'guts!'"
Special counsel Robert S. Mueller III already is investigating Trump for possible obstruction of justice in the Russia investigation, so talking about witnesses could create new legal problems for him.
George Conway, a prominent conservative lawyer who is married to White House communications advisor Kellyanne Conway, tweeted a reference to the federal criminal code for witness tampering.
"This is genuinely looking like witness tampering," agreed Neal Katyal, who served as solicitor general under President Obama. "The fact it's done out in the open is no defense," he tweeted.
Rudolph W. Giuliani, one of Trump's lawyers, rejected the notion that the president was trying to tamper with witnesses.
"That's a distorted view totally in favor of the prosecutors," who he called a "bunch of bullies," Giuliani told The Times. He said Trump's tweet only urged Stone not to lie to prosecutors.
"It's not cooperating to lie," Giuliani said. "He's not telling the guy not to testify."
Stone also dismissed the idea that Trump was telling him what to say, noting that he was "not currently a witness in any proceeding."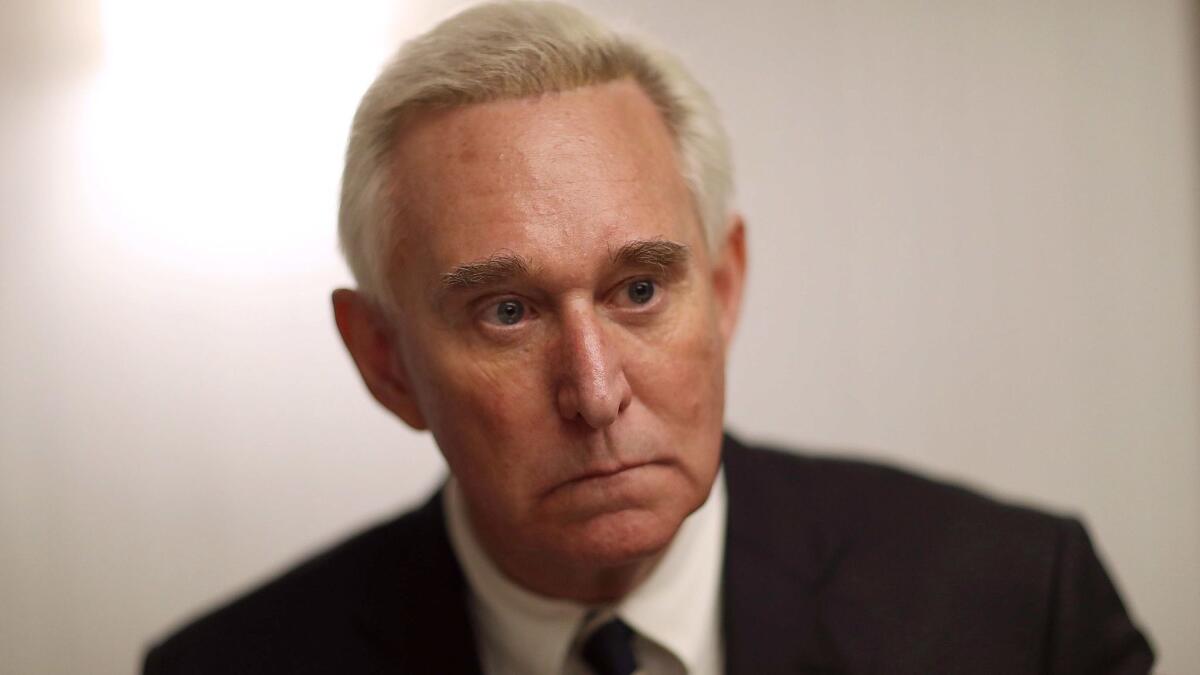 Mueller is examining whether Stone had contact with WikiLeaks, which released thousands of hacked Democratic Party emails during the presidential campaign. Stone has denied any connection and has not been charged with any wrongdoing.
"Those critics who claimed that the president's tweet constitutes witness tampering should be reminded that I have never been contacted by Investigative authority," he wrote in a text message to The Times.
Stone seemed to appreciate the president's tweet, however, posting a screenshot of it on Instagram.
Trump's efforts to blunt the Russia investigation are hardly new. Most notably, former FBI Director James B. Comey said Trump asked him to go easy on ousted national security advisor Michael Flynn, who was under investigation for conversations with the Russian ambassador during the presidential transition.
"I hope you can let this go," Comey recalled the president saying on Feb. 14, 2017. Trump denied pushing him to drop the case.
Trump fired Comey in May 2017 and Flynn pleaded guilty that December to lying about whether he discussed sanctions with the Russian ambassador. Flynn is scheduled to be sentenced this month, and prosecutors are expected to file a memo on Tuesday that may provide additional details about his crime and recommend a sentence for him.
Follow the latest news of the Trump administration on Essential Washington »
Mueller has gone after people for witness tampering before. While Paul Manafort was awaiting trial for financial fraud this summer, he was charged with obstruction of justice and conspiracy to obstruct justice in June for allegedly reaching out to potential witnesses.
Manafort was convicted in August of eight counts of tax evasion and bank fraud, and subsequently pleaded guilty to witness tampering as part of a deal to cooperate with prosecutors and avoid a second trial.
His plea deal fell apart when Mueller's office accused him of continuing to lie, which Manafort's lawyers deny. Prosecutors are scheduled to detail Manafort's alleged falsehoods on Friday in a sentencing memo.
Trump has long used the language of a mob boss to describe people who cooperate with prosecutors or leak unflattering information.
When former Democratic presidential candidate John Edwards went on trial for campaign finance violations in April 2012, Trump blasted Edwards' former aide as a "rat" for testifying against him.
Two years later, Trump criticized Robert Gates, a former Defense secretary, for writing a memoir that included some criticism of President Obama's White House. Gates, Trump tweeted, "turned out to be one disloyal dude! Personally I hate rats."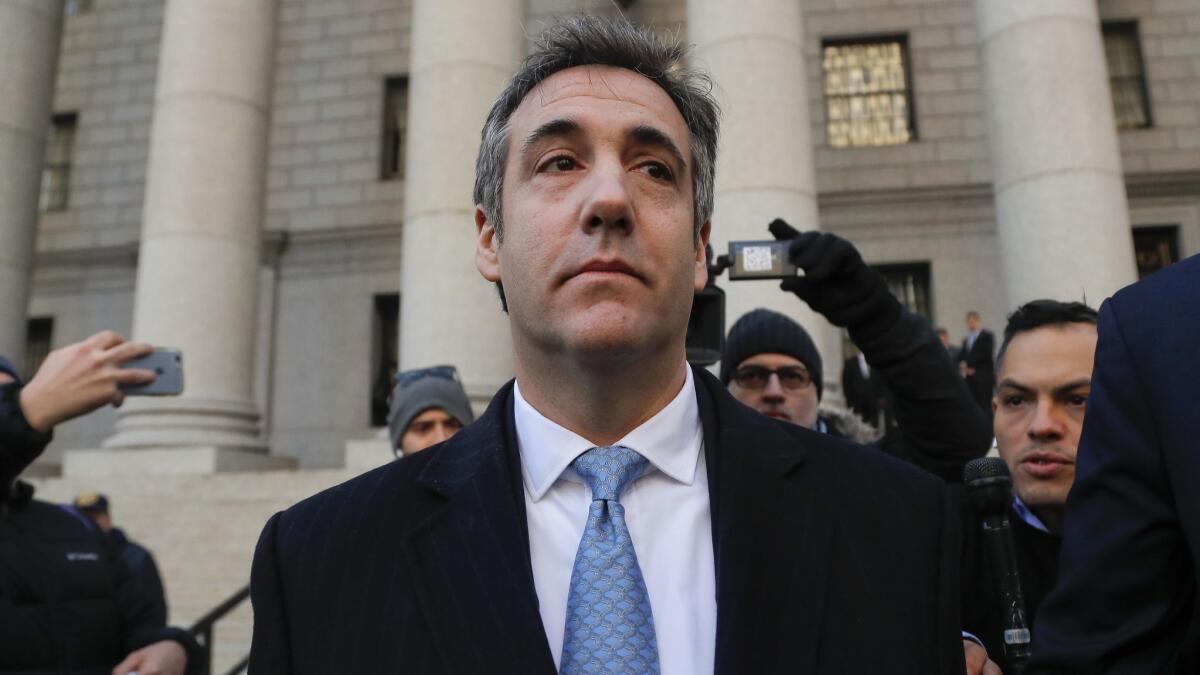 Trump hasn't always viewed Cohen as a rat. After FBI agents raided Cohen's home, office and hotel room for evidence in April, Trump praised him by suggesting he wouldn't cooperate.
"Most people will flip if the government lets them out of trouble, even if it means lying or making up stories," he said. "Sorry, I don't see Michael doing that despite the horrible Witch Hunt and the dishonest media!"
But the president changed his tune after Cohen made a plea deal. Cohen has met seven times with the special counsel's office, as well as with the U.S. attorney in Manhattan and New York state authorities to talk about Trump's murky business deals and private foundation.
Although the president has accused prosecutors of trying to make witnesses lie to incriminate him, court filings from Cohen suggest that Trump is more accustomed to people lying for him.
When Cohen's lawyers wrote a memo last week asking a federal judge not to sentence him to prison, they said Cohen only made false statements about the potential Russian real estate deal to help Trump, who is referenced as "Client-1."
"In the heated political environment of the moment and understanding the public message that Client-1 wished to propagate," the lawyers wrote, Cohen lied when he said he had abandoned the deal before the first presidential primary — talks continued until Trump had clinched the GOP nomination in mid-2016 — and how often he updated Trump and his family on his progress.
"Furthermore, in the weeks during which his then-counsel prepared his written response to the Congressional Committees, Michael remained in close and regular contact with White House-based staff and legal counsel to Client-1," the lawyers wrote.
Twitter: @chrismegerian
Get our Essential Politics newsletter
The latest news, analysis and insights from our politics team.
You may occasionally receive promotional content from the Los Angeles Times.