Donald Trump praises Britons for taking 'their country back,' but only after he promotes his golf resort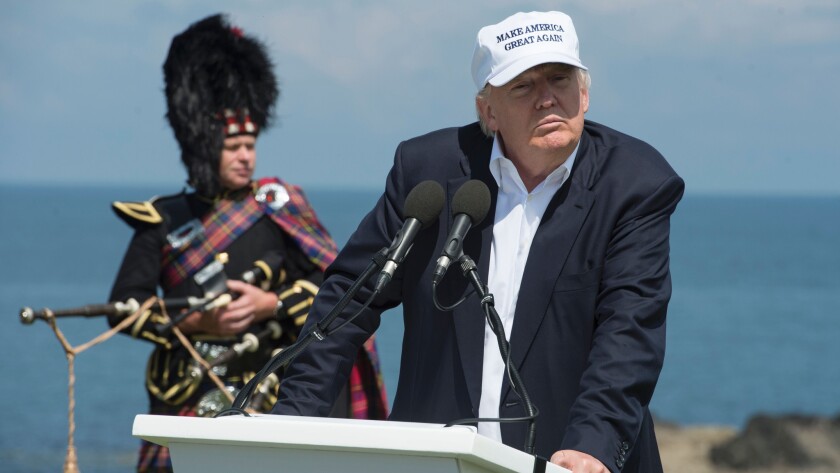 Reporting from Washington —
Donald Trump stood on his renovated golf course in Scotland and promoted the sprinkler system, the luxury suites and the "greatest par 3 anywhere in the world" before praising British voters' decision to leave the European Union and bashing President Obama and Hillary Clinton for urging them to remain.
Trump began the event Friday by calling it "a very historic day for a lot of reasons, not only Turnberry," in a bit of understatement that placed his golf resort's fortunes in conversation with the momentous events that will drastically alter Europe. He delivered the comments from the greens of the resort, with a bagpiper next to him and a lighthouse in the distance, lending several minutes of his platform to his children to extol the golf course.
It was another of many striking moments in Trump's nontraditional campaign. Britain's vote to leave, which Trump supported, offered an opportunity for the presumptive Republican presidential nominee to capitalize on the anti-establishment, nationalist fervor that matches his own movement. British voters who supported the exit were motivated by many of the same issues that appeal to Trump's supporters: concerns over immigration, globalization and wages.
Trump did seize on those similarities — declaring that Britons "want to take their country back," a "good thing" — but he repeatedly sidetracked the conversation toward golf.
Election 2016 | Live coverage on Trail Guide | Sign up for the newsletter
The merging of business branding and politics recalled a primary night news conference Trump gave in March at one of his resorts in Jupiter, Fla., which featured Trump-branded steaks and water.
While presidential candidates often travel abroad, such trips usually include visits with leaders, policy discussions and other elements to demonstrate a grasp of and interest in foreign affairs.
Instead, Trump repeatedly touted the golf course as "one of the most spectacular properties in the world" and pushed back against a reporter who said that a country is not the same thing as a golf course.
"You'd be amazed how similar it is," Trump said. "It's a place that has to be fixed."
Trump also criticized Obama and Clinton for urging British voters to remain in the EU, suggesting Obama's intervention may have swayed some voters in the opposite direction.
"Obviously for the 219th time, they were wrong," he said of Obama and Clinton.
When asked whether he was breaking with political tradition in criticizing an American leader on foreign soil, Trump said Obama had no business involving himself in Britain's affairs.
"He didn't stop it at the water's edge," Trump said. "He's constantly dictating to the world what they should do. The world doesn't listen to him."
"He got it totally wrong and he's embarrassed," Trump added. Obama had yet to publicly comment on the results of the referendum when Trump spoke.
Trump's own support for the British exit also poses a risk for his campaign, however, as world markets reacted terribly, a sign of potential trouble for the economy. Trump said he was not certain how the vote would play out in the short term, but reiterated that it would prove beneficial in the longer term, perhaps five years out.
"It's going to end up being a very good thing, but it will take time," Trump said.
"The people have taken their country back and there's something very nice about that."
He dismissed economic concerns voiced by U.S. Treasury Secretary Jacob Lew, Federal Reserve Chairwoman Janet Yellen and others.
"Look, if the pound goes down, they're going to do more business," he said of the British at one point. "You know, when the pound goes down, more people are coming to Turnberry, frankly."
Trump asserted that British Prime Minister David Cameron, who announced Friday morning that he would step down by autumn, had been eager to see him.
"David Cameron was negotiating to meet me," Trump said. "but right now, I don't think David Cameron wants to meet anybody."
Trump said he would let his children and financial advisors run his businesses if he wins the election, but would not walk away from his operations before that. He said the campaign had not been used to build his brand, but had in fact put it at risk because politics is so polarizing.
"Everybody liked me, but once you run for politics, you'll have 55 for you and 45 against," he said.
Twitter: @noahbierman
ALSO:
'Brexit' shock waves rock Germany and the rest of Europe
Asian, European markets drop on news of Britain's EU exit
How Donald Trump's speech attacking Hillary Clinton compares with the facts
---
UPDATES:
12:40 p.m.: This story was updated with more comments from Trump.
This story was originally published at 6:39 a.m.
---
Life is stressful. Our weekly mental wellness newsletter can help.
You may occasionally receive promotional content from the Los Angeles Times.