Twin election strategies: As Trump rails about immigration, his supporters offer a rosy view of tax cuts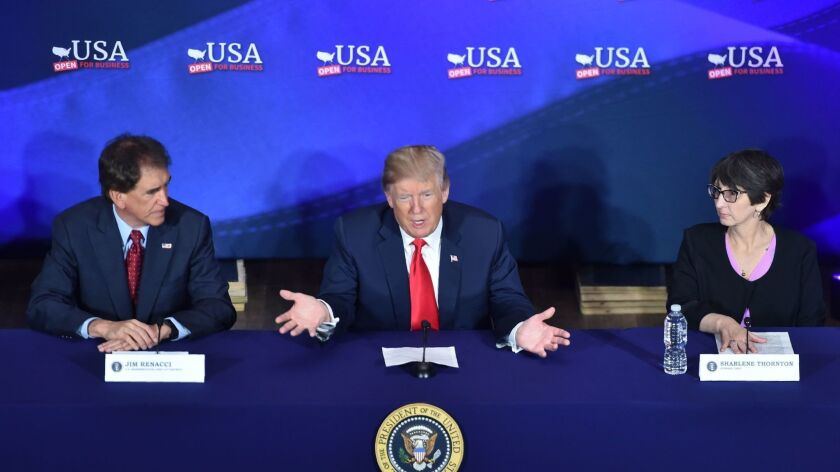 Reporting from Washington —
President Trump flared Saturday at Democrats, immigration laws and Mexico, crowed again that his poll numbers are higher than President Obama's and insisted the country is doing better than ever — all in the sort of defensive pitch that Republicans worry could cost them seats in November.
It was left to his companions at an event in Cleveland — Trump supporters all — to offer the optimistic argument that GOP leaders and strategists look for. It was one that many Republicans believe is essential to hold their own in the general election: heartfelt testimonies about the positive effect of the tax cuts they delivered in December.
Trump's journey to the Cleveland Public Auditorium was billed as a presidential visit — meaning that taxpayers footed the bill in a trip otherwise dominated by his fundraising for the party.
The event was wholly political, however, and it served to illustrate the competing sallies for Republicans this election year: one seeking to attract a broad swath of voters by touting the administration's effect on Americans' lives, the other driven by the president's desire to exaggerate and argue about grievances dating back to his election campaign.
In opening remarks at what was billed as a tax discussion, the president started off talking about trade and quickly moved to the issue of immigration. He suggested that Mexico had gone easy on immigrants who recently traveled north to the border in a peaceful caravan.
"I really thought they would be much tougher and better to us on the caravan. Didn't quite work out, but that's OK, that's OK," Trump said in a tone that suggested it was not OK.
"You just take a look at that mess that's on television right now," said Trump, apparently referring to coverage of the caravan, which had shrunk to a few hundred migrants when the group reached the U.S. border a week ago. All told, 228 people had applied for asylum by Friday when the caravan dispersed.
"It is a total catastrophe," Trump said.
Seated beside Rep. Jim Renacci, the Republican candidate for the Senate, the president repeatedly blamed Democrats and incumbent Sen. Sherrod Brown for pushing through weak immigration laws. But the policies he cited, particularly the "catch-and-release" practice governing treatment of asylum seekers, began in the George W. Bush administration or with court decisions and have been continued by Trump's administration.
"This is a Democrat rule, Sherrod Brown," said the president, employing shorthand. He added: "These are the problems we have to deal with."
As he often does on the topic of immigration, Trump relied on falsehoods to sell his argument. In particular, he repeated his criticisms of foreigners who seek entrance legally through a lottery — a reflection of his desire to sharply limit legal immigration to the United States.
"Can you imagine!" the president said. "We take people based out of a lottery. You think a country is putting their finest in a lottery? I don't think so. I don't think so, alright?"
Those seeking entrance via a lottery apply themselves; their countries do not control their access. The would-be migrants are vetted before being accepted.
Moving to another favorite topic, Trump cited a friendly poll to predict that Republicans would "do very well" in the midterm elections, a judgment not shared by many in his party.
"I just saw a poll come out where I'm above Obama — above Obama — and then you turn to the fake news and they go, 'Donald Trump, who's not very popular'" he said. "I'm saying to myself: 'How do they get away with it?' … The amazing thing is that the people are smart, they get it."
In contrast to the president, the supporters arrayed on both sides of him at the Cleveland event stuck rigorously to the suggested topic. Each spoke movingly of the effect the tax cut plan — which Trump said he had wanted to call the "tax cut, cut, cut, cut" plan — had on their lives.
Sharlene and Kevin Thornton said it has brought them stability after his unemployment several years ago cost them their car and almost their home. Sharlene Thornton said they were making up to $300 more per biweekly paycheck than before, a circumstance she said made their lives "a lot more enjoyable."
Her husband, who was laid off in 2012 when the steel mill where he had worked for 10 years closed, went through retraining and now works for a company that he said benefited from the tax plan. He grew emotional as he thanked Trump.
Thornton said that he would not have guessed he'd ever be able to say it, but "at this rate I think I'll be able to be gainfully employed until my retirement."
Sherry Sheely said she owns a furniture and appliance operation with 148 "awesome" employees; after the tax plan, full-time workers received a $1,000 bonus and part-time workers a $500 gift.
"We had several employees so excited they started to cry," she said.
Turning to Trump, she said, "If you even have any times of discouragement, I want you to realize there are millions of Americans across the country like my husband and I who pray for you, your family, your safety."
One by one, others praised the tax plan for allowing them to put away money for college or a down payment on a home, finance a vacation or pay off medical bills.
Anthony Triscari, founder of an industrial products distributorship, alluded to a comment by the House Democratic leader, Rep. Nancy Pelosi, that the tax plan provided "crumbs" to most Americans while greatly benefiting large companies and the wealthy.
"You can let Nancy Pelosi know…that my people appreciate the crumbs that they receive," said Triscari, who said he gave each of his 13 employees a $500 bonus. "We're small and we're getting the benefit as much as any big company does."
With their comments over, Trump offered an immediate verdict.
"Our country is doing great," he said, more on topic than he had been earlier. "It's, I think, maybe doing as good or better than it's ever done before. And it's only going to get better."
For more on politics from Cathleen Decker »
Twitter: @cathleendecker
---
Get our Essential Politics newsletter
The latest news, analysis and insights from our politics teams from Sacramento to D.C.
You may occasionally receive promotional content from the Los Angeles Times.