Trump loses bid to kill lawsuit by woman who says he sexually assaulted her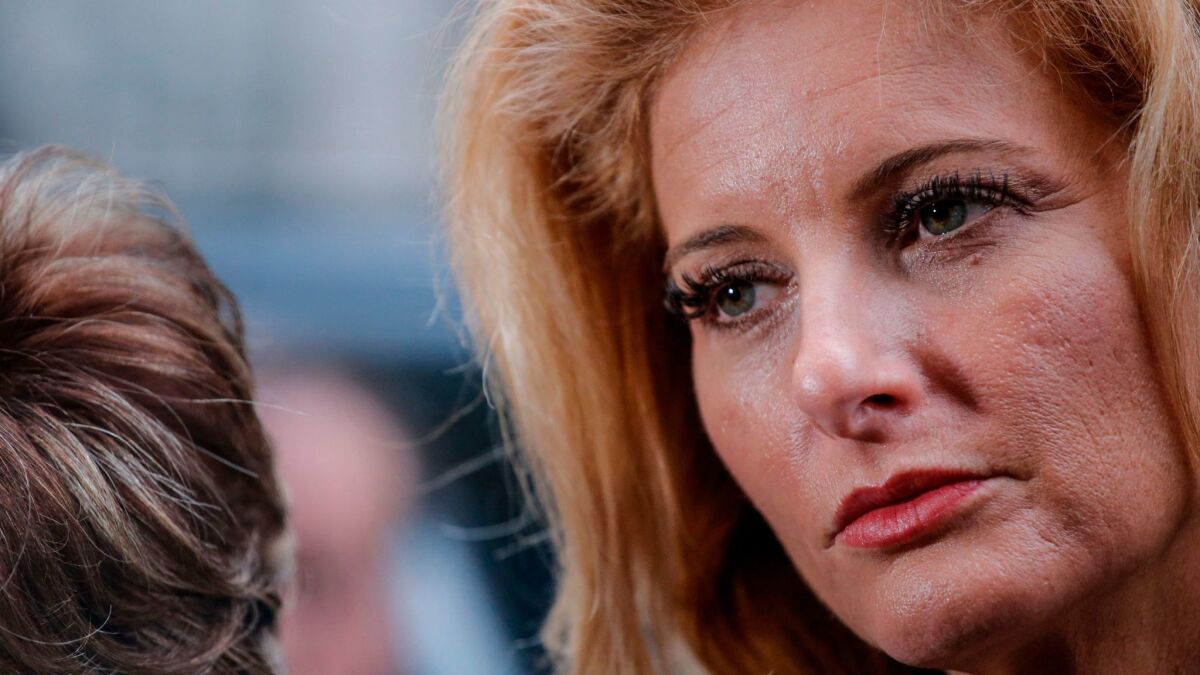 A New York judge ruled Tuesday that an Orange County woman who accused President Trump of sexually assaulting her at the Beverly Hills Hotel in 2007 can move forward with her defamation suit against him.
Justice Jennifer G. Schecter of New York state court in Manhattan rejected a request by Trump's lawyers that she dismiss the suit filed last year by Summer Zervos, who was a contestant on his reality television show "The Apprentice."
"No one is above the law," Schecter wrote, saying nothing in the Constitution suggests that the president can't be called to account in a state court for wrongful conduct that bears no relationship to his White House duties.
The ruling exposes Trump to potentially embarrassing court proceedings that could drag on for months, if not years.
Ex-Playboy Playmate sues to speak publicly about alleged affair with Trump »
At the request of Zervos' lawyers, Trump's campaign agreed in March to preserve all documents it might have concerning allegations that Trump touched Zervos and nine other women inappropriately.
Now the campaign might be forced to give those and other documents related to accusations of sexual misconduct by Trump to the Zervos legal team, led by Gloria Allred.
A few weeks before Trump was elected president, Zervos alleged that he tried to force himself upon her in 2007 at a dinner in a bungalow at the hotel.
Trump responded by charging repeatedly that Zervos and other women accusing him of sexual misconduct were lying. He threatened to sue them after the election but never took them to court.
Zervos, however, sued Trump a few days before his inauguration, saying he defamed her and the other women he branded as liars. She is seeking a retraction, an apology and unspecified damages.
Trump "knowingly, intentionally and maliciously threw each and every one of these women under the bus, with conscious disregard of the impact that repeatedly calling them liars would have upon their lives and reputations," her complaint said.Trump's lawyers argued that his comments during the campaign were "fiery rhetoric" and hyperbole protected by the 1st Amendment, not defamation.
In the ruling on Tuesday, Schecter cited the U.S. Supreme Court's 1997 opinion that President Clinton was not immune from litigation in a sexual harassment suit that Paula Jones filed against him in federal court. Schecter rejected arguments by Trump lawyers that the Jones case did not apply to state courts.
"State courts can manage lawsuits against the President based on private unofficial conduct just as well as federal courts," Schecter said.
She also turned down Trump's request to postpone the case until the end of his presidency, saying there was "absolutely no authority" for doing that.
Michael Cohen, one of Trump's personal lawyers, did not respond to an email requesting comment. Trump can appeal the ruling, a process that could ultimately extend the proceedings well into his 2020 campaign for reelection.
Zervos, 43, is one of three women whose lawsuits will distract the White House in the months ahead. Porn actress Stormy Daniels has sued Trump in an attempt to void a hush-money contract that requires her to keep quiet about her alleged affair with him in 2006 and 2007.
Former Playboy model Karen McDougal filed a lawsuit Tuesday to nullify a confidentiality agreement that bars her from talking about an alleged romance with Trump around the same time.
The week before Zervos went public with the allegations in October 2016, Trump apologized for saying during the taping of an "Access Hollywood" episode that he could grab women by their genitals whenever he wanted because he was a celebrity.
But Trump denied allegations that he actually engaged in sexual misconduct.
After appearing on "The Apprentice" in 2005 and getting "fired" on the show, Zervos sought real-life work at the Trump Organization. On a visit to his Trump Tower office in 2007, he kissed her on the lips without her consent, she said.
Soon after that, he invited her to dinner at the Beverly Hills Hotel. When she arrived, Trump's security guard led her to Trump's bungalow, where he kissed her aggressively, put his hand on her breast and pressed his genitals against her, she said.
Zervos said she spurned his advances, leading Trump to get angry.
Zervos, a Republican, did not go public with her allegations until the week after he denied engaging in the kind of conduct he described in the "Access Hollywood" tape.
"I felt that I had to speak out about your behavior," she said. "You do not have the right to treat women as sexual objects just because you are a star."
To read this article in Spanish click here
Twitter: @finneganLAT
---
UPDATES:
3:20 p.m.: This article was updated with a reference to Michael Cohen not responding to an email seeking comment.
3 p.m.: This article was updated to add that Zervos is seeking a retraction, apology and damages from President Trump.
1:20 p.m.: This article was updated with quotes from the judge's ruling.
This article was originally published at 11:20 a.m.
---
Life is stressful. Our weekly mental wellness newsletter can help.
You may occasionally receive promotional content from the Los Angeles Times.