With Bauman out, state Democrats wrestle with another issue: What gave rise to all the bad behavior?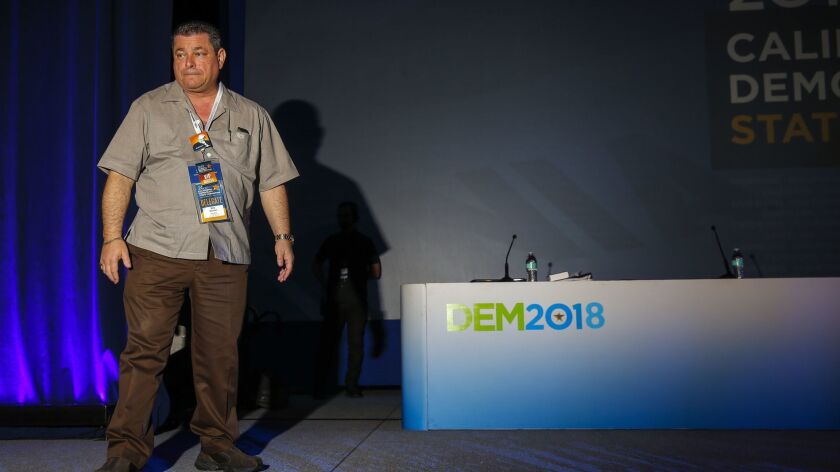 Reporting from Sacramento —
Days before the November election in which California Democrats expanded their dominion over the state with sweeping victories in almost every electoral battleground, a handful of people inside the party's inner circle knew of a problem that would ultimately topple their leader.
Serious allegations had been quietly lodged about the behavior of Eric Bauman, the state party's chairman. Shortly after the accusations were revealed, Bauman apologized. And on Thursday, less than 24 hours after a Times investigation found that multiple party members accused the Los Angeles Democrat of making crude sexual comments and engaging in unwanted touching or physical intimidation in professional settings, he announced his resignation.
"I have made the realization that in order for those to whom I may have caused pain and who need to heal, for my own health, and in the best interest of the Party that I love and to which I have dedicated myself for more than 25 years, it is in everyone's best interest for me to resign my position as chair of the California Democratic Party," Bauman said in a written statement.
Now the party's remaining leaders are left to wrestle with a broader issue: determining what fostered the kind of internal environment that could severely damage the Democrats' brand.
"I think that we're frankly at a stage where this is a wake-up call and the culture of the organization needs to up its game and up its professionalism," Lt. Gov.-elect Eleni Kounalakis said.
Elected officials and activists alike said the Democratic Party must take a more inclusive approach to leadership, with more roles for its most junior members. And few denied the accusations against Bauman had cast a bright and uncomfortable light on the party's inner workings.
Kounalakis said an unprofessional workplace culture made her uncomfortable as a California Democratic Party staff member in 1992. She said she's surprised it hasn't changed much.
"It's almost like a family," Kounalakis said. "People have been more comfortable to let their hair down. I think what can go along with the congeniality is a comfort level that you can say and do whatever you want, and that is really what has gotten out of hand."
Bauman led an organization that raised $29.8 million this year. That money helped fuel a historic string of election day victories — eight statewide offices including governor, half of the congressional seats formerly held by Republicans and three-quarters of all positions in the California Legislature.
Though just more than two dozen are on the state party's payroll, its ranks reach deep into communities across California, with no shortage of ideological young volunteers and charismatic candidates. The recipe for political victory is often an intense blend of heart and hard work that attracts those with particular, if not idiosyncratic, personalities.
But at its core, the party is still a place of work — a "multimillion-dollar organization with employees who have rights and where all employment laws must be followed," said Shawnda Westly, the party's former executive director.
Over the last year, as the #MeToo movement has swept through Hollywood studio lots and legislative chambers, Democrats have led the charge for strong laws protecting the rights of sexual harassment victims. The state party had updated its own rules too and conducted sexual harassment prevention training at its Sacramento headquarters this summer.
Assemblywoman Laura Friedman (D-Glendale), who led this year's effort in the Legislature to revise sexual harassment procedures and policies, urged the party to implement new training for employees and top leaders as well as clear instructions for when to report allegations of improper behavior.
"Our party must fully evaluate where our system failed and fix it," Friedman said. "I'm already starting to see finger-pointing, as it's tempting to blame bystanders, potential witnesses and even victims who stayed silent. But I believe it's important to remember that the system failed everyone."
Daraka Larimore-Hall, second vice chair of the party, said he first learned of an allegation against Bauman on Nov. 17. But he said others were aware of a formal complaint days earlier and called it "troubling on a lot of levels" that officials did not loop him in.
"By the time I was talking to people, they had talked to other folks and felt they weren't being listened to or believed, and they felt things were being lost in the politics," Larimore-Hall said. "It's just weird that we weren't all made aware and part of the conversation and allowed to be helpful."
Larimore-Hall said he quickly realized the "limitations" of the party's bylaws. There's no rule requiring someone in Bauman's position to take a leave of absence during an investigation, nor is there a system in place to protect all whistleblowers in such a political environment, he said.
"This is going to be a very long process to heal and fix," Larimore-Hall said. "This is on us as an institution."
State Controller Betty Yee, who did not support Bauman during his razor-thin election as party chairman in 2017, said she had been "deeply concerned" about what she saw as unchecked bad behavior inside the party during his tenure.
"Culture develops from the top," Yee said.
On Wednesday, when confronted by The Times with allegations of inappropriate behavior, Bauman said that he would seek "treatment for what I now realize is an issue with alcohol." Democratic Party employee rules prohibit alcohol use during work hours.
Yee said she had seen otherwise in meetings with Bauman.
"Often times I've smelled alcohol on his breath in early hours of the day," she said. "I believe I've witnessed him consuming alcohol in early hours of the day."
RL Miller, a Democratic activist who supported Bauman for chairman, said she has been to the leader's Los Angeles home for political functions where Scotch flowed freely. She said a loose, celebratory culture within the state party increased the acceptance of drinking, crude language and other behavior that would otherwise be glaringly inappropriate in a professional workplace.
"I think that to a certain extent the party has reflected the Sacramento boozy late-night culture," Miller said.
Some Democrats said recent events must be a catalyst for change. The party needs to undergo a complete transformation, Yee said, from local political clubs to its uppermost echelons, to ensure that victims of harassment within the organization and those running its campaigns feel comfortable voicing their concerns.
"I think people were looking the other way. I think people were intimated about speaking up," Yee said. "We now have the voices of the victims, and that should inform us of what do to ahead."
---
Must-read stories from the L.A. Times
Get the day's top news with our Today's Headlines newsletter, sent every weekday morning.
You may occasionally receive promotional content from the Los Angeles Times.