More cannabis shops in 'weed desert' cities? California lawmakers just sank that idea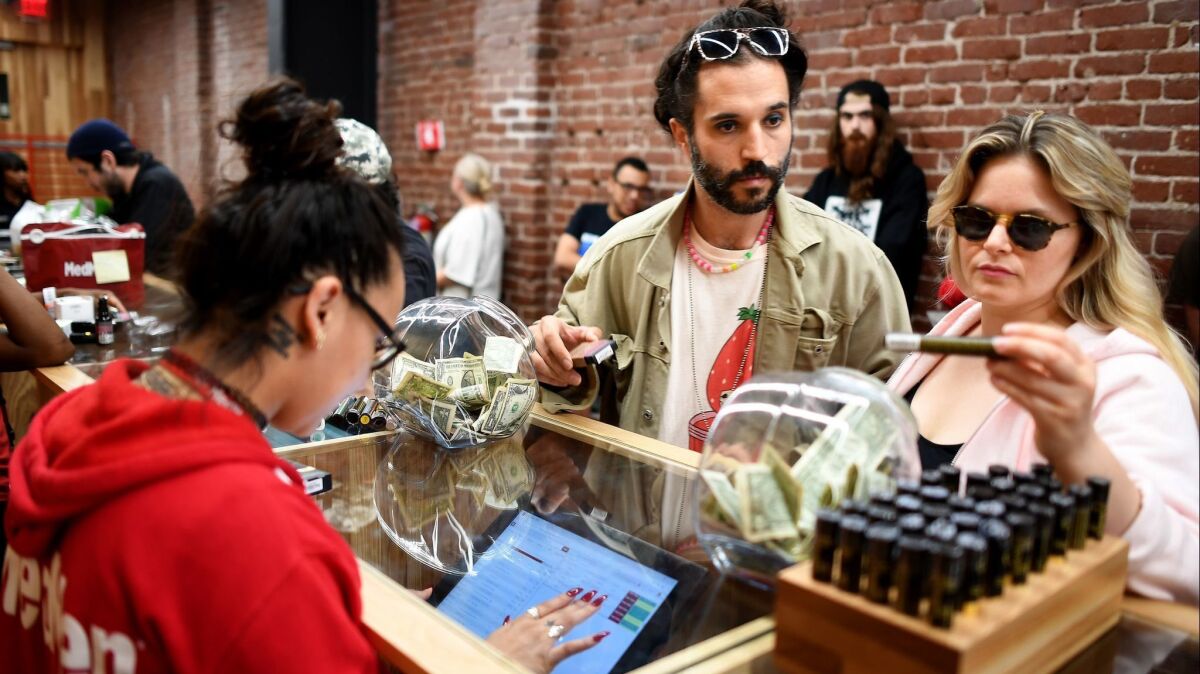 Reporting from Sacramento —
Facing strong opposition from California cities, a state lawmaker on Thursday shelved a bill that would have required municipalities to lift bans on cannabis stores if their voters supported Proposition 64, which legalized the state's pot market.
Assemblyman Phil Ting (D-San Francisco) could not muster the two-thirds vote of the Assembly needed to alter the requirements to prevent cities and counties from banning pot shops. He plans to try again with the bill next year, a representative said.
"It's disappointing the Legislature will not act on AB 1356 this year, a bill I introduced to put an end to illicit cannabis businesses that are currently hurting our communities," Ting said Thursday. "Despite legalization, people across California are still forced to obtain cannabis from the unregulated, underground market."
The measure would have required one licensed cannabis store for every six restaurants and bars with liquor licenses, or one for every 15,000 residents, whichever provides fewer pot shops.
City and county officials said the bill would have usurped their local control over which businesses to allow, and would have betrayed a promise in Proposition 64 that municipalities would have veto power over permits.
Since voters approved Proposition 64 in 2016, some 76% of cities and 69% of counties have banned stores selling cannabis, stunting the legal market in California.
"Counties were pleased to see AB 1356 move to the inactive file today," said Cara B. Martinson, a spokeswoman for the California State Assn. of Counties. "This bill would have eroded the ability of cities and counties to regulate cannabis in our communities."
The local bans have resulted in a large illicit market for cannabis that dwarfs the legal market, Ting and industry officials complained. The initiative was approved by 57% of state voters.
Ting said that city councils were thwarting the will of their voters as expressed when they approved the initiative. It received a majority vote of support in 392 cities and counties.
"Californians voted for Prop. 64 to replace the black market with a legal system that would grant them safe access to cannabis products, while also creating good jobs and significant tax revenue," Ting said Thursday. "However, these goals can only be fully realized if enough licenses are granted to meet existing demand."
Ting's bill failed to win the necessary votes even after it was amended to reduce the number of cannabis stores required.
"Local officials know their communities better than Sacramento politicians," said Assembly Republican leader Marie Waldron (R-Escondido) on Thursday. "When Californians passed Prop. 64, they were promised that local governments could choose what kind of commercial cannabis activity they would allow in their communities. AB 1356 would have broken that promise."
The bill would have resulted in 1,195 additional cannabis retailers in the 392 incorporated cities and unincorporated county areas that voted in favor of Proposition 64, according to a study by private consultants Applied Development Economics Inc.
That would nearly triple the number of licenses in the state given that there are currently 624 pot shops.
The new cannabis stores could have had sales of up to $2.1 billion, generating about $586 million in additional tax revenue for the state and local governments, the study estimated.
If the bill had passed, according to the study, the licensed market would have had $3.6 billion in sales, less than half of the $7.7 billion total sales in the state, meaning the black market would still have been larger than the legal market.
The amendments reducing the number of new cannabis stores required failed to eliminate opposition from the counties association and the League of California Cities.
"AB 1356 fundamentally erodes the local regulatory authority of cities and counties, which is explicitly provided for in Proposition 64," the league said in a letter to lawmakers. "In seeking to remove a local government's ability to either approve retail cannabis shops at a different concentration level or prohibit them within its jurisdiction, this bill completely subverts the intent of the voters who approved Proposition 64."
Sign up for our Essential Politics newsletter »
Twitter: @mcgreevy99
---
Life is stressful. Our weekly mental wellness newsletter can help.
You may occasionally receive promotional content from the Los Angeles Times.