Investigation finds state Sen. Bob Hertzberg's hugs were unwanted, but not sexual in nature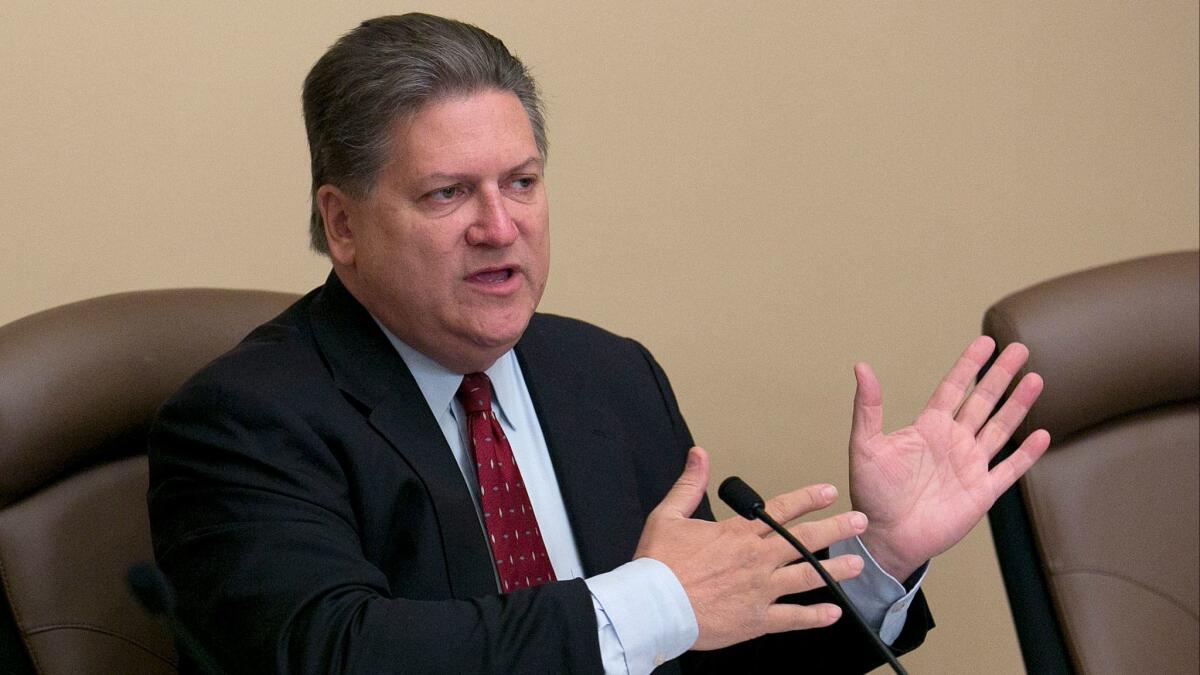 Reporting from Sacramento —
A legislative investigation into unwanted hugs by a state senator nicknamed "Huggy Bear" in California's state Capitol found that he made people feel uncomfortable but that his behavior wasn't sexually motivated.
The Times obtained the report into hugging by state Sen. Bob Hertzberg (D-Van Nuys). It resulted in a letter of reprimand from a key Senate panel, which instructed him to stop initiating hugs.
"You are now on notice that your behavior has been unwelcome," members of the Senate Rules Committee wrote in a letter to Hertzberg on Tuesday.
The investigation also found Hertzberg had been warned by Senate leadership on two occasions in 2015 that his hugging and touching had raised concerns. The report chastised Hertzberg for not taking those warnings seriously, and said he "missed opportunities to understand that some people were genuinely troubled by his hugging."
Hertzberg said in an interview he was pleased the investigation concluded the intent behind his actions was not sexual in nature.
"To the extent anyone has felt uncomfortable with any of my hugs, I apologize to them," he said. "I've never meant anything other than just warmth and human connection, which I think has value in society."
The nickname in political circles comes from the seasoned lawmaker's signature bear hugs. Hertzberg's embraces came under scrutiny last fall amid a reckoning over sexual harassment in the state Capitol. Hertzberg served in the Assembly from 1996 to 2002, and was Assembly speaker from 2000 until 2002. He returned to the Legislature upon his election to the Senate in 2014.
Different records released by the Senate in February revealed that Hertzberg in 2015 embraced a Senate staffer and "began to dance and sing a song to her" in a way that the staffer felt was "uncomfortable and unwelcome." That incident was not included in this investigation.
The Senate began the investigation into his behavior after three current and former female lawmakers said the uninvited hugs were inappropriate.
Hertzberg said even before the investigation began, he had become more careful about giving hugs.
"I've just been more mindful of it," he said. "I see what's going on in the world. I'm sensitive to it."
California Legislature releases a decade's worth of records on sexual harassment investigations »
Former Assemblywoman Linda Halderman, a Fresno Republican who served one term from 2010 to 2012, said she met Hertzberg early in her Capitol tenure, when he gave an orientation class to freshman lawmakers. At the time, he was between stints as a legislator.
Halderman said Hertzberg gave her numerous prolonged hugs early in her Capitol tenure, including one in which she described him thrusting his groin into her. She said he continued to do so even after she objected and that the behavior stopped once she complained to an Assembly official.
The investigation, conducted by two outside law firms, found that Hertzberg likely hugged Halderman on one occasion. It said the record did not support her assertion that he hugged her on multiple occasions or that he did so after she asked him to stop.
Halderman communicated with investigators by email but declined to be interviewed in person. She did not respond to a request for comment but the Sacramento Bee reported she has criticized the investigative process. "I don't respect how they've handled it," she told the Bee.
The report also delved into public reports that two current unidentified legislators had unwanted hugs from Hertzberg. The investigation found that Hertzberg hugged a female senator in 2015 in a way that made her uncomfortable, but did not hug her again after she told him to stop. It also concluded that Hertzberg hugged an assemblywoman more than once in an unwanted manner, but he was not aware that his embraces made her uneasy.
The investigation also detailed a 2016 incident with a male sergeant-at-arms. "Hertzberg danced briefly with his backside against a male Sergeant-at-Arms in a manner that was unwanted and made the Sergeant uncomfortable," the report found.
Hertzberg said he did not learn of concerns over the 2016 incident until recently, illustrating what he considered to be a flaw in the Senate's internal procedures of handling complaints.
"There's no question that there's a problem in the process," he said. "But what I have tried to do is to be a constructive force. I have been taking notes as I have been going through this myself. I have been giving a great deal of attention to figure out: How do we fix it?"
Have you experienced sexual harassment in government or politics? Please share your story. »
After speaking to 28 people, investigators concluded "the vast majority" of Hertzberg's hugs were not viewed negatively by recipients.
"Many of the witnesses spoke in support of Hertzberg and described his hugs in positive terms such as friendly, warm and welcoming," the report states.
Another mitigating factor cited by the report is the conclusion that "Hertzberg's motivation for hugging is not sexual in nature." Investigators noted the senator seemed "genuinely remorseful" at the prospect of his actions making someone uncomfortable.
Overall, Hertzberg said he agreed with investigators' conclusions.
"I think it's appropriate because it tells the truth," he said.
Tony Mendoza, who resigned facing expulsion, will run again for his Senate seat without Democratic Party approval »
This is the third completed investigation into a legislator's behavior since an October open letter describing a "pervasive" culture of harassment in California politics pushed the issue of sexual misconduct into the forefront.
Last week, an investigation concluded that former Assemblyman Raul Bocanegra (D-Pacoima) likely made unwanted advances on three subordinates when he worked as a chief of staff before holding elected office. Bocanegra resigned in November after facing multiple allegations of harassment, which he denied. The probe also found that Gerardo Guzman, who was his district director, behaved inappropriately and was fired as a result.
Sen. Tony Mendoza (D-Artesia) resigned in February after facing threat of expulsion by his colleagues, after a probe found Mendoza likely behaved flirtatiously with six women, four of whom worked as his staffers. Mendoza is now running to recapture that seat in this year's elections.
Several other investigations into current and former lawmakers are ongoing, including an inquiry into Assemblywoman Cristina Garcia (D-Bell Gardens), who has been accused of making inappropriate advances toward two men. Garcia denies the allegations and has gone on voluntary unpaid leave for the duration of the investigation.
Follow @melmason on Twitter for the latest on California politics.
Coverage of California politics
Sign up for the Essential Politics newsletter
---
UPDATES:
10:35 a.m.: This article was updated to include Hertzberg's term as Assembly speaker.
This article was originally published at 10:25 a.m.
Get our Essential Politics newsletter
The latest news, analysis and insights from our politics team.
You may occasionally receive promotional content from the Los Angeles Times.