San Diego Republican Assemblyman Brian Maienschein switches parties and joins Democrats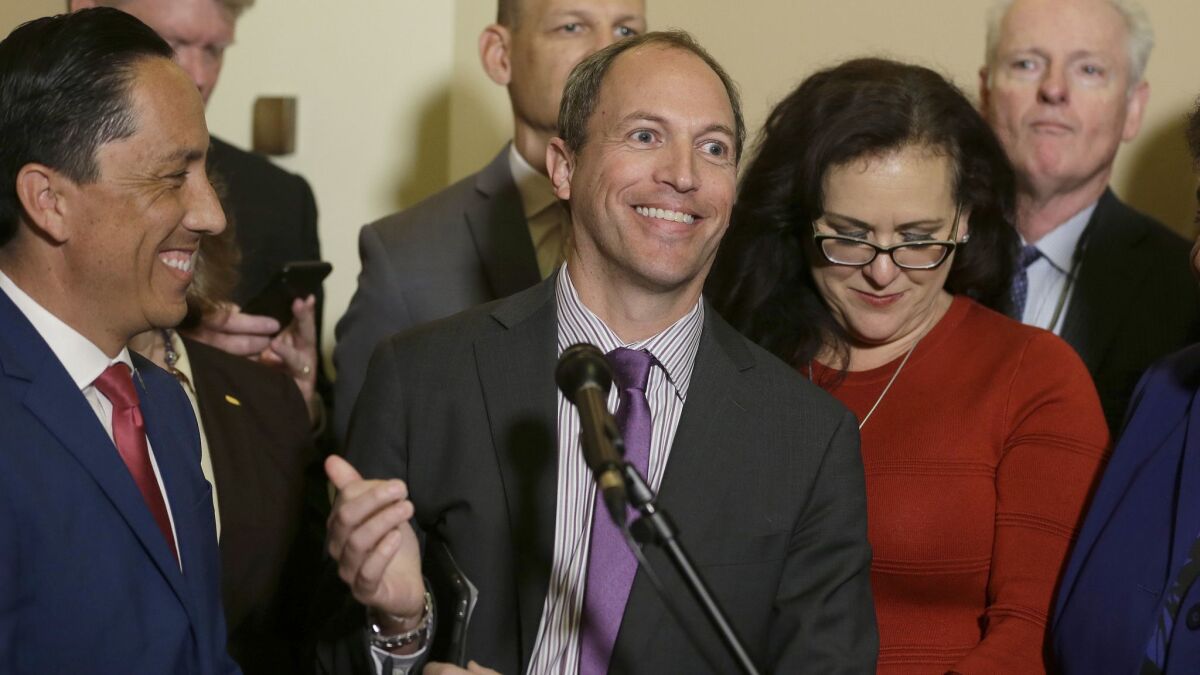 Reporting from Sacramento —
San Diego Assemblyman Brian Maienschein, who has served in the Legislature for six years, announced on Thursday that he has left the California Republican Party and re-registered as a Democrat in a move that further shrinks GOP influence in Sacramento.
"Donald Trump has led the Republican Party to the extreme on issues that divide our country," Maienschein said. "But his leadership is not the only reason for my change in party affiliation. I, too, have changed."
The unexpected decision, announced at a brief Capitol news conference just after the Assembly floor session, boosts the membership of the chamber's Democratic caucus to 61. Republicans now hold just 19 seats.
Maienschein said his votes on key issues have "shifted to the left" as the GOP agenda moved in the opposite direction. He cited a number of issues — gun control, immigration, abortion and LGBTQ rights — where he said he was no longer in sync with Republicans.
"It's been something that's been happening over the course of a really long time," he said when asked whether there was a single moment that led to the decision. "There wasn't a way that I could continue and feel good about myself and the choices I was making to continue as a member of the Republican Party. And it was time for me to make a change."
Maienschein narrowly won reelection last November against a Democratic challenger, securing a new two-year term by just 607 votes. Assembly Speaker Anthony Rendon (D-Lakewood), in welcoming a former adversary turned ally, said Maienschein's views are consistent "with a majority of Californians" on a number of key issues.
Rendon said Maienschein had always expressed "values of caring, values of sharing. And those are values that are Democratic values.".
Assemblyman Chad Mayes (R-Yucca Valley), a former GOP leader in the chamber who last year launched a political action committee to elect more centrist Republicans, wrote on Twitter that he was not surprised by the decision.
"He's a great legislator that represents his district well," Mayes wrote. "I'm sure this decision did not come easy for him. He didn't leave the Republican Party, the party left him."
Others were far less complimentary. Assembly Republican Leader Marie Waldron of Escondido, whose own district sits just north of Maienschein's, took aim at the former Republican's motives for leaving the party.
"It's unfortunate that Brian's takeaway from his extremely close reelection was that his political future depended on becoming a turncoat," Waldron said in a written statement. "Unfortunately some people run for office simply because they want a job, regardless of political philosophy. It appears that Brian falls into this category."
Maienschein, 49, served on the San Diego City Council for eight years, before his time in the Assembly. He has also worked for the United Way of San Diego on homelessness issues in the city.
His Assembly district, which stretches north of the city of San Diego to include Poway and Rancho Santa Fe, has seen voter registration slowly shifting toward Democrats. When Maienschein was first elected in 2012, Republicans held an 8-percentage-point lead among registered voters. By last year's election, Democrats were a razor-thin plurality.
Legislative staff said Thursday that Maienschein is the fifth member of the Assembly to change parties while in office since 1995. It is also not the first time the San Diego region has seen one of its Assembly members have a political change of heart. Maienschein represents some of the same communities as did Nathan Fletcher, a former Republican who became an independent in 2012 and later a Democrat. Fletcher was elected to the San Diego County Board of Supervisors in November.
Follow @johnmyers on Twitter, sign up for our daily Essential Politics newsletter and listen to the weekly California Politics Podcast
---
Life is stressful. Our weekly mental wellness newsletter can help.
You may occasionally receive promotional content from the Los Angeles Times.