All sexual harassment investigations in California state Senate to be sent to outside attorneys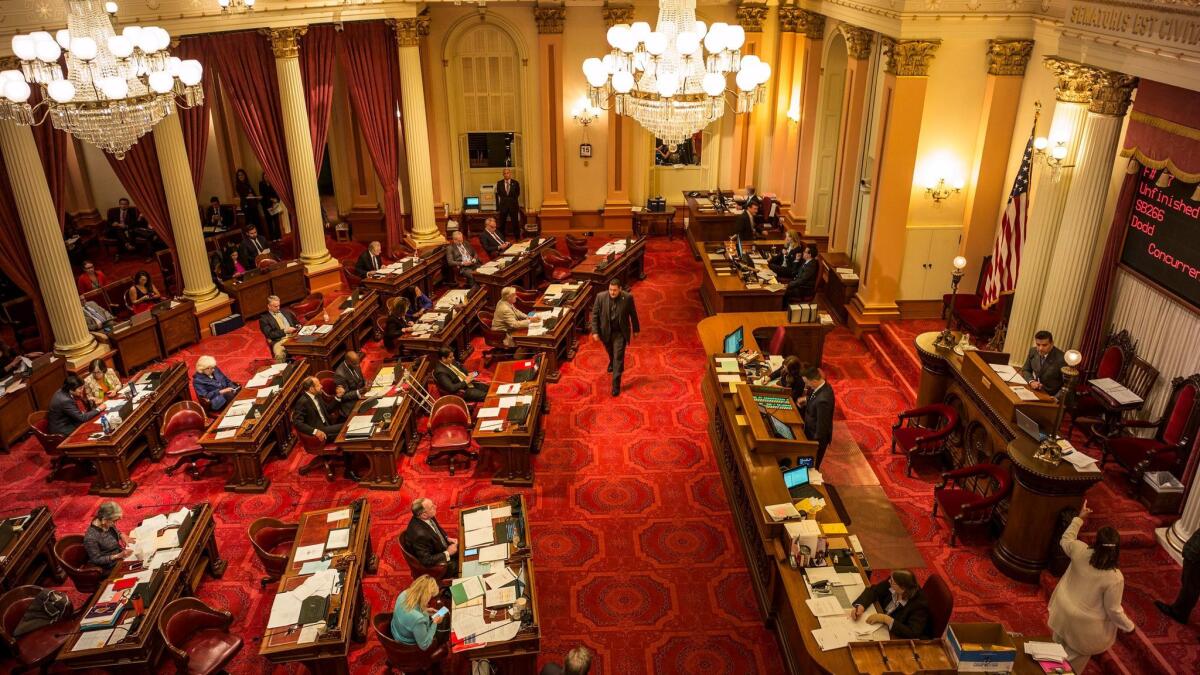 Reporting from Sacramento —
In a break with its long-standing practices that signals growing pressure to forcefully address sexual harassment allegations at the state Capitol, the California Senate will soon take steps to hire outside attorneys for any abuse investigation involving either staff or lawmakers.
"The people who work here and the public we serve must have complete confidence that no public official is above the law or our strict zero-tolerance harassment policies," Senate President Pro Tem Kevin de León (D-Los Angeles) said in a statement Sunday. "Those who violate these policies will be held to account — swiftly and justly."
The decision came just hours after a new allegation of inappropriate behavior was leveled against state Sen. Tony Mendoza (D-Artesia) by a Capitol staffer, the second complaint made against the Democrat in less than a week. Though he denied the new accusation, Mendoza last week apologized for any instance in which he "ever communicated or miscommunicated anything that made an employee feel uncomfortable." That statement was sparked by allegations contained in a story published by the Sacramento Bee.
The investigations policy change presumably would include any probe into Mendoza or anyone on the Senate payroll. Traditionally, the Senate Rules Committee has handled all human resources issues, similar to the process used by the state Assembly. High-ranking staffers in both houses oversee those efforts, though lawmakers are the ultimate judges of both improper behavior and the appropriate discipline.
A spokesman for De León said Monday the Senate hasn't yet chosen the outside law firm that will investigate sexual harassment allegations, and offered no additional details beyond the statement that "the general findings will be made public." As such, it remains unclear what the outsourced work will cost taxpayers and how the claims will be vetted. Unclear, too, is whether the Senate's new system might result in abuse and harassment issues placed behind the wall of attorney-client privilege.
Last week, both houses of the Legislature denied public access to some of the data covering abuse allegations made over the last decade. Information that was released in response to The Times' formal request left unclear how many actual complaints were made in each house, focusing instead only on those that triggered formal investigations. Officials also have not revealed the cost of the investigations carried out over the last decade, or the money spent to hire attorneys who drafted harassment settlements.
While the Senate announced this substantial shift in its approach, Assembly Speaker Anthony Rendon (D-Paramount) said Monday that he's waiting for a special hearing later this month in Sacramento to offer suggestions on a "workable strategy" leading to an "inclusive, deliberate process that solves the problem."
Rendon's spokesman said the Assembly speaker has committed to a "bicameral" process — one in whichboth houses of the Legislature work together, a key demand of women who have come forward to raise awareness of sexual harassment issues.
Rendon also announced something that has never been detailed: Sexual abuse allegations against members of the Assembly are not dealt with by staff. "The Assembly will continue to refer any allegation regarding members to independent outside legal firms to investigate," he said in a written statement.
The Times asked the Legislature about sexual harassment. Here's the response »
The swift statements on the broader policy of the Legislature came after an Assembly staffer confirmed to The Times a weekend report in the Sacramento Bee that she felt uncomfortable in an encounter with Mendoza in 2008 at the California Democratic Party's convention in San Jose. Jennifer Kwart, then a 19-year-old intern, said Mendoza, then 36, invited her to his hotel room. She said he offered her alcohol, even though she was underage.
A statement from Mendoza's office said Kwart's "allegation is completely false."
Kwart said on social media that she felt she had to speak up after another woman's story surfaced last week. That allegation was from someone who worked in Mendoza's Senate office as part of a paid fellowship program. Three former aides to the lawmaker said they were fired after they made complaints about Mendoza's interactions with that woman, who has been described as a 19-year-old Senate fellow.
Micha Star Liberty, an attorney for one of the fired employees, said that Mendoza had at least twice invited the woman to his house in Sacramento. "There were multiple invitations to his home when the fellow was searching for a job post-fellowship," Liberty said. "The senator indicated he would help by looking at her resume and helping with her job search, but that she should come to his house."
Senate officials dispute any connection between the firing of the staffers and the allegations. The issue has proved problematic for De León, who was Mendoza's roommate while they worked in Sacramento. A spokesman said Sunday that De León has moved out of the house.
Kwart now works for Assemblyman David Chiu (D-San Francisco). Chiu said on Facebook he believes his staffer's account of the incident at the state party convention. "Coupled with recent allegations and continued denials, I have serious doubts about whether Sen. Mendoza should continue to serve in public office," Chiu wrote.
The shift in approach to sexual harassment investigations by the Senate was welcomed by "We Said Enough," the group formed last month to call out behavior they argue is pervasive in California politics and government circles.
"It sounds like they are finally admitting that the path they have been on has not been the right path," said Adama Iwu, a government affairs manager for Visa who is one of the group's leaders.
But she said there are also important questions still unanswered. "If I have a complaint today, who do I talk to?" Iwu said. "Second of all, is the Legislature really the right body to be deciding who is going to be hired to handle this investigation? I don't know at this point."
Times staff writers Melanie Mason and Patrick McGreevy contributed to this report.
Follow @johnmyers on Twitter, sign up for our daily Essential Politics newsletter and listen to the weekly California Politics Podcast
ALSO:
California's Legislature investigated 31 abuse complaints over the past decade
Female lawmakers, staffers and lobbyists speak out on 'pervasive' sexual harassment in Sacramento
Get our Essential Politics newsletter
The latest news, analysis and insights from our politics team.
You may occasionally receive promotional content from the Los Angeles Times.