California should spend $1.6 billion more next year to combat its child poverty crisis, new task force finds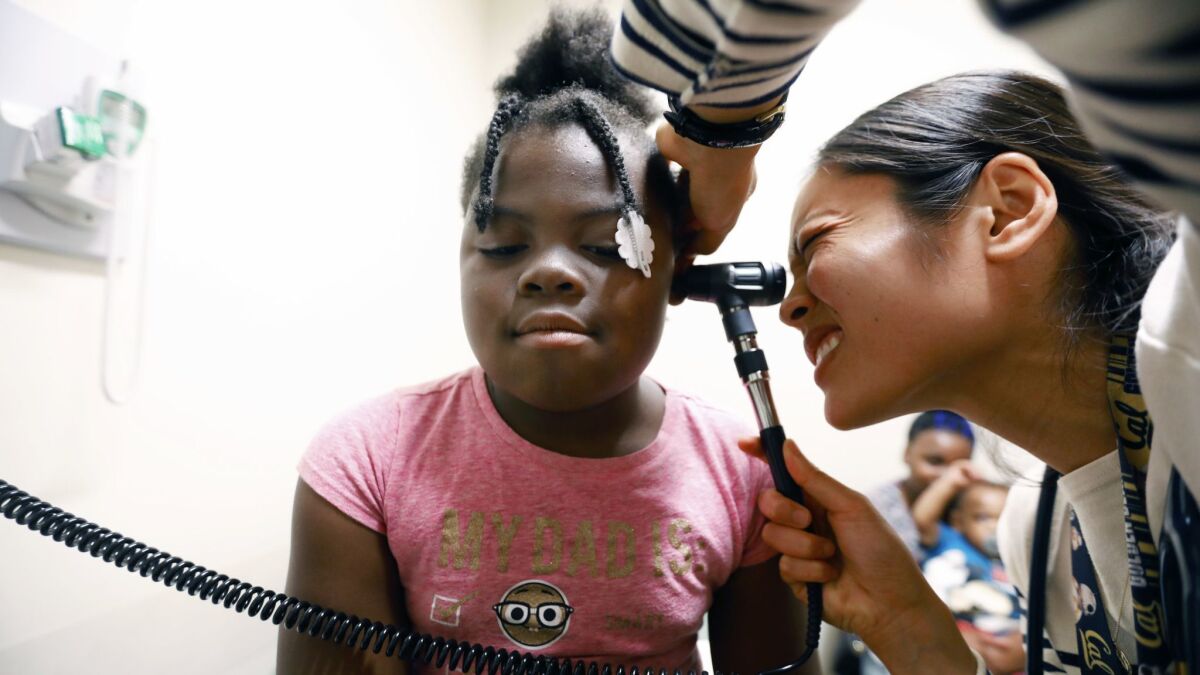 Reporting from Sacramento —
California must significantly increase the money it spends on child care, food assistance and other social services — by as much as $1.6 billion in the first year alone — to narrow an income divide that has left almost 2 million children living below the poverty line, a new state task force said Monday.
The group, assembled by state government last year to address the child poverty crisis, is calling on Gov.-elect Gavin Newsom to earmark money in next year's state budget for expansion of antipoverty programs. It has crafted a plan to phase in nearly $14 billion for the efforts over the next decade, saying the savings to the state will balance out the costs in the long term.
Task force members say the recommendations in their first report are meant to strengthen the social safety net for low-income families and could help create better living conditions for as many as 450,000 of the most impoverished children in the state over the next four years alone. The group hopes to find an ally in Newsom, who has vowed to combat homelessness and closed out his winning campaign with a focus on the needs of the youngest Californians.
"The elements of real change are coming together," said Conway Collis, co-chairman of the task force and a former member of the state Board of Equalization. Child poverty "is both a human and a fiscal crisis of the state, and this report provides a road map to address both of those issues."
The task force was established under a state law written last year by Assemblywoman Autumn Burke (D-Inglewood) with the support of House Minority Leader Nancy Pelosi and Democratic Rep. John Lewis of Georgia. It comprises leaders of county and state agencies, researchers, legislative staffers and members of private industry, labor and community groups.
Their report, developed over a year of monthly meetings, is meant to guide the state in reducing the percentage of children living below the poverty line in California by half within the next two decades.
"Children don't get a second chance to be a child," Burke said. "We can change the lives of a lot of children who live in the state of California right now."
Although the state is home to the world's fifth-largest economy, one in five children lives below the federal poverty line, according to the task force — including 30% of African American and Latino children. More than 20% of children are part of families that can't afford clothes, food or other basic necessities, partly because of the state's housing crisis and the high cost of living, according to a recent study from the nonprofit California Budget and Policy Center.
Gov. Jerry Brown, who leaves office early next month, has faced criticism from state lawmakers who have said he hasn't done enough to address the needs of California's most vulnerable families after the state rebounded from the most significant economic downturn since the Great Depression.
During the course of his campaign, Newsom sought to distinguish himself from his predecessor. The two-term lieutenant governor pledged to expand and improve early childhood education programs along with prenatal and child care. His commitment to social causes could be tested as early as January, when he will submit a state budget to the Legislature.
Nathan Click, a Newsom spokesman said: "The governor-elect is thankful to the task force for their work on this important issue, and looks forward to digesting the report."
The state currently spends about $10.3 billion annually from its general fund on antipoverty programs, including medical care and food assistance programs.
The task force's recommendations include a new targeted child tax credit for low-income families that incorporates rental housing subsidies and would phase in a $1.2-billion increase in grants provided through CalWORKs, the state's welfare assistance program that gives cash aid and services to eligible families.
The recommended budget boost would also expand access to child care and early childhood education, voluntary home visits for first-time parents and expanded healthcare coverage under the Medi-Cal program.
While the recommendations of the task force come with a large price tag, researchers insist those costs would be offset by its savings, estimated to be $12 billion a year. The task force based that figure on projections about long-term reductions in juvenile justice needs, social services and health expenditures. Supporters also say there will be additional tax revenues for the state when children make it out of poverty and become successful adults.
Collis said he and other researchers were surprised to find such a large amount of evidence showing the positive effect on a child's future earnings as a result of additional income support for their families as they were growing up.
"Those savings projections were not developed casually — they were based on specific, detailed analysis," Collis said.
David Grusky, who helped conduct the analysis and serves as director of the Stanford Center on Poverty and Inequality, said their recommendations would completely eliminate the number of children living in extreme poverty, a concern that states across the country have been grappling with for years.
Children who grow up in such conditions face health implications and issues with cognitive development early in life, he said, and later struggle to stay in school, find work and meet their full earning potential.
"It is tragic for these children," he said. "It is tragic for the state."
More stories from Jazmine Ulloa »
---
Life is stressful. Our weekly mental wellness newsletter can help.
You may occasionally receive promotional content from the Los Angeles Times.