UC should expel students and revoke degrees after admissions scandal, lawmaker says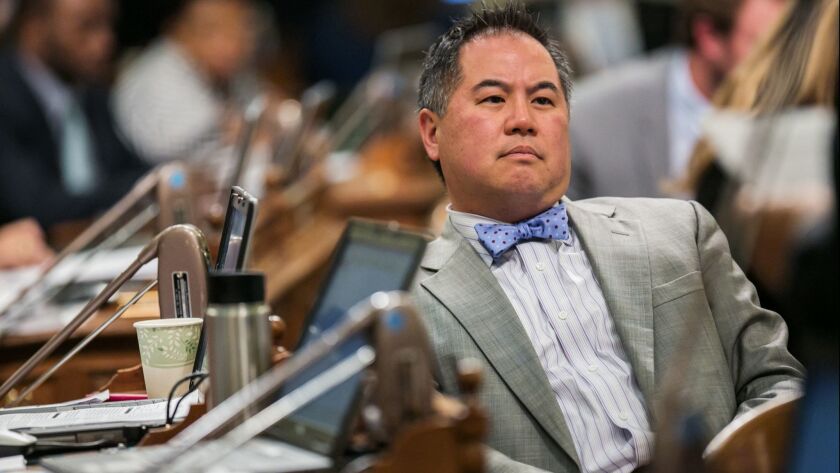 Reporting from Sacramento —
With two University of California campuses mired in the college admissions scandal, a leading state legislator on Tuesday urged officials to quickly revoke degrees and expel students admitted under fraudulent circumstances.
"I think the university has to take some extraordinarily strong action to expel these students and to take back those degrees because otherwise what is the disincentive for doing this?" said Assemblyman Phil Ting (D-San Francisco), chairman of the Assembly Budget Committee, during a hearing in Sacramento.
Officials representing the UC system said they were waiting for more information and evidence from federal authorities and the conclusion of an internal investigation to take action against students involved in the scandal.
In a hearing that stretched on for two hours, legislators questioned the integrity of the admissions process and received few answers from UC officials, who promised an impending internal review would pinpoint any weaknesses in the system.
Federal authorities are accusing affluent parents of paying hundreds of thousands of dollars to falsify athletic records and cheat on entrance exams to gain admission for their children to elite colleges.
UC President Janet Napolitano launched an internal investigation last week into all UC campuses caught up in the nationwide scandal and how their officials were allegedly bribed and manipulated by William "Rick" Singer, founder of a Newport Beach-based college prep business.
Napolitano made the announcement after UCLA placed men's soccer coach Jorge Salcedo on leave. Salcedo was charged with conspiracy to commit racketeering, having allegedly accepted $200,000 in bribes to help two students gain admission under the pretense they were athletic recruits.
The scandal recently spread to UC Berkeley when federal authorities alleged the father of a former member of the men's rowing team paid $200,000 for someone to take the SAT and the Canadian high school graduation exam for his sons.
Legislators said the purpose of the hearing Tuesday was to gather information to better understand the problem and the need for changes to state law.
Assemblyman Kevin McCarty (D-Sacramento) said he and other lawmakers were considering introducing legislation to exclude the SAT from college admissions criteria or to require the test to fall under the purview of the schools that students attended.
McCarty said the Legislature was also weighing better ways to regulate companies such as Singer's college prep business, called the Edge & Career Network.
Other potential bills could provide stricter standards for "admissions by exception," in which universities accept students because they are considered athletic recruits, or due to other special circumstances, if they fail to meet the typical criteria, McCarty said.
"Do we have a robust audit follow-through process to make sure these people are legit?" McCarty said. "We're looking into potential legislation to make sure there are adequate checks and balances to catch fraudsters, but more importantly to protect the sanctity of the admissions process."
More stories from Taryn Luna »
Follow @tarynluna on Twitter.
---
Get our Essential Politics newsletter
The latest news, analysis and insights from our politics teams from Sacramento to D.C.
You may occasionally receive promotional content from the Los Angeles Times.