The Nunes memo made this congressman a national name. But his California district cares about water, not Russia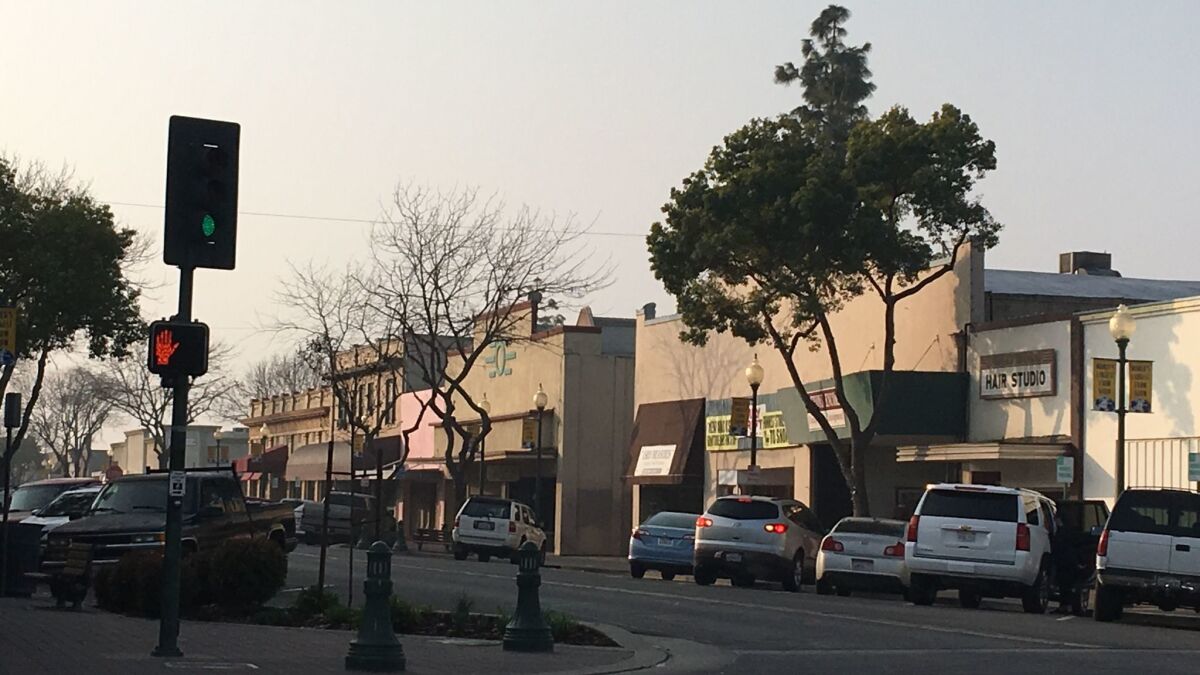 Reporting from Tulare —
At Old Salles Cafe, near the northern outskirts of this deeply conservative farming city, Archie Harrison said he did not know much about his congressman, Devin Nunes, nor did he need to know more.
"If he supports Trump, I support him," the 51-year-old truck driver said Monday over a breakfast of steak and eggs, only hours after President Trump had hailed Nunes in a tweet as a future "Great American Hero."
As Nunes finds himself at the center of a political firestorm in Washington over the release of his controversial memo about the Russia investigation, thousands of dollars are pouring into Democratic campaigns aiming to unseat him in the midterms. But in the Republican's hometown of Tulare, where partisan rifts reflect those across the country, many constituents aren't following the battle, even as it only seems to heat up.
Here, some business owners and workers said they still believe Nunes can deliver on jobs. Farmers and growers tend to know him for water, not Russia.
"It's fake — the whole Russia deal," said John Cairns, a fifth-generation farmer who attended Cal Poly San Luis Obispo with Nunes and was in his same fraternity. "Washington is a totally different ballgame from what we are dealing with out here. We are going to support a candidate that delivers water to local farmers."
Nunes' district sits in the San Joaquin Valley, spanning Tulare, Visalia and parts of Fresno. It is predominantly Latino, although less than 29% of that population is registered to vote, and agriculture is a major economic driver and among the top private employers. In Tulare, a city of nearly 63,000, farmers like to point out that the region feeds the world, with Tulare, Fresno and Kern counties typically running among the top three global agricultural producers for cotton, almonds, wine grapes and walnuts.
The district is home to nearly half a million cows, and 50% of the world's supply of raisins is produced within a 60-mile radius of Fresno.
For growers, Nunes, whose family has been farming in the community for generations, is a longtime vocal advocate for their interests. They say his prior legislation only failed thanks to previous presidents.
You thought the memo drama was over? It's just heating up »
Roger Isom, president of the California Cotton Ginners and Growers Assn., said Nunes in his 14 years in Congress has helped bring attention to the water crisis. They cited in particular East Porterville, an unincorporated area of Tulare County, where hundreds of wells went dry and people were forced to flush toilets with buckets of dirty water during the recent years-long drought. The congressman's efforts led to the building of a communal shower, he said, and water supplies were trucked into East Porterville during the drought.
"Devin fought to bring this to the light," Isom said. "He has pushed the conversation, and there is the impact in my community."
Now Isom and other growers are hoping Nunes helps push for more deregulation of the farming industry, funds for research and the creation of more dams, which they say requires state and federal dollars.
They also want to see federal restrictions repealed protecting smelt, a native California fish species that is found only in the Sacramento-San Joaquin delta. And they are well aware that they are at odds with the rest of California, or as one grower put it, "people on the other side of the grapevine."
"You go to San Francisco, and people think we are trying to kill the environment," Cairns said at his corner produce store off All American City Highway. "But we are just trying to make a living and put food on tables."
That is why they say their faith in Nunes endures, though some agree his latest political battles in Washington are a distraction from the issues germane to their daily lives.
"Our eyes are on the more important issue right now: a federal project that gets us water," Isom said. "Am I going to keep up with everything [the president] tweets? I honestly don't have the time."
Nunes, chairman of the House Intelligence Committee, became a focus for Democrats after he crafted and released a four-page memo last week that alleges senior FBI and Justice Department officials relied on questionable and politically motivated sources to justify surveillance of Trump's campaign. Democrats counter Nunes cherry-picked information, and on Monday won the committee's approval to release their own rebuttal memo.
In neighboring Fresno, several dozen people took to the streets on Saturday to protest the release of Nunes' document, and the opinion pages of the local newspaper, the Fresno Bee, recently dubbed him "President Trump's stooge." The Bee covered the memo spat on its front page Tuesday.
Former county prosecutor Andrew Janz, 33, is running an uphill battle for Nunes' House seat in a district where registered Republican voters outnumber Democrats by 10 percentage points and Trump won with 51% of the vote in 2016. Late last year, Janz bought a highway billboard near Jimbo's Bar in Clovis depicting Nunes and Trump clad in diapers, with Russian President Vladimir Putin pulling them by leashes.
Over the weekend, Janz told HBO's "Vice News Tonight" that he believes the billboard shows he is "not afraid to attack an eight-term incumbent."
The Democrat said he raised $100,000 for his campaign the day the memo was unveiled, $150,000 the next and was on track to do the same on Sunday. "By end of this quarter, should probably have 1 million in our bank account," he said on "Vice News Tonight" in a segment that played in a local hotel in Tulare.
It's not clear how influential a liberal national news show might be in the 22nd Congressional District. Residents do listen to conservative talk radio, which spent more time on this particular day discussing perceived liberal media bias and how kneeling NFL players might be the reason that Super Bowl ratings decreased than they did on the political news in Washington.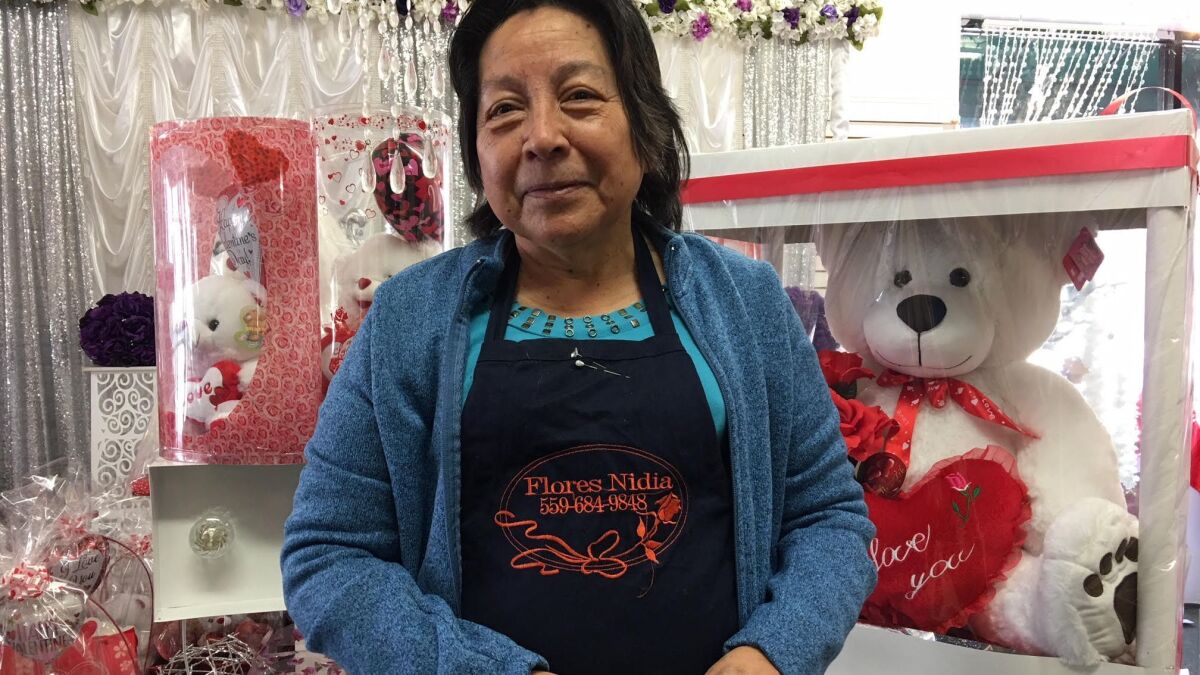 In this quiet town, which some in the area see as a world apart even from the more populated Fresno, how residents felt about Trump tended to dictate how they felt about Nunes — and many preferred to avoid the toxic subject altogether.
One downtown restaurant owner said he has noticed a deep partisan divide among his clients, though residents with varying political views complain it is difficult to get to know Nunes, who they said has not hosted a town hall.
Others wondered why he had not done more to help the so-called Dreamers brought to the country illegally as children.
"I thought he was going to do what he advertised," said Gilda Salas, 53, a housekeeper who voted for him last election. "I thought he was going to worry about education and illegal immigration."
At Floreria Nidia on North K Street, Maria Ortega had arranged rows and rows of stuffed white bears and red balloons for Valentine's Day. Ortega, 67, said Nunes should be worried about aligning himself with someone like Trump, whose immigration rhetoric she said is scaring off employees and clients alike and hurting small businesses.
"A good politician is well known to everyone in their hometown, but I know very little else about him," she said.
ALSO:
6 things to know about the fight over Rep. Devin Nunes' secret memo
Washington may be shaking its head, but Devin Nunes is still a hometown hero
Running in 'Bernie Country,' a former Obama and Clinton staffer battles for state Assembly seat
Updates on California politics
---
UPDATES:
3:15 p.m.: This article was updated to clarify the significance of agriculture as an employer in the district, the description of delta smelt and the process by which water was brought to East Porterville.
This article was originally published at 12:05 p.m. on Feb. 6.
---
Life is stressful. Our weekly mental wellness newsletter can help.
You may occasionally receive promotional content from the Los Angeles Times.