While dialysis clinic battle brews at state Capitol, healthcare workers look to the ballot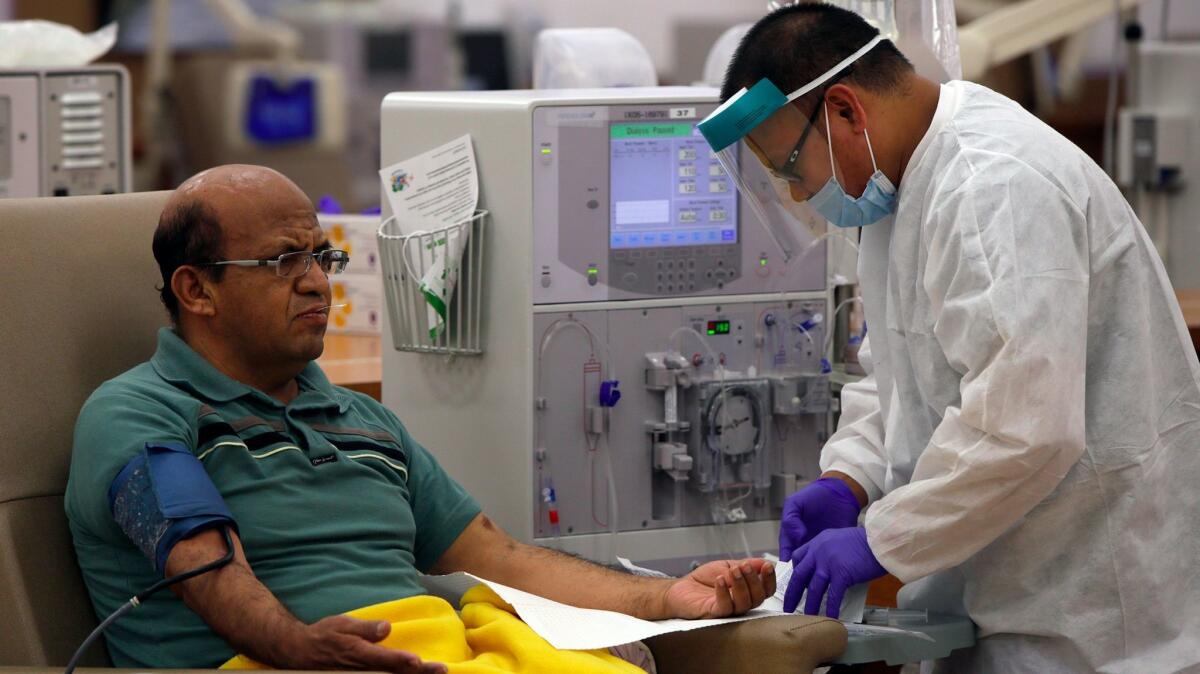 Reporting from Sacramento —
Cracking down on clinics treating Californians with chronic kidney disease has been a top legislative priority this year for unions representing healthcare workers. Now they're opening a new front in their crusade against the dialysis industry: the ballot box.
Service Employees International Union-United Healthcare Workers filed two initiatives with the state attorney general on Wednesday that, if they qualify, would appear on the November 2018 ballot. The union is seeking to impose stricter rules at dialysis centers for the staffing levels and how much they charge.
The proposals closely resemble pending bills that have thrust for-profit dialysis centers, which treat more than 63,000 Californians with end-stage kidney disease, into the legislative fray. By dangling the prospect of a ballot measure as a backup plan, the union is following a well-worn path to spur legislative action.
"We see it as a two-pronged approach," said Sean Wherley, spokesman for SEIU-UHW. "We want to be sure we have as many options available as possible."
At issue are the cost and care standards for treating those experiencing kidney failure, typically due to diabetes or high blood pressure. Dialysis performs some of the function of kidneys, such as removing excess salt and waste from the blood. Sessions are hours long and patients usually need treatments three times per week.
Two companies, DaVita and Fresenius, control around 70% of the national market, and a slightly higher percentage in California. That market share — coupled with the companies' high profits — has drawn scrutiny recently, including an extended look at the industry on HBO's "Last Week Tonight with John Oliver."
The national spotlight has coincided with a vigorous lobbying push in Sacramento from healthcare unions. Their first salvo was Senate Bill 349, by state Sen. Ricardo Lara (D-Bell Gardens), which would impose minimum staffing ratios that would decrease the number of patients a nurse or technician could care for. The proposal would also increase state inspections of dialysis facilities and would require a 45-minute transition time between patients. The measure is awaiting action in the Assembly Appropriations Committee.
Political Road Map: There's something missing so far from California's statewide ballot for 2018 »
Proponents argue that such reforms are necessary to improve patient safety. But detractors, including clinic operators as well as patient groups and some physicians, say such regulations are unnecessary, arguing that better staffing ratios have not been proven to lead to better care.
Opponents also note that workers at dialysis centers hope to unionize, which explains labor groups' keen interest in clinic operations.
Wherley said dialysis clinic staffers "want these reforms regardless of what happens with their union efforts."
A second measure, introduced in June, would require dialysis clinics to spend at least 85% of their revenue on direct patient care, quality improvement investments such as electronic health records, and taxes and fees. If they don't meet that requirement, they would need to issue rebates to nongovernmental healthcare payers, such as insurers.
That measure, Assembly Bill 251 by Assemblyman Rob Bonta (D-Alameda), has attracted opposition from the dialysis industry and hospitals.
That both bills remain under consideration has not stopped SEIU-UHW from telegraphing their plan B. The text of the initiative states in its findings that "efforts to enact protections for kidney dialysis patients in California have been stymied in Sacramento by the dialysis corporations."
Bonta said the initiative threat brings an "additional focus" on clinics that could aid his legislation in the Capitol.
"It might make legislators think if this going to happen one way or the other, it may be best for us to help craft it and shape it and make it the best possible … to support patient care," said Bonta, adding the initiative might similarly inspire industry opponents to engage on his bill.
The ballot measure is not identical to the legislation. Instead of requiring that 85% of a dialysis center's revenue be spent on patient care, as Bonta's bill would do, the initiative would require clinics to issue rebates if they charge more than 115% of the average treatment cost in the state.Both policies would effectively limit dialysis centers' spending on items other than patient care — such as executive compensation — to no more than 15% of profits.
SEIU-UHW has filed two different versions of the initiative, reflecting contingency plans for various scenarios. The first initiative would include both the staffing-ratio requirement and the cap on charges; the second would deal only with the costs in case SB 349, with its staffing regulations, is signed into law. The union aims to place only one measure on the ballot in November.
Kathy Fairbanks, a spokeswoman for opponents of the dialysis legislation, blasted the filing of the measures, accusing the labor group of using "the initiative process to put their union member-building agenda ahead of what's good for patients."
"While filing an initiative is only the first step in a long process, these initiatives would be dangerous for patients by reducing access to life-saving dialysis care," Fairbanks said in a statement. "That's why these policies are opposed by doctors, dialysis clinic workers, patients, veterans, nurses and many others. It's shameful that this organization would threaten to put the lives and quality care of tens of thousands of dialysis patients at risk just to further their own agenda."
The early filing date offers another benefit to the union: a cheaper route to the ballot. Collecting signatures tends to get pricier as the qualification deadline approaches.
SEIU-UHW is no stranger to using the promise of a looming ballot initiative to accomplish policy goals. In 2013, the union threatened two measures on hospital pricing and executive pay, while the labor group squabbled with hospitals on organizing opportunities.
In 2016, the union was one of two labor groups to introduce proposed ballot measures to raise the state minimum wage. The initiatives prodded Gov. Jerry Brown and lawmakers to take action on their own, ultimately crafting compromise legislation raising the wage to $15 an hour.
The deal was made possible by a 2014 law that allows backers to withdraw a measure even after it has qualified for the ballot. The change, said UC San Diego political science professor Thad Kousser, "gives incentive to the Legislature to come to the table."
Kousser said the interplay between legislation and initiative long predates the 2014 overhaul of the rules. Early proponents of ballot measures called the option "the gun behind the door," he noted, prodding the Legislature to act.
"It's been used like that for 100 years," Kousser said.
Follow @melmason on Twitter for the latest on California politics.
Political Road Map: There's something missing so far from California's statewide ballot for 2018
California ballot propositions rake in a record $473 million in campaign cash
---
UPDATES:
6:05 p.m.: This article was updated with comment from Assemblyman Rob Bonta (D-Alameda).
2:14 p.m.: This article was updated with comment from opponents of the dialysis initiative.
This article was originally published at 10 a.m.
Get our Essential Politics newsletter
The latest news, analysis and insights from our politics team.
You may occasionally receive promotional content from the Los Angeles Times.