California lawmakers grill DMV official over ballooning wait times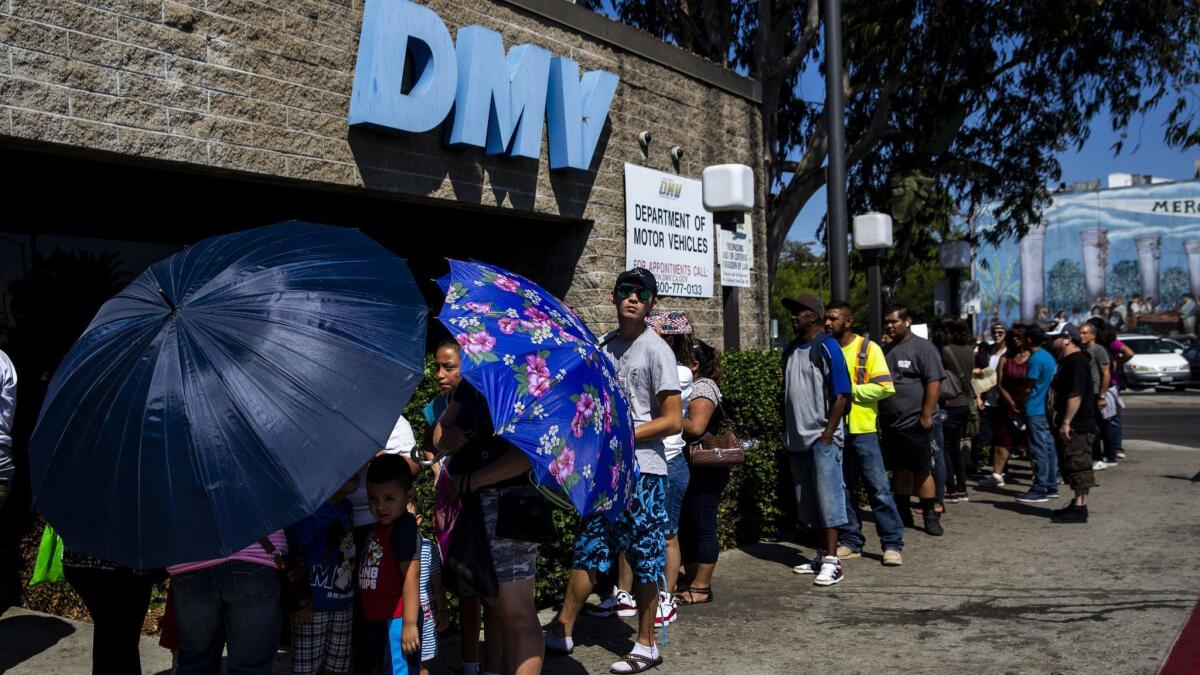 Reporting from Sacramento —
The leader of the state Department of Motor Vehicles apologized on Tuesday for a recent steep increase in hours-long wait times at the agency's locations across California, as complaints over excessive delays sparked new scrutiny from legislators.
"The wait times you are experiencing are not what we ever want our customers to go through," said DMV Director Jean Shiomoto, who testified at an Assembly hearing convened to address the issue following months of public frustration.
"We want to do better and we will do better. Our customers deserve it," Shiomoto added.
The DMV — often maligned as the epitome of government bureaucracy — has come under increasing scrutiny in recent months, after wait times swelled to four to six hours in high-volume locations, Shiomoto said.
Legislators, citing constituent complaints, said they heard of wait times that lasted even longer.
"No one should have to wait hours to receive a basic government service," Assemblyman Jim Frazier (D-Oakley) said, expressing concerns that state budget dollars are not adequately spent on improving customer service at the DMV.
Is a Real ID California driver's license hard to get? No. But is the hassle worth it? »
The DMV attributed the soaring wait times in part to complexities around Real IDs, a new type of driver license and identification card that federal law will require citizens and legal residents to present when boarding domestic flights, or visiting military bases and other federal facilities starting Oct. 1, 2020.
DMV officials said that educating the public about Real ID and the documents it requires adds approximately five minutes to each customer interaction at field offices, leading to bloated wait times.
The federal Real ID law was passed in 2005, leading legislators to argue the department had plenty of time to prepare for increased demand for the new IDs.
"We hear a lot of excuse-making that...the Real ID — this is the reason we have all of these delays. That's not the only cause of these long wait times," said Assemblyman Jim Patterson (R-Fresno), one of several legislators seeking a legislative audit of the DMV. Patterson added that failing technology and inadequate staffing levels are also to blame.
Shiomoto acknowledged the department has experienced outages and computer glitches due to recent new IT systems. She said that increased staffing levels should help mitigate the delays. The department has hired about 550 new employees, and asked last month for an additional $16 million to hire 230 more.
In advance of Tuesday's hearing, DMV officials announced several new initiatives to reduce wait times, including shifting 240 employees from the department's headquarters and other state agencies to field offices throughout the state. The department also expanded Saturday hours and early morning hours on weekdays at select locations, and will launch pilot projects such as self-serve kiosks and text notifications to let customers know when a representative is ready to assist them
The goal, Shiomoto said, is for time-saving initiatives to be in place by mid-September, so wait times can be reduced to the norm — 15 minutes for customers with an appointment, 45 minutes for those that do not — by the end of the year.
In addition to prompting sharp questions from lawmakers, the long wait times have inspired legislative proposals, including a bill by state Sen. Patricia Bates (R-Laguna Niguel) that would give Californians an additional 90 days to renew licenses that are set to expire this year.
Follow @melmason on Twitter for the latest on California politics.
Get our Essential Politics newsletter
The latest news, analysis and insights from our politics team.
You may occasionally receive promotional content from the Los Angeles Times.