Newsletter: Politics at the Golden Globes leads some to call for 'Oprah for President'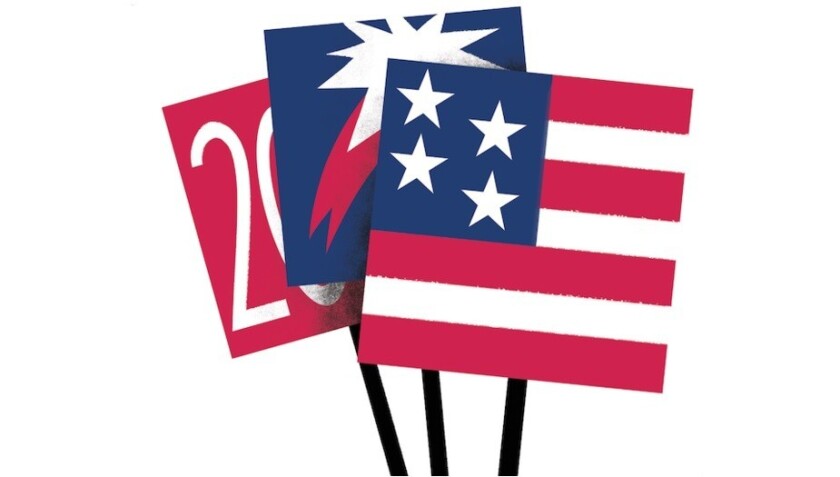 If the events of last week didn't convince you that California will enter its second year of self-proclaimed "resistance" to President Trump with gusto, the Golden Globes made it ever clearer that the most powerful forces on the West Coast are not in line with the administration's priorities.
Trump reiterated some of those priorities over the weekend, speaking alongside Republican congressional leaders about his plans to insist on a border wall while coming up with a fix for the Deferred Action for Childhood Arrivals program. "We want DACA to happen. We all — everybody, I think I can speak for everybody — we want John Cornyn from Texas. We all want DACA to happen. But we also want great security for our country," Trump said.
For the record:
4:25 PM, Jan. 08, 2018An earlier version of this newsletter incorrectly called John Cox a billionaire. He's a multimillionaire.
And those weren't even the biggest headlines of the weekend. More on the "Fire and Fury" in Washington is below. We'll start with the Russia investigation.
NEW DETAILS ABOUT TRUMP TOWER MEETING
David Cloud scoops that special counsel Robert S. Mueller III has recalled for questioning at least one participant in a controversial meeting with a Kremlin-connected Russian lawyer at Trump Tower in June 2016, and is looking into Trump's misleading claim that the discussion focused on adoption, rather than an offer to provide damaging information about Hillary Clinton.
Some defense lawyers involved in the case view Mueller's latest push as a sign that investigators are focusing on possible obstruction of justice by Trump and several of his closest advisors for their statements about the politically sensitive meeting, rather than for collusion with the Russians.
Cloud also reports that investigators are exploring the involvement of the president's daughter, Ivanka Trump. Details of the encounter were not previously known.
NUNES TARGETS JUSTICE DEPARTMENT
Rep. Devin Nunes first strode into the spotlight last year by suggesting the Obama administration may have improperly spied on Trump's team. The episode backfired, but the Tulare Republican is still working to show Trump has been unfairly treated. Chris Megerian and Joseph Tanfani look at how Nunes is targeting the Justice Department and raising questions about how it has conducted the Russia investigation, a parallel probe that has Democrats crying foul.
CRIMINAL PROBE FOR DOSSIER AUTHOR?
Many Republicans have spent the last year brushing off concerns about the Russia investigation. But now two of them, Sen. Chuck Grassley and Sen. Lindsey Graham, say there might be grounds to prosecute someone — the former British spy who tried to expose Trump's alleged ties to Russia. They say the former spy, Christopher Steele, may have lied to investigators about his contact with reporters.
NATIONAL POLITICS LIGHTNING ROUND
-- Will Oprah Winfrey run for president? "It's up to the people," Winfrey's longtime partner, Stedman Graham, told The Times on Sunday night after the idea was floated repeatedly at the Golden Globes. "She would absolutely do it." And from Winfrey herself: "Okaay!"
-- Read her speech.
-- Michael Wolff's "Fire and Fury: Inside the Trump White House" book dominated political conversation over the weekend, as the White House on Sunday pressed its defense of the president's fitness to govern and as fired former aide Stephen K. Bannon reversed course and apologized for his role in the book's explosive portrait of Trump.
-- For his part, Trump defended his intelligence and went after the press.
-- Jackie Calmes looked at how response to the book over the last few days metaphorically fits the warring and chaos within the White House which Wolff recounts.
-- Read the juiciest excerpts.
Get the latest about what's happening in the nation's capital on Essential Washington.
'THE RIGHT PLACE AT THE RIGHT TIME' FOR BROWN'S NEXT CHAPTER
A year from today, he will begin his first full day as a private citizen. And chances are, Gov. Jerry Brown will be walking the grounds of his family's Northern California ranch — a place the veteran politician says is "the right place at the right time."
The governor gave The Times an exclusive look at the home he and First Lady Anne Gust Brown are building on the property in rural Colusa County. As Brown told Sacramento bureau chief John Myers for Sunday's story, he doesn't intend to just disappear from politics altogether.
"My ambitions, they have some vitality to them," he said.
Don't miss the video of Brown talking about his great-grandfather, who bought the ranch in 1877, and the governor touring the property with his dog, Colusa.
Myers also offers some excerpts of his interview with Brown in his weekly column about current politics — including the governor's sharp critique of House Republicans who voted last month for the tax overhaul.
GOVERNOR'S RACE HEATING UP
A new year and a new Republican candidate have cracked open California's sleepy race for governor, unleashing predictions of a splintered GOP vote that could sink Republicans and lead to a November election between two Democrats.
Former Northern California Rep. Doug Ose jumped into the race Friday, becoming the third major GOP candidate in an already crowded field. His decision comes as front-runner Lt. Gov. Gavin Newsom faces an uptick in attacks by the Republicans, who see him as the Democrat headed for the November ballot and hope to paint him as a liberal bogeyman to lure more GOP voters to the polls in the June primary.
In response, GOP gubernatorial candidate John Cox, a multimillionaire, pledged to spend up to another $1 million of his own money on his campaign to match donors to Ose's campaign.
Prior to Ose's announcement, the two other GOP candidates for governor — Cox and Assemblyman Travis Allen — clashed in a fiery debate in front of the Redlands Tea Party Patriots at a barbecue restaurant in Mentone. In an informal straw poll before and after the event, both men gained support, but Allen had the clear edge.
Meanwhile, Democratic front-runner Gavin Newsom courted California Democratic Party delegates for their endorsement in advance of their convention in February and took a shot at a company that has employed his main rival.
A POLICY ABOUT-FACE ON SEXUAL HARASSMENT RECORDS IN SACRAMENTO
In November, leaders of the California Senate and Assembly refused to make public records of some of the most serious sexual misconduct investigations in recent years.
On Friday, with The Times and others insisting there was no legal justification to keep those documents private, officials decided to change the policy. It remains unclear exactly when the documents will be released.
When they are, we'll be covering the news on our Essential Politics news feed about California politics.
MORE HARASSMENT FALLOUT IN SACRAMENTO
Faced with the threat of an embarrassing Senate vote to suspend him, state Sen. Tony Mendoza (D-Artesia) agreed Wednesday to take a one-month paid leave of absence.
Mendoza said he made the decision after a four-hour closed session with Senate Democrats who were considering a rare vote of suspension because of concern over allegations that he harassed three former aides.
Rep. Brad Sherman is changing some policies after learning about sexual harassment allegations made against Matt Dababneh, who was a staffer in Sherman's office before being elected to the Assembly.
And in an update to our investigation about accusations against Raul Bocanegra, who resigned as The Times prepared to publish a report, one of his accusers is running for his seat. Dakota Smith writes that Yolanda Anguiano said she didn't have political aspirations, but changed her mind and is now preparing a bid for the Assembly district in San Fernando Valley.
WEED WARS
As the Trump administration targets recreational pot, it has placed thousands of marijuana businesses in California at risk, prompting one Democrat to revive a proposal to make California a "sanctuary state" for the marijuana industry.
Borrowing an idea from a new state law on immigration enforcement, the measure would prohibit state and local agencies, absent a court order, from assisting in federal drug enforcement efforts targeting those who have state licenses to grow and sell marijuana.
Patrick McGreevy explains how state leaders are preparing for possible political and legal battles in response to the DOJ decision.
BLUNTING THE TAX BLOW TO CALIFORNIA
Calling a state income tax payment a "charitable contribution" so it can be deducted on a federal tax return seems nutty, even for California government, George Skelton writes in his Monday column. Last week, the idea was introduced as legislation by state Senate leader Kevin de León (D-Los Angeles). And it's probably a justifiable tax dodge in an effort to defend millions of California taxpayers from Trump and the Republican Congress, Skelton says.
BIDEN SPEAKING IN L.A.
There's still time to get your tickets to The Times Ideas Exchange event with former Vice President Biden.
The Democrat, out with a new book, will sit down with Patt Morrison in downtown Los Angeles Wednesday night.
MARIN COUNTY'S HOUSING AND SEGREGATION WOES
Marin County is the most racially inequitable in the state, according to a new study, a problem that researchers attribute to disparities in housing affordability and homeownership rates between whites and blacks and Latinos.
County residents have long been hostile to new development, and Marin has some of the most naturally beautiful landscapes in the state. But it also has some of the nation's highest housing costs as well as housing segregation patterns dating back decades, Liam Dillon reports.
BOOM IN NEW HOUSING PROMISED IN NEW LEGISLATION
A new bill from a Bay Area lawmaker could bring millions of new homes near transit lines across California.
The measure from Sen. Scott Wiener (D-San Francisco) would loosen most zoning restrictions within a half-mile of transit, including Metro lines in Los Angeles. Wiener says the measure will help with the state's housing affordability problems and meet its environmental goals. But those opposed to the bill are concerned that it might dramatically alter the character of neighborhoods.
TODAY'S ESSENTIALS
-- This week's California Politics Podcast takes a look at the mood of the Legislature as it returns to work with sexual harassment debate hanging over the state Capitol. The episode also examines the Trump administration actions hitting California on everything from pot to offshore oil.
-- A Los Angeles-area GOP organization sparked controversy by inviting a local John Birch Society leader to headline their meeting.
-- A California legislator wants to better track prescriptions of opioid medications to try to curb abuse of highly addictive drugs.
-- There are few formal racial profiling complaints filed against California police officers and even fewer of them are proven, according to new data released by the state Attorney General's Office.
-- Brown blasted plans by the Trump administration to expand oil and gas drilling off California's coastline.
-- New legislation would bar the sale of gasoline-powered cars in California starting in 2040.
-- Rep. Duncan Hunter called the FBI investigators looking into his campaign spending "biased" and accused them of political motives in an interview with a local TV station.
-- The Congressional Leadership Fund, a conservative super PAC endorsed by GOP leadership, has opened up a fifth California office in the district of Rep. Mimi Walters ahead of the midterms.
-- Meet the newest state Assembly member from L.A.: Wendy Carrillo.
-- ICE is increasing its presence in California because of its "sanctuary state" law, according to Trump's immigration chief.
LOGISTICS
Essential Politics is published Monday, Wednesday and Friday.
You can keep up with breaking news on our politics page throughout the day for the latest and greatest. And are you following us on Twitter at @latimespolitics?
Miss Friday's newsletter? Here you go.
Please send thoughts, concerns and news tips to politics@latimes.com.
Did someone forward you this? Sign up here to get Essential Politics in your inbox.
---
Get our Essential Politics newsletter
The latest news, analysis and insights from our bureau chiefs in Sacramento and D.C.
You may occasionally receive promotional content from the Los Angeles Times.