In about-face after legal threats, California's Legislature will grant new access to sexual misconduct allegation records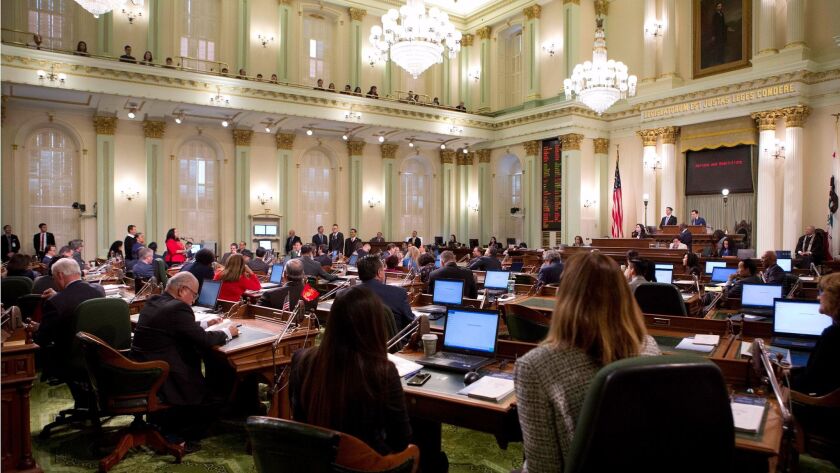 Reporting from Sacramento —
The California Legislature unveiled a new policy Friday that for the first time would reveal the identities of some who have been accused of sexual misconduct, two months after refusing to disclose detailed information about years of allegations.
By expanding public access to a select number of employee files, legislative leaders acquiesced to the reckoning that continues to reverberate through workplaces across the nation. Activists and news organizations alike pointed out the political and legal risks of lawmakers keeping the documents shielded from public view.
The new policy was outlined in a brief statement attributed to legislative leaders, who said the Senate and Assembly "will release documents related to sexual harassment claims that have been substantiated against a high-level legislative employee or legislator for which discipline has been imposed or allegations have been determined to be well-founded."
Amid uproar over sexual harassment, California lawmakers return to work »
That language precisely mirrors the phrasing used by the Los Angeles Times in requests for records filed with both houses on Nov. 3. The statement goes on to say that documents covering some claims of past sexual harassment will be released "in the coming weeks."
While the public statement does not make clear whether the release of sexual harassment information is a one-time occurrence, an aide to Senate President Pro Tem Kevin de León (D-Los Angeles) said the policy will be part of the upper house's "customs and practices," and not a formal rule.
Allegations of misconduct have upended the state Capitol in the 11 weeks since more than 140 women wrote an open letter denouncing the "pervasive" nature of sexual harassment and abuse in California's political world.
Two legislators, former Assemblymen Raul Bocanegra (D-Pacoima) and Matt Dababneh (D-Woodland Hills), resigned after multiple women accused each man of inappropriate sexual advances. Both lawmakers denied the allegations against them.
Sexual harassment hearings come as California Capitol is roiled by accusations and a resignation »
A third legislator, state Sen. Tony Mendoza (D-Artesia), is currently on a leave of absence while the Senate conducts an investigation into allegations that he behaved inappropriately with multiple female staff members, which the senator has denied. Mendoza, who had initially refused to temporarily step aside, gave in to the demands of his fellow Democrats after a tense private meeting on Wednesday.
In early November, legislative officials revealed broad data about the number of sexual misconduct investigations that both houses had conducted since the beginning of 2006, disclosing a total of 31 investigations. That information was released after a request by The Times for more substantive information, including the number of actual complaints — even when no additional investigation was conducted — and the cost to taxpayers. Lawmakers refused to provide those details, citing a 1975 state law that allows the Legislature to deny access to records that other state agencies and local governments must make available to the public.
The Times then asked for records pertaining to instances involving legislators, staffers or even lobbyists where the "charges were found to be true, discipline was imposed or the complaints were judged to be well-founded." Legislative officials rejected that request on Nov. 21.
On Dec. 5, an attorney for The Times urged lawmakers to reconsider their position and said a California court would likely rule in favor of disclosure.
"If teachers and superintendents and finance clerks and city managers and mayors and licensed attorneys all are subject to disclosure of records explaining the basis for discipline or finding that allegations of workplace misconduct are well founded or true, then legislators also are subject to disclosure of such records," wrote Jeff Glasser, The Times' vice president for legal affairs.
Friday's about-face on releasing documents appears to have some boundaries that could limit the public's effort to understand the full context of sexual misconduct issues at the state Capitol. Disclosure, said the statement, will be limited to complaints against either a legislator or "high-level legislative employee," which a De León aide described as someone who manages staff. That means there would be no disclosure of sexual harassment allegations against employees in jobs like scheduler or legislative aide — the types of lower level jobs which many managers hold before being promoted.
In short, records pertaining to disciplinary action against anyone with a pattern of improper behavior could presumably be kept confidential.
For legislative leaders, the controversies have proved challenging, pitting the desire to project a forceful reaction to the burgeoning scandal against long-held policy and the tendency to avoid disclosure.
"It's important that we are responsive as a body, both as an institution but as individual members," Assembly Speaker Anthony Rendon (D-Lakewood) told reporters earlier this week. "There's a certain amount of vigilance that I think seemed to have been missing in previous generations in this building."
In that same conversation, he demurred when asked if he was aware of any allegations of sexual misconduct against currently serving legislators.
"I don't talk about human resources issues," Rendon said.
De León, who is running for U.S. Senate, signaled at a news conference last month that requests for information about sexual harassment allegations would be handled in a more open manner.
"Part of changing that culture is to be more transparent," De León said. "Part of changing culture is to work closely with the press. This is unprecedented but we will be moving forward with that."
john.myers@latimes.com; melanie.mason@latimes.com
Follow @johnmyers and @melmason on Twitter, sign up for our daily Essential Politics newsletter and listen to the weekly California Politics Podcast
---
UPDATES:
8:45 p.m.: This story was updated to clarify that the policy in the California Senate will be a "custom and practice" of the House, which a top aide to the Senate leader said is not the same as a formal House rule.
This story was originally published at 4:35 p.m.
---
Life is stressful. Our weekly mental wellness newsletter can help.
You may occasionally receive promotional content from the Los Angeles Times.