Gov. Newsom criticized the new vaccine bill. Anti-vaccine activists are celebrating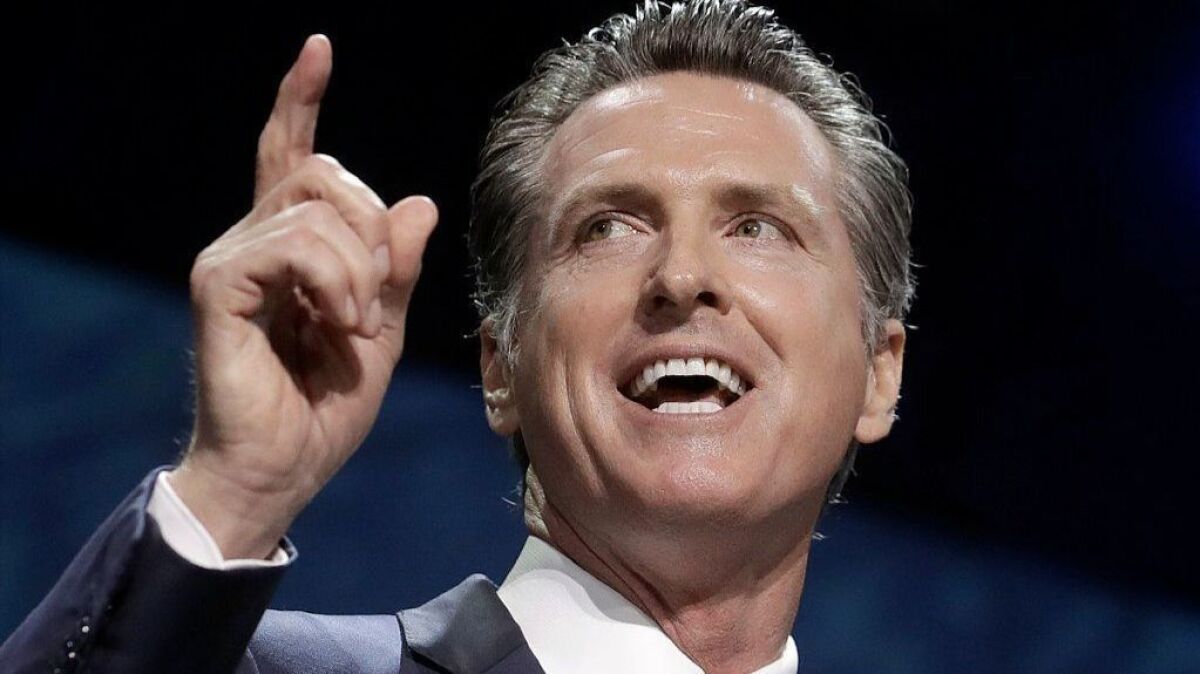 Reporting from Sacramento —
Gov. Gavin Newsom thrust himself into a debate over one of California's most controversial legislative proposals by suggesting he did not agree with a bill to tighten vaccine exemptions because it would create an immunization bureaucracy.
Opponents of the bill immediately latched onto Newsom's comments, with anti-vaccination advocate Robert F. Kennedy Jr. praising the governor Monday for "his wise and sober opposition to a draconian proposal."
The problem is that Newsom, who raised his concerns during a question-and-answer session with reporters at the California Democratic Party's convention last weekend, did not say he opposed the bill — or that he supported it — leaving both sides to interpret what the governor's comments mean.
"I like doctor-patient relationships, bureaucratic relationships are more challenging for me," Newsom said on Saturday. "So it's just a broad stroke. I'm a parent, I don't want someone that the governor of California appointed to make a decision for my family."
It's not the first time this year that the governor's remarks on a controversial topic have caught both policymakers and activists off-guard. In February, Newsom seemed to throw cold water on the state's high-speed rail project in his first State of the State speech, prompting President Trump to attempt the cancellation of $1 billion in federal funding. California has since filed a lawsuit to block that effort.
The vaccination proposal, Senate Bill 276, has already triggered heated and emotional debates in the state Capitol, where it passed the Senate on May 22 and is now in the Assembly for consideration this summer.
California has some of the strictest childhood vaccination laws in the country, which requires immunizations to attend public or private schools. A doctor can excuse a child from some or all vaccinations if there is a medical reason to do so, and questions have been raised on whether some doctors are improperly approving these exemptions.
Under SB 276 by state Sen. Richard Pan (D-Sacramento), the California Department of Public Health would decide whether the underlying condition cited by a doctor in a medical exemption meets criteria set by the Centers for Disease Control and Prevention.
Pan said Monday that he has reached out to the administration to address any concerns Newsom has with the bill.
"I am working with the governor on how to implement a California solution to eliminating the danger of fake medical exemptions so we can protect our schools and children from preventable diseases," Pan said.
State health officials estimate that new state oversight would result in more than 40% of medical exemptions being denied each year. Medical exemptions that have already been approved would have to be submitted to the state for possible review and inclusion in a nonpublic database by the end of 2020.
Opponents of the bill have argued that doctors, not state public health officials, should decide whether a child should be vaccinated. But Pan said doctors are exploiting the state's medical exemption law and excusing children from vaccinations for questionable reasons such as for having asthma or diabetes. He said the current measles outbreak, which has affected 981 people across the country and 46 in California, further highlights the need to crack down on improper medical exemptions.
On Monday, as Newsom's comments were becoming one of the biggest side stories of the convention, the governor reiterated that he supports vaccinations and that his own kids are immunized.
"The question is around abuse of exemptions, the question is how best to address that issue," Newsom said. "That is a real issue that must be addressed. My question is how to address it and to the extent we're creating a new bureaucracy that creates some red flags for folks."
Leah Russin, executive director of the parent advocacy group Vaccinate California, said the law does create an administrative challenge but that calling it a bureaucracy implies there will be a mountain of red tape for parents with valid medical exemptions.
"It's not like there is some government official standing over your shoulder when you take your child to a pediatrician," Russin said. "The decision to vaccinate a child is still the decision of a parent. The decision — if that child is unvaccinated and gets to go to school — is a public health decision, and it should be made by a public health official."
Opponents such as Kennedy have indicated that they see the Assembly as their best chance at killing the bill.
Newsom met with Kennedy on Jan. 18, several weeks before the bill was introduced in the California Legislature. Kennedy touted that meeting on Instagram and heaped compliments on the governor in a Facebook message on Monday. Kennedy wrote that Newsom showed great leadership by opposing the bill and urged his followers to thank the governor for his "humane instincts and fearless leadership."
Kennedy came under fire in 2015 for using the word "holocaust" to describe the large number of children in the United States with autism, which he linked to vaccines despite medical research refuting that widely circulated claim.
Russin said she was troubled that Newsom would meet with Kennedy and said she has requested her own meeting with the governor in light of his comments.
Follow @MelodyGutierrez on Twitter and sign up for our Essential Politics newsletter.
---
Life is stressful. Our weekly mental wellness newsletter can help.
You may occasionally receive promotional content from the Los Angeles Times.