4 in 10 students would have their vaccine exemptions rejected, California estimates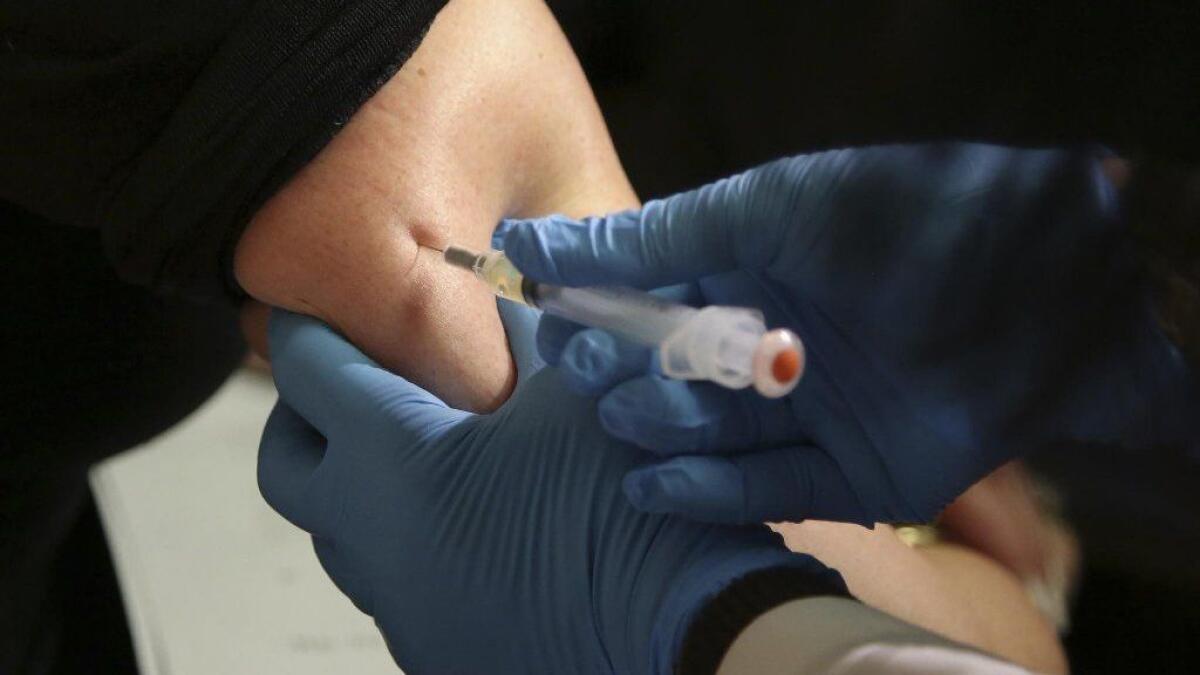 Reporting from Sacramento —
California public health officials estimate four in 10 children would be denied a waiver from vaccines required to attend school under a contentious bill to tighten medical exemptions in the state.
State public health officials said they expect students and their families to make 11,500 requests each year seeking an exemption from immunizations due to a medical reason, with 5,000 of those likely to be rejected under the new authority that Senate Bill 276 would grant to the agency.
The bill has prompted immense backlash from some parents, who say their children had adverse reactions to vaccines that would be deemed not severe enough to warrant a medical exemption under the bill. Hundreds of parents have flooded Capitol corridors for hearings and jammed legislators' office phone lines arguing that the state should not be able to overrule a doctor's medical advice.
"Someone like my daughter who suffered 16 seizures after her first and only vaccination would not qualify," said Michelle Sabino of Orange County. "She would be forced to be vaccinated in order to attend kindergarten."
California has been able to reduce its vulnerability to diseases such as measles due to a high vaccination rate. Nationally, more than 750 people have been diagnosed with measles this year, the most cases nationwide in more than 20 years.
Of those, 44 cases of the measles have been in California, which has some of the strictest laws in the country requiring childhood vaccinations in order to attend public or private schools. California only allows exemptions if a doctor says there is a valid medical reason to skip all or some shots.
But the author of SB 276, Sen. Richard Pan (D-Sacramento) said doctors are excusing too many children from immunizations for questionable reasons, such as for having asthma or diabetes, prompting his push to allow the state to review existing and newly sought exemptions.
The state's public health department estimated that temporary medical exemptions would also be reduced under SB 276, with 500 being denied each year of the 3,500 the state expects would be filed.
"The real issue we are looking at is we have these schools with high numbers of medical exemptions," Pan said in an interview Friday. "These schools are not safe from an outbreak. One student during spring break who travels to Europe can catch a disease and bring it back to their school. You have children who legitimately need a medical exemption and we are trying to protect them."
Pan said reports of doctors advertising medical exemptions for money prompted him to introduce the bill. He said the state's medical board that oversees doctors has found it difficult to investigate "unscrupulous" physicians selling medical exemptions because the parents seeking them are not cooperative.
Now, with a nationwide surge in measles, Pan said the state must ensure every child who can be vaccinated gets their shots.
Under SB 276, the state's Department of Public Health would ultimately decide whether the underlying condition for seeking the medical exemption meets guidelines set by the Centers for Disease Control.
Medical exemptions that have already been approved would have to be submitted to the state for inclusion in a non-public database by the end of 2020. The bill would allow public health officials to review and possibly revoke existing exemptions.
Opponents of the legislation have argued that the majority of medical exemptions would be rejected under the bill, far more than the 40% predicted by the Department of Public Health.
"Legitimate medical exemptions will be approved," said Catherine Flores-Martin of the California Immunization Coalition. "Opponents just don't like that their particular exemption may not be approved."
California, West Virginia and Mississippi are the only states that do not allow parents to opt out of vaccinating their children based on religious or personal belief reasons. California eliminated its personal belief exemption in 2015 under a bill authored by Pan that increased the state's overall immunization rates.
However, since that law was passed, the number of medical exemptions in the state increased from 0.2% in 2015-2016 to 0.7% the following two years. Pan said his bill would stop that number from trending upward.
"This is all to deal with a very small number," said Christina Hildebrand, founder of A Voice for Choice Inc., a group that opposes what it calls "forced vaccinations," in testimony to lawmakers in opposition to the bill. "It doesn't make sense."
The bill must pass the state Senate before May 31. If it does, it heads to the Assembly for consideration.
Follow @MelodyGutierrez on Twitter and sign up for our Essential Politics newsletter.
Get our Essential Politics newsletter
The latest news, analysis and insights from our politics team.
You may occasionally receive promotional content from the Los Angeles Times.