The rich buying names on college buildings is 'legal bribery,' Gov. Gavin Newsom says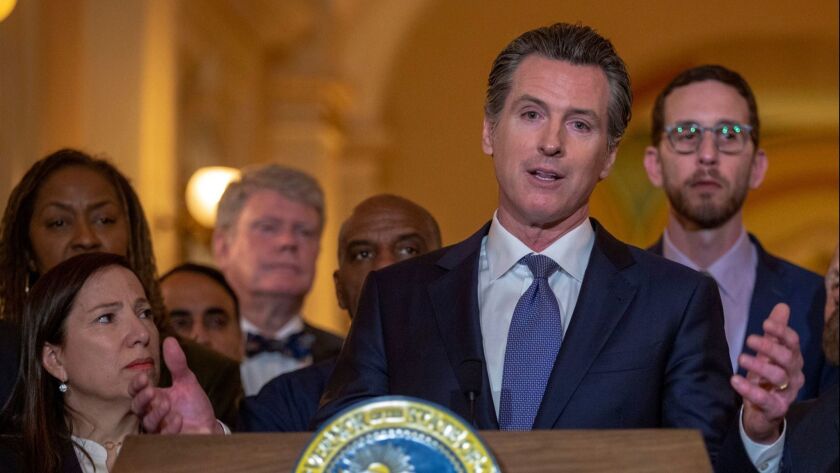 Reporting from Sacramento —
California Gov. Gavin Newsom said Friday that the college admission scandal extends beyond the recent charges against rich parents buying entrance to elite colleges and suggested it should include the "legal bribery" of billionaires buying naming rights on university buildings.
The governor did not mention the University of California system specifically, but seemed to allude to it and other universities statewide.
His comments come just days after a slew of well-known Hollywood actors, business titans and college athletics officials were indicted as part of a widespread corruption scheme involving the admission of students to top universities using falsified test scores and athletic profiles.
FULL COVERAGE: Dozens charged in connection with college admissions schem »
"It's a deeper issue than the bribery and holding these people to account, which they should be. It goes to the nature, again, of wealth," Newsom told Buzzfeed on Friday. "What about the legal bribery that exists in higher education? Do you think, seriously, does anyone think someone who writes a $100-million check to a university doesn't have a cellphone of someone who's influential?"
As governor, Newsom sits on both the UC Board of Regents, which oversees one of the public universities in the middle of the developing scandal — UCLA. He also sits on the Board of Trustees of the California State University system.
Newsom's comments came during an East Coast media campaign to defend his decision to impose a moratorium on the execution of California death row inmates. Newsom began Friday with an appearance on the "CBS This Morning," followed by an appearance on ABC's "The View" and National Public Radio's "All Things Considered."
When asked about the college admissions scandal, Newsom quickly pivoted to the systemic advantages that the rich and powerful exercise in the college admissions process, even at public universities.
"What about the folks writing the $20-million dollar check, putting their name on that building?" Newsom said during an interview on "CBS This Morning." "Connect the dots to the folks they quietly called for admission, or wrote a letter of recommendation."
Although the governor did not cite particular cases, there have been controversies in California involving the naming of college buildings, although not necessarily involving offspring of big donors getting special favors.
Newsom said the college admission system favors all "people of wealth and privilege," not just those who were indicted in the current scandal. That includes influential politicians. The governor intimated that he has also been contacted to intervene in the admissions process.
"It's true with anyone in positions with influence, and that includes politicians," Newsom said.
The governor did not propose any new policies to address the issue, saying that "we've got to reflect on this in a much deeper way" before taking potential action.
Twitter: @philwillon
---
Get our Essential Politics newsletter
The latest news, analysis and insights from our politics teams from Sacramento to D.C.
You may occasionally receive promotional content from the Los Angeles Times.