Gov. Gavin Newsom announces plans to improve California's wildfire prevention efforts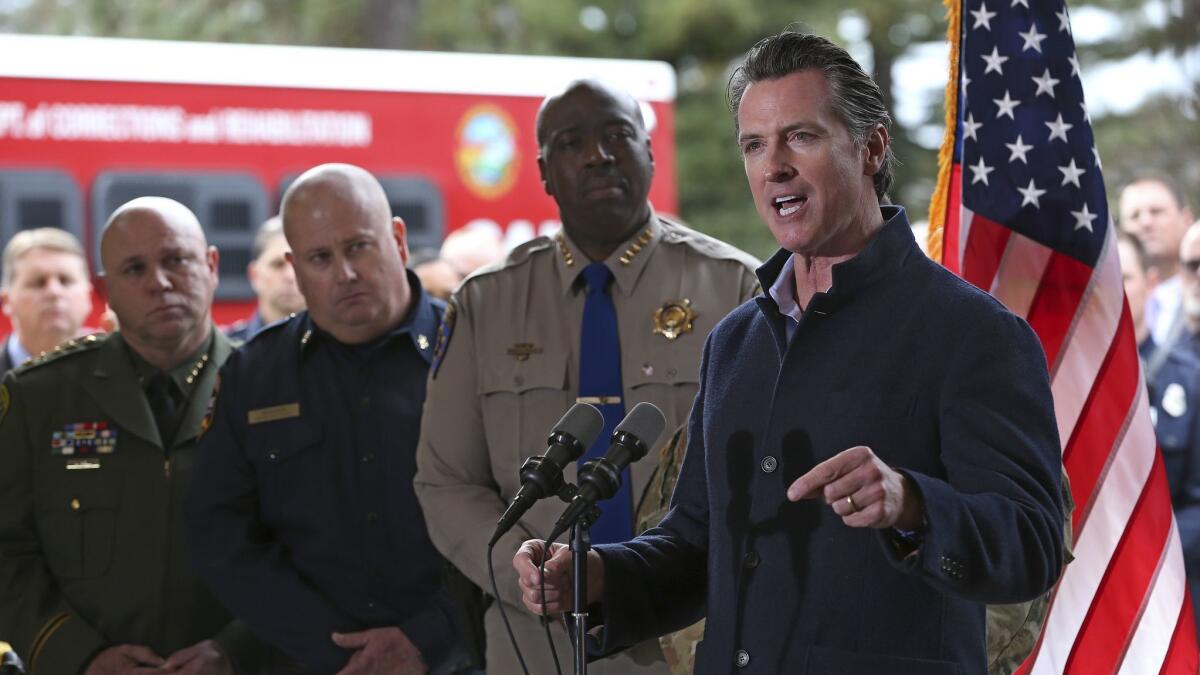 Reporting from Colfax, Calif. —
Following the deadliest year of wildfires in California history, Gov. Gavin Newsom on Tuesday proposed $305 million in spending to accelerate the removal of thousands of acres of dense, dry forests and brush, expand emergency crews and modernize 911 systems in California.
The funding, which Newsom said will be included in the budget proposal he will submit this week, includes $200 million from a five-year, $1-billion effort state lawmakers approved last year to expand California's fire prevention efforts.
Newsom also is throwing his support behind imposing a 911 fee on phone bills, starting in 2020, to help pay for improving that critical emergency communications system statewide, a measure that would require a two-thirds vote of approval by state lawmakers. To make the idea more enticing to the Legislature, where the fee proposal failed last session, the governor proposed spending $60 million over the next two years to jump-start the 911 overhaul.
"It's clear to me a lot more needs to be done. You will see that demonstrably recognized with our budget that I will be releasing later this week," Newsom said. "We will place an historic investment in our emergency planning and emergency preparations in this state."
The announcement comes after the destruction of November's Camp fire, which swept through the Northern California mountain town of Paradise, killing 86 and destroying more than 13,900 homes, and Woolsey fire in Los Angeles and Ventura counties that left three dead and leveled about 1,500 structures.
Newsom, in his first full day in office, made the announcement during a news conference at a Cal Fire station in the Sierra foothills Tuesday afternoon. He said his budget proposal will include funding for the removal of dead trees and dry, combustible vegetation; to add five new conservation corps work crews to do that work, along with 13 new fire engines; to improve mutual aid support with local agencies; and oward to improve emergency communications.
Funding to retrofit C-130 airplanes for fire suppression and money for hundreds of new "fire cameras," including infrared units to spot potential wildfires, will also be included in the budget, Newsom said. The state will also backfill the millions of dollars in lost property tax revenue in Butte and Lake counties because of recent wildfires, he said.
Newsom also announced that he will send a letter to President Trump, co-signed by Washington Gov. Jay Inslee and Oregon Gov. Kate Brown, asking his administration to "double the investment" in managing forests on federal lands in the three Western states.
The letter notes California has spent $111.3 million since 2017 to thin forests and curtail fire risk in the state, almost half of which was done on federally owned land. At the same time, the U.S. Forest Service has seen its budget cut by more than $2 billion since 2016, the letter stated.
California officials sparred with Trump after the Camp and Woolsey wildfires when the president blamed the disasters on California's fire and forest management.
Trump then came to California to tour the devastation and vowed to marshal federal government resources to help recovery efforts. Gov. Jerry Brown and Newsom, who accompanied Trump on the tour, praised him for issuing major disaster and emergency declarations, which will provide federal funding to cover up to 75% of California's costs to remove debris, conduct emergency activities and provide transitional sheltering.
"Rather than talking past each other, talking down to each other, maybe we can start partnering and [do] work that needs to be done to address our forest health and forest management," Newsom said Tuesday. "With all due respect, they cut their budget by $2 billion in the last few years … and yet we're being attacked."
On Tuesday, Newsom also signed an executive order to prioritize state emergency management spending on communities at high risk during natural disasters, including areas that are, based on geography, more disaster-prone or that have more vulnerable populations — including the elderly, who have more difficulty evacuating. The governor signed a second executive order to streamline the procurement process for state emergency agencies modernizing their equipment.
Finally, Newsom announced he will keep Governor's Office of Emergency Services Director Mark Ghilarducci, California Military Department Adjutant General David Baldwin and California Highway Patrol Commissioner Warren Stanley in their current positions. He also appointed Thomas Porter as director of the California Department of Forestry and Fire Protection. Porter currently serves as the acting director.
Rhys Williams, who served as Newsom's chief of staff in the lieutenant governor's office, also was named the governor's senior advisor on emergency preparedness and management .
Coverage of California politics »
Twitter: @philwillon
Updates on California politics
Get our Essential Politics newsletter
The latest news, analysis and insights from our politics team.
You may occasionally receive promotional content from the Los Angeles Times.