Must Reads: As Gov. Jerry Brown leaves office, he seems unlikely to retire from the only profession he's ever known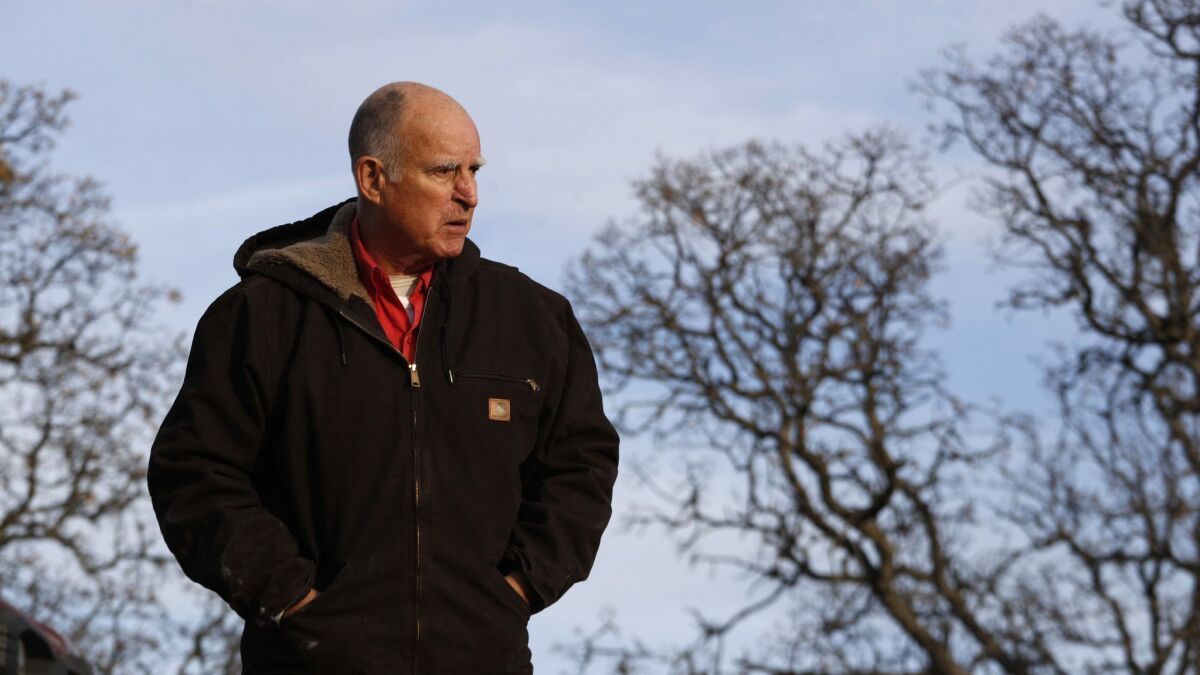 Deep in the recesses of Jerry Brown's mind, there seems to be an anecdote or a philosopher's teaching for most every quandary faced by an elected official.
Which explains why on a chilly December morning, after fussing with the fireplace in his rural Colusa County ranch home, a discussion of his historic tenure as governor turned to his Yale Law School studies in the early 1960s.
Settling into a comfortable chair with a cup of coffee, Brown likened a lesson learned in governing to the teachings of Friedrich "Fritz" Kessler, a Yale professor who specialized in contract law.
"He had a German accent and he always said, 'For every principle, there is a counterprinciple!'" Brown said, mimicking Kessler by adding a gravelly tone to his own raspy voice. He smiled slightly at his effort.
The point — in a way that only Brown would make it — is that things work until they don't. The more you know, the better you're prepared. Or as he routinely tells audiences in a self-deprecating nod to his age as the state's oldest governor, "There is no substitute for experience.
"In an experienced mind, there's a knowledge, a depth," Brown said. "A clarity, a wisdom that is profoundly important. But there also can be rigidity, and a lack of imagination as people do the same thing over and over again for decades."
Brown's critics may not like his decisions, but few would describe him as rigid. Equal parts politician and perpetual-motion machine, the 80-year-old Democrat leads by the Socratic method — rigorously questioning the conclusions in policy briefs, the precedent set by decades of state laws and the precise wording of questions posed by journalists. Brown pounces, bursting with additional points while others try to move to a new topic.
Brown was coy about what he'll do there. "I can't tell you," he said. Sensing the answer wasn't going to suffice, he tried something else. "Well, the internet speeds are rather slow here."
Whatever the reason, the soon-to-be private citizen isn't ready to share it.
---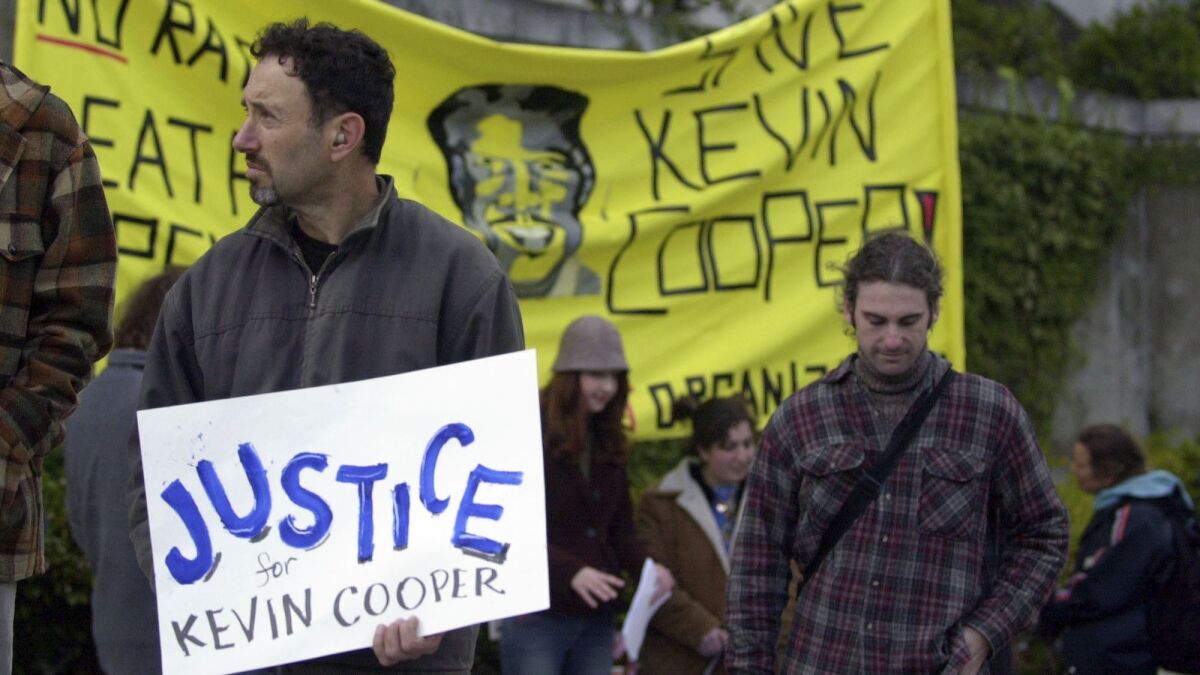 One safe bet for Brown's near future is a full-throated defense of his criminal justice legacy. The governor has his sights set on squashing a 2020 ballot initiative that would undo some of his efforts to overhaul state prisons by providing new parole opportunities for some convicted of lower-level felonies. Last month, he filed a lawsuit challenging the initiative's place on the ballot, insisting that the measure — which aims to rewrite his parole overhaul, Proposition 57 — was improperly drafted.
Brown took issue not only with the process used by the crime victims group that drafted the measure, but also what he believes is its intent.
"In my view, it's deeply anti-Christian, because it denies redemption," the governor said. "And redemption is at the heart of our whole civilization."
Those beliefs have led to a record no future governor may ever break: approval of more than 2,000 requests for clemency over his four terms in office. On Christmas Eve, Brown added 273 people to the list of those offered a second chance after prison or who are incarcerated with little or no chance of parole. He also ordered a new round of inquiry into the case of Kevin Cooper, a death row inmate whose conviction for four 1983 murders has been called into question. Brown labored over the particulars of clemency cases, carefully considering in long meetings with advisors where the line stood between relief and rejection.
Brown's views on crime and punishment in his second tour of duty were deepened, he said, by his experience as mayor of Oakland from 1999 to 2007. So too was his concern about state leaders making pronouncements from Sacramento that played much differently on the streets of communities across the state.
"I would say that direct experience with disputes about apartment complexes, disputes about schools … that's very concrete," Brown said. "I think the experience of the concrete issues of Oakland illuminated for me a lot of the more general issues that I face as governor."
But as California grows — its population is now 39.8 million, state demographers reported last month — the veteran politician admits the balance between local and state decision-making might need to shift toward Sacramento. Tops on the list of power struggles is whether the state's residents should be allowed to move farther into remote, vegetation-heavy areas where wildfire is almost a year-round danger.
"The locals get overwhelmed," Brown said of the ability of community leaders to determine how to prepare for natural disasters. "I do think flood and fire are matters of real importance. And state authority is needed."
He predicted fierce political battles ahead.
"They'll be very contested because you're going to tell, you're going to say to people, 'Your land can't be developed.' And they're not going to like that," he said.
Brown tussled with business and interest groups last year over the state's future wildfire policies, urging lawmakers to loosen the legal standards used to calculate costs paid by utility companies whose equipment is involved in the start of a blaze. Lawmakers rebuffed his effort to significantly change the standard of "inverse condemnation" by giving judges wide discretion to decide how much utilities should pay affected residents and communities. Instead, Brown signed into law a less expansive version of that proposal, failing to placate critics who said he had been too willing to offer the companies — especially Pacific Gas & Electric — a "bailout."
"There will be real changes," Brown said. "And there need to be changes. Obviously, the infrastructure hasn't gotten the attention that it needs. But it's not going to be pleasant because it costs money.
"I don't think you should call that a bailout. That's the investment needed."
---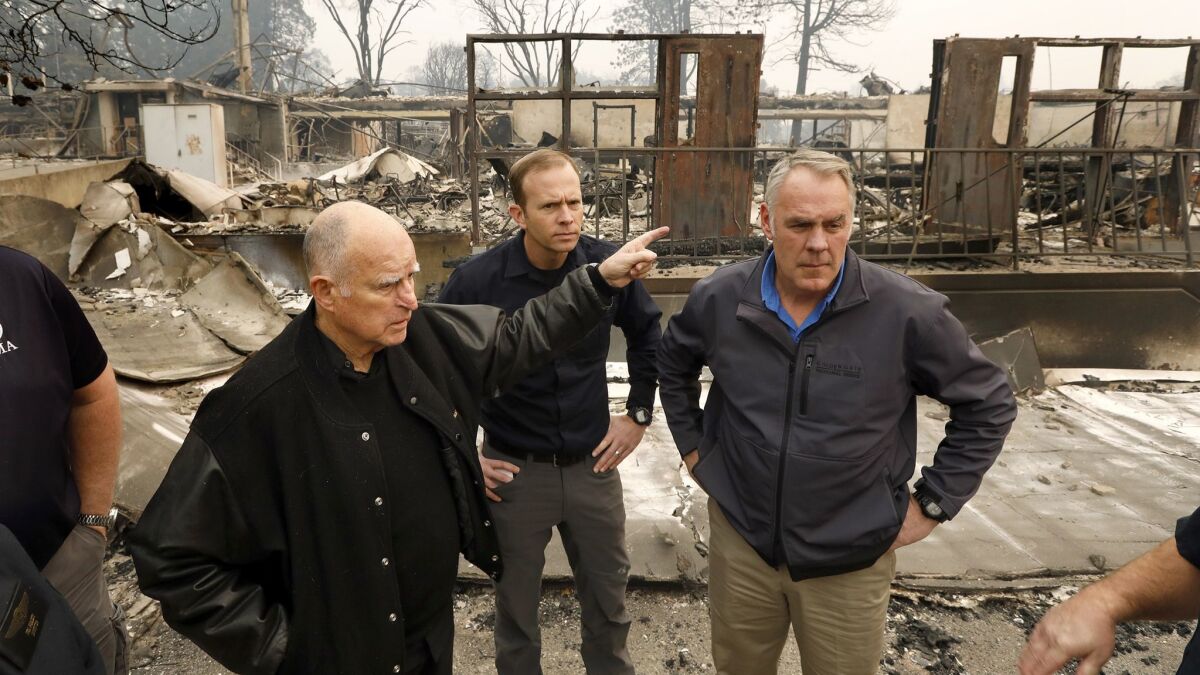 The devastation wrought by the Camp fire in Butte County and the Woolsey fire in Ventura and Los Angeles counties gave Brown the only real chance he's had in the last two years to assess up close the man who now dominates the nation's politics, President Trump.
Expectations were that the irascible president's visit to California would be tense. No state has positioned itself as an alternative to Trump's America more than the one led by Brown. The governor, who himself sought the presidency three times, has taken jabs at the Republican chief executive, though far fewer than state legislative leaders or Newsom.
But there was no awkward silence with Trump on Marine One as they flew north, Brown said, or later on Air Force One en route to Southern California. Quiet with Trump is rare, the governor said.
"He's very voluble and expressive and he's talking a lot," Brown said. "And so he has his views. He carries the conversation quite well, because he does most of the talking."
"Global warming is real. He doesn't think it's real. We didn't talk about climate change because, quite frankly, he's not open to that," Brown said.
"I raised that topic. And Trump did express concern about nuclear war and I thought that, so, that was a positive," Brown said. "He expressed, 'That's really bad' or something. So that was good. I felt that was a comforting thought that I think he's going to be trying to avoid nuclear war."
---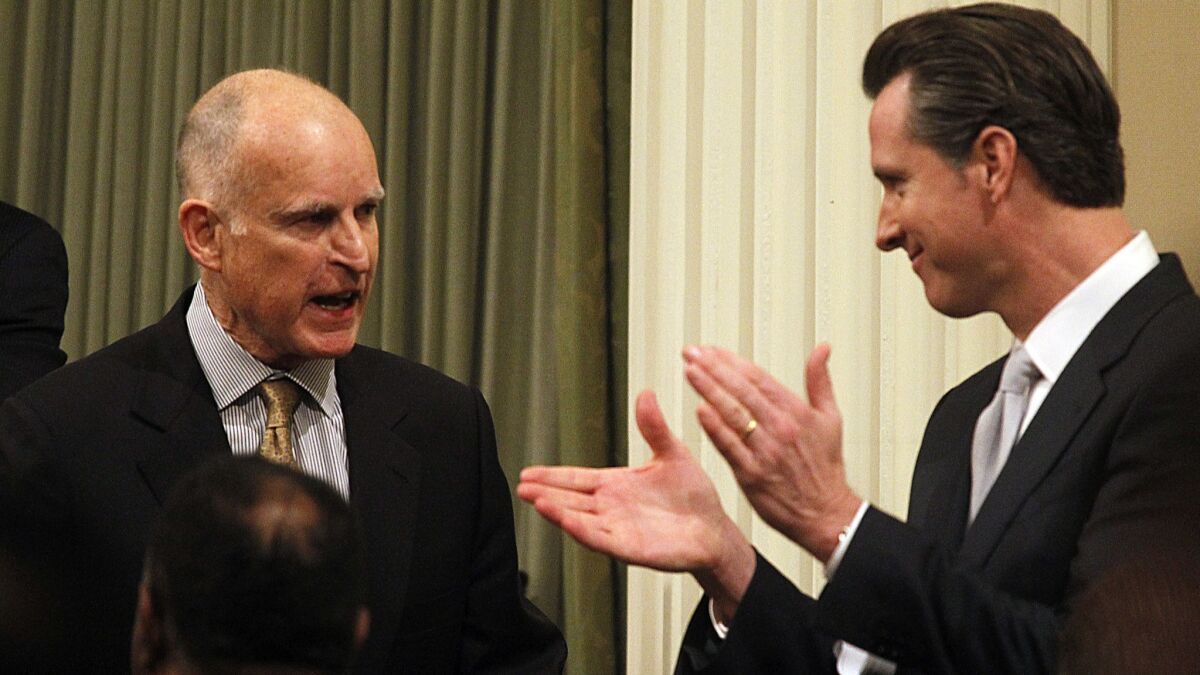 For the last eight years, Brown has led California with one of the smallest inner circles of any governor in decades. All within it are fiercely loyal and share his view: Pick your battles, work behind the scenes, don't say much in public. His top staffer, Diana Dooley, was a legislative aide in the 1970s. Her predecessor, Nancy McFadden, died in March and was a key architect of the idiosyncratic governor's recent success.
Brown credits his staff as responsible for much of his success in the final act of his career as an elected official. He said his ability to pick the right advisors and to connect with influential activists has improved over time and helped him navigate the state's rough political waters.
"And that shows up in the people that I bring into the governor's office," he said. "It also shows up in the relationship with the Legislature, and the relationship with unions, relationship with representatives and lobbyists of the various businesses and environmental groups."
The man who went from being elected a Los Angeles junior college trustee in 1969 to governor in just five years — in no small part due to having the same name as his legendary father — has embraced his evolution from an erratic but idealistic young politician to a senior statesman. Brown is frequently called "the adult in the room" when dealing with the Legislature, sometimes offering bitter medicine to his fellow Democrats — he took the unprecedented step of vetoing a budget in 2011 and has spurned ambitious bills to expand gun control and government spending. Lawmakers applauded Brown in public while sometimes privately grumbling that they, too, were cleareyed partners in governing the state.
Brown said youth was a disadvantage for him in his earlier terms as governor.
"That didn't give me the credibility I now have when I'm older than the other people and I'm more experienced," he said. "So not only do I have ideas where people would say, 'Well, you're the adult in the room,' but I also have the position that one earns by being on the front lines for a long time. Just like a general has more credibility than a corporal."
His legacy, though, is far from being written. The governor is quick to mention his father's work to build California's system of sending northern water to a thirsty Southland. But Brown will leave unfinished a sweeping, contentious modification of that system — a pair of tunnels diverting water underneath the Sacramento-San Joaquin Delta. His high-speed rail system, too, must be completed by others.
Brown acknowledges the limits of the job, and admits some of his most recent accomplishments were shaped by good fortune. Last month, state officials said California has created more than 3 million new jobs since the end of the Great Recession in early 2010.
"A governor doesn't create that," Brown said matter of factly.
He did, however, convince voters in 2012 to impose temporary taxes — a hike in personal income taxes on the most wealthy and sales taxes on everyone. That, plus the extension of the income tax rates by voters in 2016, has boosted the state budget's bottom line by some $24 billion in just the most recent three fiscal years.
"That affected schools, healthcare, in-home supportive services, childcare slots, prison reform, public safety," the governor said.
Under current projections, Brown will leave Newsom some $28 billion in short- and long-term cash reserves by the end of summer. The outgoing governor said his successor will need it.
"I've always been saying, 'Watch out, we're about ready to go over the cliff,'" Brown said. "I wouldn't be a bit surprised if we're already in a recession, but it won't really be noticed for another four or five months."
Brown admits to having few real hobbies outside of a voracious appetite for reading. In a speech to the Sacramento Press Club on Dec. 18, he gushed to have loved everything about his time in politics.
"I like sparring with the press, I like raising money, I like attacking my opponents, I like being attacked by my opponents," he told the crowd.
No one may ever again see politics from as many vantage points — local government, three different statewide elected offices, three campaigns for the presidency. Brown, who said there are no plans for a vacation in the coming months, seems at ease with whatever California's historians might someday write about him.
"I've been able to leave on fairly good terms," he said. "I think I was skillful and we got a lot done."
Follow @johnmyers on Twitter, sign up for our daily Essential Politics newsletter and listen to the weekly California Politics Podcast
---
Life is stressful. Our weekly mental wellness newsletter can help.
You may occasionally receive promotional content from the Los Angeles Times.