Panetta, Alejo among Democrats considering a run for Central Coast congressional seat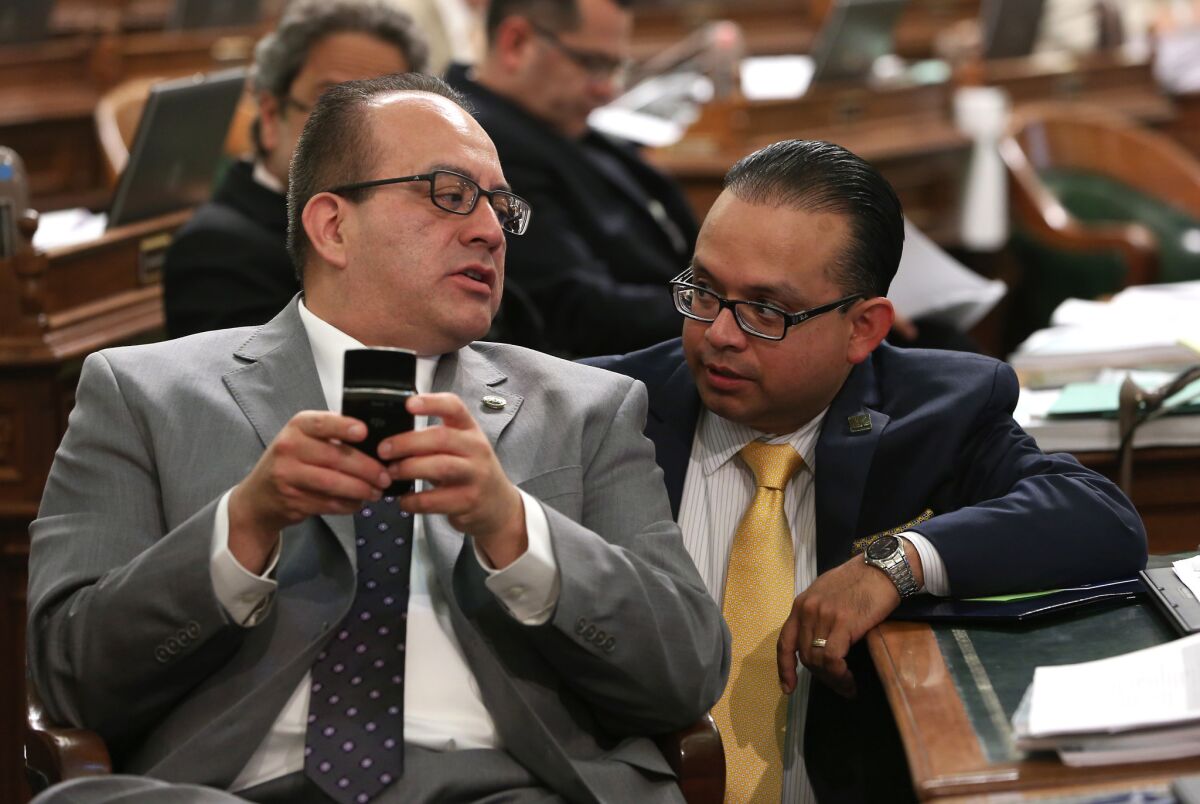 Monterey County Deputy Dist. Atty. Jimmy Panetta and State Assemblyman Luis Alejo (D-Watsonville) are considering bids to replace retiring longtime Rep. Sam Farr (D-Carmel).
Panetta is the son of Leon Panetta, the former secretary of Defense and CIA director who once held the seat for 16 years. The younger Panetta is seen by political observers as a strong contender.
"It is a serious consideration," Panetta told the Los Angeles Times. Then he quickly turned to praise the man who has represented the district, which includes Salinas and San Lucas, since his father went to work in the Clinton administration in 1993.
"All that I can think of at this point is all of the accomplishments of Sam Farr," Panetta said. "He is the example of giving back to the community you are from."
Panetta said he expects to make a quick decision after what he dubbed as "serious discussions that need to be had with all family members."
Alejo, who is term-limited in the statehouse, said he'll think about entering the race over the next few weeks, looking at fundraising and who best can represent the culturally diverse district.
"I'm certainly interested and certainly looking at that race," he said. "Anybody trying to step into Sam Farr's shoes, which I don't think ever will happen, certainly has to take many factors into consideration."
Another possible contender is state Senate Majority Floor Leader Bill Monning, (D-Carmel) who first ran for public office against Farr for the congressional seat in 1993. Monning is in Guatemala and unavailable for comment, a friend said.
Pacific Grove City Council member Casey Lucius, a former national security professor at the Naval War College, already has announced a bid.
"I will continue to work hard and share my ideas regardless of who joins the race," the Republican said in at statement.
Farr has represented the district for more than two decades.
When Leon Panetta left to work for President Clinton, a crowded field of Democrats jumped for the first viable chance at the seat since the 1970s. Farr emerged from the dozen Democrats in the primary and defeated the Republican nominee, Pebble Beach attorney William McCampbell, 51.9% to 42.9%.
Since then, Farr has consistently won the Central Coast seat with more than 60% of the vote. The majority of registered voters are Democrats and the district's growing Latino population, drawn to the the Salinas Valley's agricultural industry, consistently turns out to vote, according to the nonpartisan election guide California Targetbook.
Former Assemblyman Fred Keeley, who has been involved in Santa Cruz-area politics for decades, said he expects as many as 20 Democrats to put their names forward for consideration.
Keeley said he expects Panetta, Alejo and Monning to be the major contenders for the seat, and each would have different routes in the election. Keeley was Farr's chief of staff in the California Assembly before being elected to the Assembly himself.
Panetta has the benefit of a familiar name, which could help him pull in independent and conservative voters, Keeley said.
"The Panetta name is absolute gold in the Monterey area," he said. "The family name is so overwhelmingly positive in the Central Coast that he picks up the middle and the right. It's hard to imagine a situation in which he doesn't finish first or second in June."
The question could come down to who else is on the ballot, he said.
Alejo is chairman of the Latino Legislative Caucus and could have a strong base of support in the district given that more than half of its population is Latino.
Monning could benefit because his Senate seat boundaries are similar to those of the congressional district, Keeley said.
Follow @sarahdwire on Twitter
Read more about the 55 members of California's delegation at latimes.com/politics
ALSO:
Farr says he'll retire to focus on being a grandpa
Pelosi's vineyard makes her fourth-richest Californian in Congress
---
Life is stressful. Our weekly mental wellness newsletter can help.
You may occasionally receive promotional content from the Los Angeles Times.