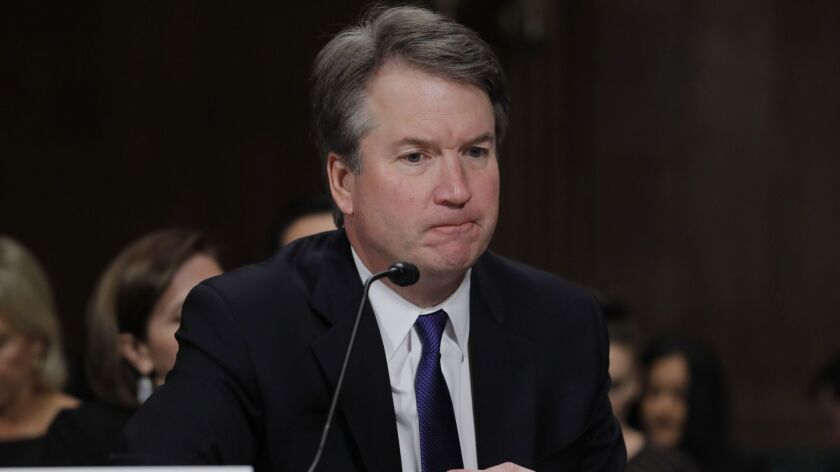 The testimonies of Christine Blasey Ford and Supreme Court nominee Brett Kavanaugh have gripped the country and roiled Capitol Hill.
On Friday, after two Republican senators joined Democrats in calling for a delay on a confirmation vote, President Trump ordered a short FBI investigation into Kavanaugh and the sexual assault allegations against him. Then eyes will turn to senators' votes — decisions that will not only affect the future of the high court but will probably impact voters' choices on election day.
More than 2,000 miles from Washington, 14 candidates running in seven California races that could flip control of the House are under scrutiny. Here's what they said — or didn't say — about the hearings.
45th Congressional District
After two survivors of sexual assault confronted Sen. Jeff Flake (R-Ariz.) over his support for Kavanaugh — footage that was shared widely Friday morning — Democratic candidate Katie Porter said Kavanaugh should not be confirmed without an FBI investigation. She also pitted Ford's testimony against the lack of response from her opponent, Republican incumbent Mimi Walters of Laguna Beach.
By confirming Kavanaugh without a thorough FBI investigation tells survivors nationwide that you don't matter. Your stories don't make a difference.
That is wrong. We must take *all* claims of sexual assault seriously regardless of party or political connections.

Period. https://t.co/jwk15nZYQ0

— Katie Porter (@katieporteroc) September 28, 2018
Both Walters and Porter have advocated for victims of sexual abuse on the campaign trail. During the primary, Porter spoke openly about her experiences as a domestic abuse survivor. And Walters has campaigned to pass a bill establishing rights for survivors of sexual assault in federal criminal cases.
48th Congressional District
Last week, Republican incumbent Dana Rohrabacher ridiculed Ford's allegation that Kavanaugh sexually assaulted her when they were teenagers.
"High school? Give me a break," said the 15-term congressman from Costa Mesa.
His Democratic opponent, Harley Rouda, lambasted the comments.
Dana Rohrabacher's reaction to Dr. Ford's allegations was an attempt to discredit and minimize her experience even before she had spoken in public.

Thank you Dr. Ford for your courage. It's incredibly selfless to put your life on display under intense scrutiny. #KavanaghHearings pic.twitter.com/JciLsl6cJE

— Harley Rouda (@HarleyRouda) September 27, 2018
39th Congressional District
Young Kim did not explicitly mention Kavanaugh. But on the eve of his and Ford's testimony before the Senate committee, the Republican candidate tweeted her support for reauthorizing the Violence Against Women Act — a law brought forward by then-Sen. Joe Biden that was set to expire this weekend.
2) When I was in the Assembly, I fought for women and victims of domestic violence. As your representative, I will work in an bipartisan way to break the gridlock in Washington and get results for our communities.

— Young Kim (@YoungKimCD39) September 26, 2018
Her opponent, Gil Cisneros, has previously criticized Kavanaugh and has also called for reauthorization of the Violence Against Women Act.
With the deadline approaching, it's time for Congress to act.

DC Republicans shouldn't play political games. They must reauthorize the Violence Against Women Act before it's too late.https://t.co/vbG2Tr0oxa

— Gil Cisneros (@GilCisnerosCA) September 12, 2018
10th Congressional District
Rep. Jeff Denham (R-Turlock) has not commented on Kavanaugh on Twitter.
His Democratic opponent, Josh Harder, has not recently commented on the hearings, but he previously criticized Kavanaugh and has tweeted support for sexual assault survivors.
Trump's #SCOTUS nomination of Brett M. Kavanaugh, a judge who just last year disregarded Supreme Court precedent on Roe by opposing the health care rights of young woman, is an unacceptable step backwards for women across the nation.https://t.co/KsNRq1FFm9

— Josh Harder (@joshua_harder) July 10, 2018
25th Congressional District
Democratic candidate Katie Hill has spoken openly about her experience with sexual assault and has stated her support for Ford and belief in her testimony.
Dr. Ford, as a woman and fellow survivor, I believe you and stand with you. As an American, I am deeply thankful for your bravery.

— Katie Hill (@KatieHill4CA) September 27, 2018
Sexual assault and harassment survivors have been silenced for too long -- by stigma, settlement agreements, and societal norms that protect the already powerful. We need to amplify women's voices and elect more of them to office #KatieforCA25 pic.twitter.com/Hg7oyg9BEw

— Katie Hill (@KatieHill4CA) December 18, 2017
Her opponent, Rep. Steve Knight (R-Palmdale) has not directly commented on the Kavanaugh hearings on social media. He has previously called for the reauthorization of the Violence Against Women Act.
49th Congressional District
Republican candidate Diane Harkey has not commented on the hearings.
Democrat Mike Levin, however, has been the most active candidate of the group on Twitter. He has stated and retweeted criticism of the hearing process.
Republicans on the Senate Judiciary Committee won't consult the FBI, won't hear testimony from key witnesses, and won't listen to any shreds of conscience they might still have. They are determined to persist with this mad rush of partisanship. We won't forget.

— Mike Levin (@MikeLevinCA) September 28, 2018
50th Congressional District
Republican incumbent Duncan Hunter of Alpine has not commented one way or another about Kavanaugh on social media.
His Democratic opponent, Ammar Campa-Najjar, has not commented directly, but he previously retweeted Alyssa Milano's op-ed about why she didn't report a past sexual assault. The story was published Sept. 21, when thousands shared similar stories after Trump questioned Ford's reasoning for not coming forward sooner.
Twitter: @cshalby
---