California legislators propose new way to handle harassment complaints in Capitol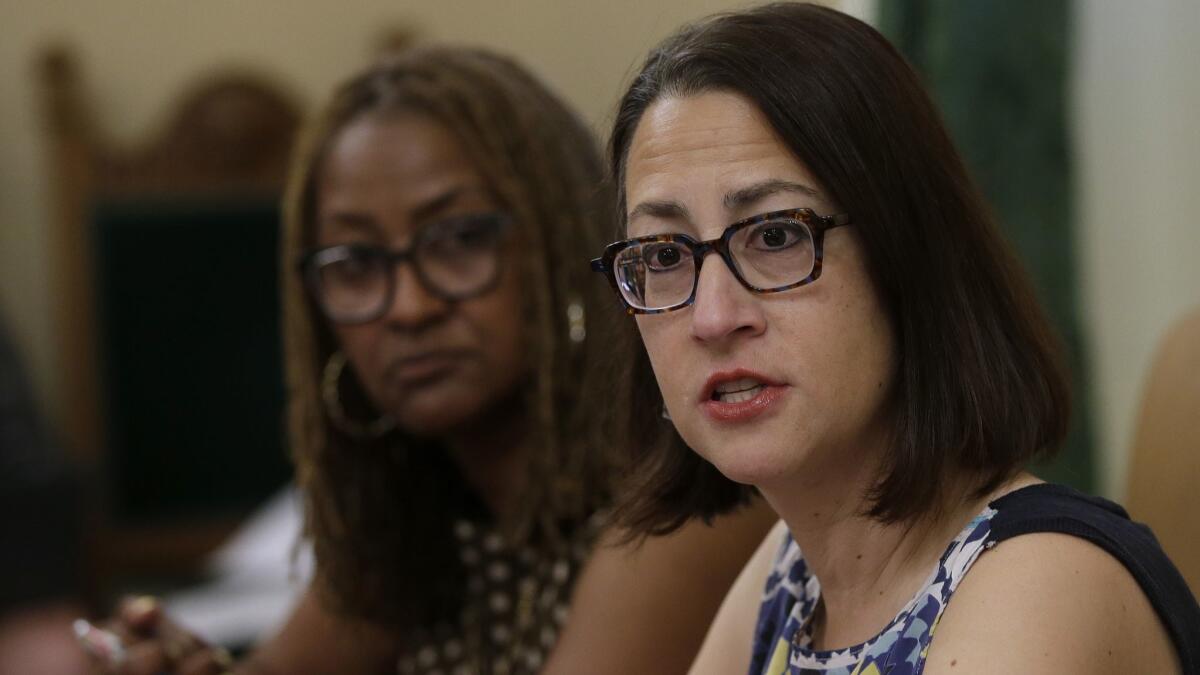 Reporting from Sacramento —
Many months after multiple scandals prompted the resignations of several lawmakers, a group of state legislators has proposed a new way to handle harassment and workplace complaints at California's Capitol.
In the biggest change under the proposal, investigations would be handled by a new unit of the Legislature's legal office.
The unit would be one of several potential changes to current procedures, which came under scrutiny amid the rise of the #MeToo movement and allegations of widespread sexual harassment and misconduct in state political circles.
"We are attempting to develop a policy in this current climate and culture that meets the need of legislative staff," said state Sen. Holly Mitchell (D-Los Angeles), one of two lawmakers who led a panel to examine the Capitol's sexual misconduct policies.
The proposed changes — which came after multiple public hearings — include comprehensive training for lawmakers and staff, and stronger anti-retaliation policies. The goal, the legislators said, is to foster culture change that will chill inappropriate behavior before it happens.
"Culture eats policy for breakfast," said Assemblywoman Laura Friedman (D-Glendale), who also led the committee. "You could have the best policy on paper, but until the culture of your organizations really embodies the culture you want to have, those policies can only go so far."
California Legislature releases a decade's worth of records on sexual harassment investigations »
Currently, the Senate and Assembly have separate policies. Each house handles its own complaints, decides whether to hire an outside investigator and determines if discipline is appropriate.
That procedure has been widely criticized by employees and lobbyists for being opaque, difficult to navigate and having high potential to be politicized because of a perceived lack of independence.
Under the new policy, a "legislative workplace conduct" unit would be housed in the Office of the Legislative Counsel. The unit would have jurisdiction over both houses regarding complaints about sexual harassment as well as discrimination based on race, gender, age and other protected categories. It would have the authority and budget to conduct investigations and report on the results. The unit would handle complaints from legislators and staff, as well as lobbyists and others who do business in the Capitol.
Once an investigation is complete, a panel of five subject-matter experts, such as specialists in employment law, would determine if the complaint has been substantiated, and recommend a response. The Assembly and Senate would keep their authority to decide how they want to respond to the panel's recommendations.
The policy would also include the Legislature's recent decision to publicly disclose certain records on substantiated harassment claims against legislators and senior staff members.
"We believe these recommendations are what the Capitol community is looking for," wrote the four legislative leaders, Senate leader Toni Atkins (D-San Diego), Assembly Speaker Anthony Rendon (D-Paramount), Assembly GOP leader Brian Dahle (R-Bieber) and Senate Republican leader Patricia Bates (R-Laguna Niguel), in a letter to Capitol staff. "They include processes that are independent, protect employees from retaliation, provide appropriate transparency, and underline our flat refusal to tolerate sexual harassment from anyone."
Friedman and Mitchell said they do not anticipate the proposal being enshrined in law. The policies will get a public airing beginning next week at a hearing of the Subcommittee on Sexual Harassment Prevention and Response. It would then need to be approved by the Joint Rules Committee, which governs operations of both houses.
The recommendations come after a period of tumult in the Capitol, sparked by an open letter signed by more than 140 women last fall alleging a "pervasive" culture of harassment in the Capitol. In the following months, several legislators, including Assemblymen Raul Bocanegra (D-Pacoima) and Matt Dababneh (D-Woodland Hills) and state Sen. Tony Mendoza (D-Artesia), resigned after multiple accusations of sexual misconduct were made public. State Sen. Bob Hertzberg (D-Van Nuys) was reprimanded after an investigation found he had given hugs that made recipients feel uncomfortable.
The ripple effects continue: Assemblywoman Cristina Garcia (D-Bell Gardens) is facing renewed scrutiny for allegedly groping a legislative staffer four years ago. The original investigation did not substantiate that claim, but earlier this week, Assembly leaders said it would do "further investigation" after the complainant appealed the findings.
Coverage of California politics »
Follow @melmason on Twitter for the latest on California politics.
Get our Essential Politics newsletter
The latest news, analysis and insights from our politics team.
You may occasionally receive promotional content from the Los Angeles Times.