Ex-Assemblyman Matt Dababneh, under legislative investigation on sexual misconduct allegations, sues lobbyist for defamation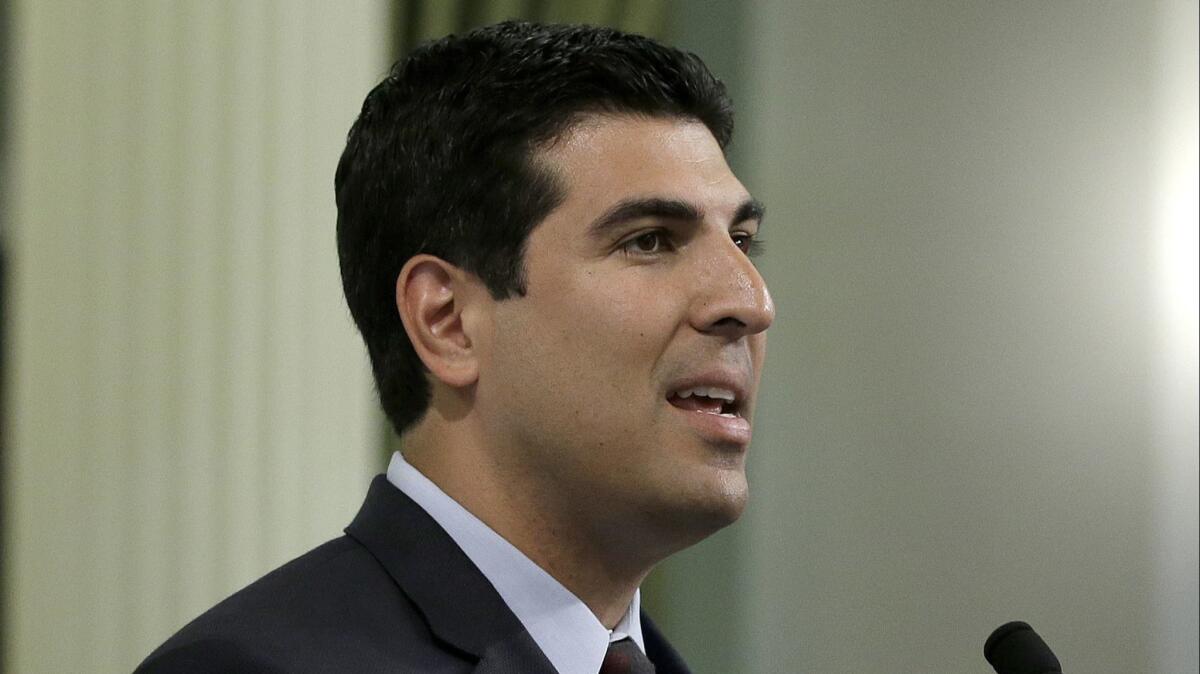 Reporting from Sacramento —
Former Assemblyman Matt Dababneh filed a defamation lawsuit Tuesday in Sacramento County Superior Court against a lobbyist who accused him of forcing her into a bathroom and masturbating in front of her. The suit comes nearly two months after a legislative investigator reported in a letter newly obtained by The Times that preliminary findings substantiated the woman's claim.
The Woodland Hills Democrat, who resigned eight months ago after sexual misconduct accusations, alleges that Pamela Lopez made false and public claims of inappropriate sexual conduct against him at a news conference and in a formal complaint with the Assembly.
A June 25 letter from the Assembly Rules Committee obtained by the Times on Tuesday said that an investigator determined Lopez's allegation — that Dababneh exposed himself to her and urged her to touch him in a Las Vegas hotel bathroom — was "substantiated" and in violation of Assembly policy.
The letter said the investigator, a Sacramento-based attorney hired by the Assembly, interviewed Lopez and 52 witnesses. It does not specify how the committee's determination was made.
Dababneh appealed the findings four days later, according to documents reviewed by The Times. The appeal said Dababneh had been "denied a fair evaluation" of Lopez's complaint, arguing he did not have the opportunity to respond to evidence against him, that supporting witnesses were not contacted and that the investigator spent time looking into "extraneous accusations" by other women that were unrelated to Lopez's allegation.
A spokesman for Assembly leadership said they do not comment on personnel matters. The Legislature publicly discloses sexual harassment complaints only if a claim is found to be substantiated and after an appeal is concluded, if one is sought.
The Times reported on several other women who publicly accused Dababneh of sexual misconduct and inappropriate workplace conduct. Those women are not named in Dababneh's defamation suit.
One woman, Nancy Miret, filed a police report in December alleging Dababneh had nonconsensual sex with her four years ago. The Los Angeles County district attorney declined to file charges on the matter on April 26 due to insufficient evidence, a spokesman said Wednesday.
Including Dababneh, three legislators resigned after public accusations of sexual harassment as the groundswell of the #MeToo movement hit California's state Capitol last fall. Dababneh is the first embattled lawmaker to file a defamation suit to push back against an accusation.
The complaint says Lopez's accusation did damage to Dababneh's career and reputation in the community, including his "being forced to resign from the California State Assembly." Dababneh's claim is for intentional infliction of emotional distress. He is seeking unspecified damages.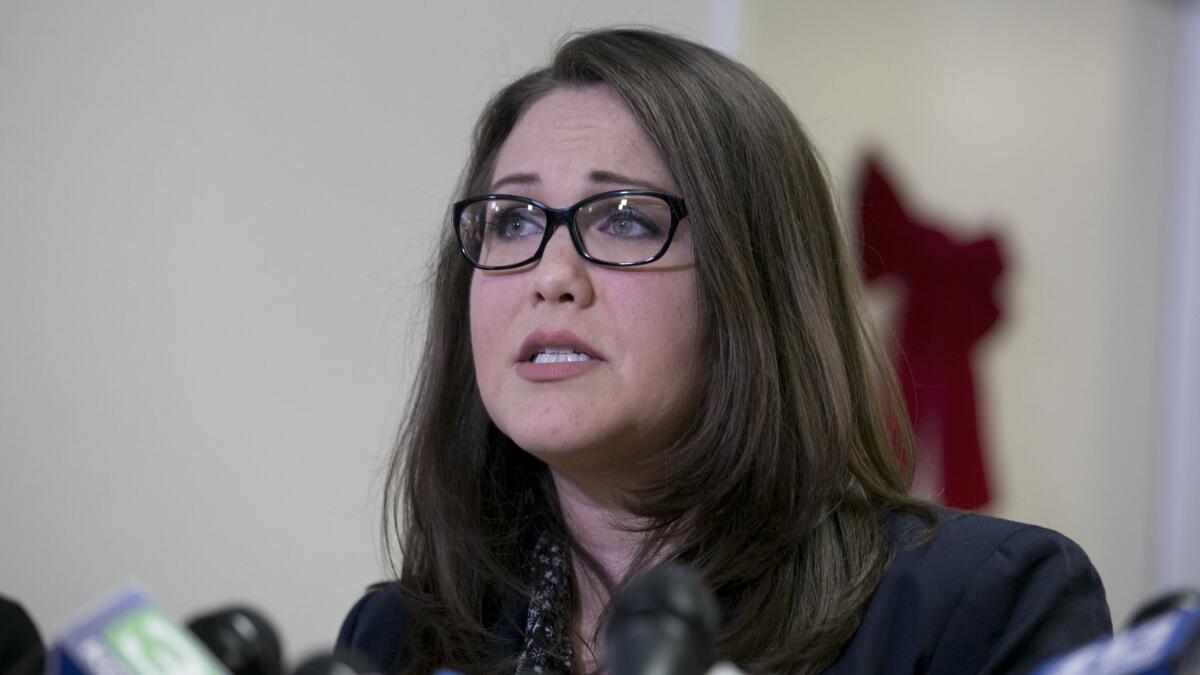 "From the first day that these allegations were made, Matthew Dababneh has maintained that he is innocent," said his attorney, Patty Glaser. "Unfortunately, my client was presumed guilty in this matter from the start, and was never given due process. Mr. Dababneh remains steadfast in his innocence, and yet has still not had an opportunity to share his evidence in an impartial setting."
Jean Hyams, Lopez's attorney, called the lawsuit "a shameless attempt by Mr. Dababneh to silence my client because she reported sexual assault."
"As this letter states, after interviewing 52 witnesses, the legislature reached findings that affirm Pam Lopez's account of what happened," Hyams said in a statement. "A victim of sexual harassment or sexual assault has every right to report what happened without suffering retaliation like this."
Lopez first shared her account of a legislator exposing himself to her in October, after more than 140 women signed a letter denouncing the "pervasive" culture of harassment in California politics. Lopez did not name the lawmaker at the time and said the encounter happened in the bathroom of a Sacramento bar.
Seven weeks later, she named Dababneh at a news conference and in an interview with The Times. She said the incident occurred at a mutual friend's party in a Las Vegas hotel suite. Lopez said she initially had misrepresented the location of the incident because she feared that disclosing the real location would make it easy to identify Dababneh.
Lopez told The Times that Dababneh had pushed her into the bathroom, exposed himself to her, masturbated and asked her to touch him. She said that afterward, she did not tell anyone at the party, but did speak to a co-worker and a friend about it soon after the Las Vegas trip. The co-worker and friend both told The Times she had described the encounter to them at the time and identified Dababneh.
California assemblyman accused of forcing lobbyist into bathroom and masturbating »
Upon learning The Times was preparing a report on the accusations, Dababneh denied the allegation and sent Lopez a cease-and-desist letter. Two friends of Dababneh's, who spoke to The Times at the legislator's request, said they were with him or within eyesight of him for most of the evening in question.
In his complaint, Dababneh blames Lopez for the ensuing political fallout, including being stripped of his post as chairman of the Assembly Banking Committee, and being "pressured by Assembly leadership and colleagues to resign."
When he stepped down on Dec. 8, four days after Lopez's news conference, he said his resignation was not an admission of guilt, but a belief that in the current environment, "it'd be very hard for me to represent my district and be able to pass the type of legislation that would be meaningful."
In April, Dababneh opened a new campaign committee, named "Matt Dababneh for Lieutenant Governor 2022," that would enable him to tap into previously raised campaign funds. The account has nearly $1 million cash on hand.
Follow @melmason on Twitter for the latest on California politics.
---
UPDATES:
3:25 p.m. Wednesday: This article was updated with information from the Los Angeles County district attorney.
8:25 p.m.: This article was updated with confirmation that the lawsuit has been filed.
6:45 p.m.: This article was updated with additional details throughout.
This article was originally published at 5:55 p.m.
Get our Essential Politics newsletter
The latest news, analysis and insights from our politics team.
You may occasionally receive promotional content from the Los Angeles Times.