Gavin Newsom has been more antagonistic to Trump than Jerry Brown was. And he's just getting started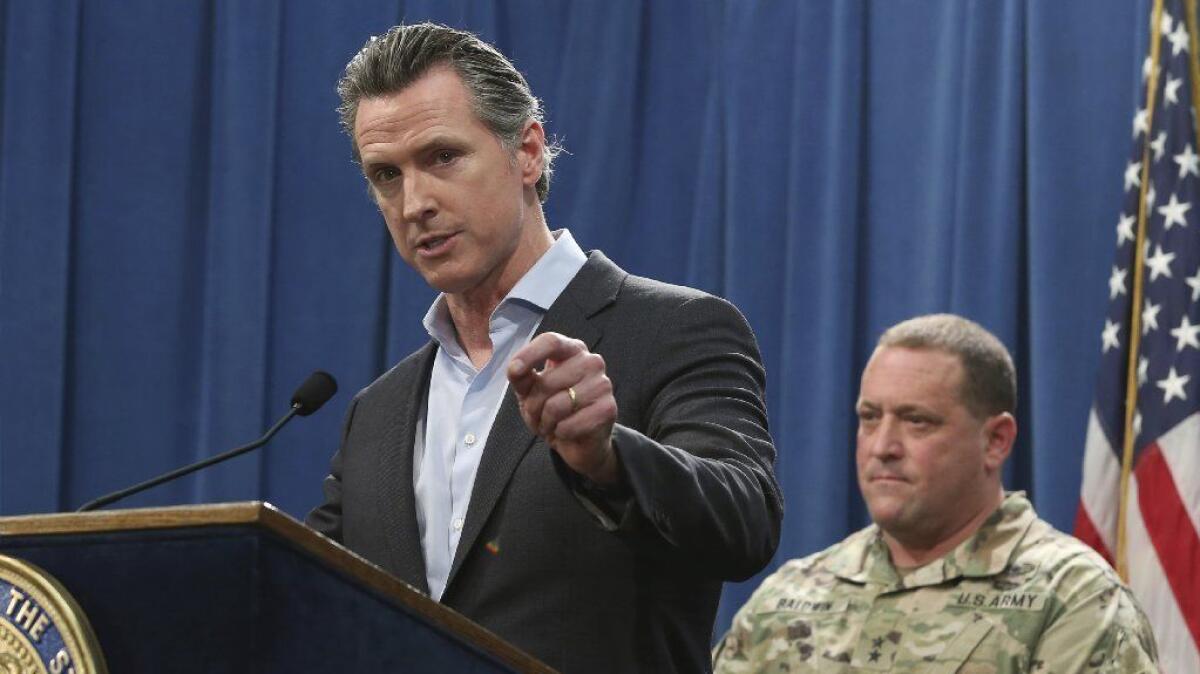 Reporting from Sacramento —
Gavin Newsom's decision to reassign National Guard troops from the Mexico border is likely just the beginning of a more aggressive stance by California and its new activist governor against President Trump's policies.
In his first month in office, Newsom has taken a more antagonistic approach to the Trump administration than former Gov. Jerry Brown, who was more reserved in discussing the president and left the Legislature to take the lead in denouncing Trump, who is highly unpopular in this deep blue state.
"Jerry Brown relished being seen as the adult in the room and finding opportunities to show that California really wasn't this lefty bastion," said Thad Kousser, a political science professor at UC San Diego. "I don't think Gavin Newsom has that first instinct."
The governor held little back Monday, dismissing Trump's border policies.
"It's comedy, folks," he said. "You know it. I don't know what the right adjective is without coming off as hyperbolic. The whole thing is ridiculous."
Newsom is likely to find a partner in state Atty. Gen. Xavier Becerra, who has filed more than four dozen lawsuits against the federal government, challenging attempts to limit access to birth control, curb immigration and roll back environmental protections.
Somewhere between volleys of caustic tweets and court fights, there is a growing belief in Sacramento and beyond that Newsom and Becerra together could take the Democratic resistance to a new level. And in doing so, they could elevate California's standing in the national debate while also raising their own profiles.
"They are going to be extremely effective working together," said Darry Sragow, a longtime Democratic strategist who publishes the California Target Book, which tracks legislative and congressional races. "I would expect they would not be holding their punches in taking on the administration when they think that is the right thing to do."
Newsom held a news conference at the state Capitol on Monday and blasted what Trump has described as a crisis at the border as a political stunt. He signed an executive order in front of reporters to withdraw and reassign roughly 360 National Guard troops Brown sent to the border at Trump's request last year. Under Brown's terms, the troops were not allowed to enforce immigration law.
The governor, who said he disagreed with Brown's decision, has frequently cited an overall reduction in illegal border crossings compared with previous decades as evidence that Trump is manufacturing a crisis to score points with conservative voters.
In another rebuke of Trump's policies, the governor's budget calls for the expansion of Medi-Cal to immigrants without legal status under age 26, and $25 million for nonprofits to provide shelter to migrant families at the border.
California has gone to court against the Trump administration 45 times, bringing the state close to the number of lawsuits filed by Republican attorneys general in Texas against the Obama administration. Becerra's lawsuits have targeted federal actions on immigration, healthcare, the environment, the U.S. census, education and the internet.
Last week, Becerra warned in a national televised address that he is prepared to sue the Trump administration again if the president declares a national emergency to fund a wall at the U.S.-Mexico border while cutting federal funds to fire-damaged communities in California.
"We are ready to reject this foolish proposal in court the moment it touches the ground," Becerra said.
He delivered the message as part of the Democratic Party's Spanish-language response to Trump's State of the Union speech.
"The idea of declaring a nonexistent state of emergency on the border, in order to justify robbing funds that belong to the victims of fires, floods, hurricanes and droughts, to pay for the wall is not only immoral, it is illegal," Becerra said.
Becerra's address was seen by some as another sign that California is leading the discussion among Democrats at the national level.
The attorney general's selection by party leaders to respond to the president is "a testament to the fact that for national Democrats, California is not merely the heart of the resistance, but the vanguard of the offensive," said Chris Lehane, a Democratic political strategist who worked in the Clinton White House.
The attorney general said Monday that his office will continue to assert itself in challenging Trump administration policies.
Becerra filed an amicus brief last week in support of a lawsuit to prevent the potential deportation of hundreds of thousands of people who hold temporary protected status. And last month, he led a group of attorneys general in securing a preliminary injunction blocking the Trump administration's attempt to deny women access to cost-free birth control guaranteed under the Affordable Care Act.
A spokeswoman for Becerra said the attorney general's office has been in touch with Newsom's team on a daily basis.
Newsom has proposed increasing the state Department of Justice's budget by $38 million in the next fiscal year and adding more than 200 positions.
Though Becerra was initially appointed attorney general by Brown, some say his aggressive legal posture against Trump has been closer to the hard line adopted by Newsom. Sragow said he expects Becerra and Newsom to "be in lockstep" on immigration, wildfires and other critical issues.
"California didn't get to be the fifth-largest economy in the world by standing idly by," Becerra said in a statement. "We will work with Gov. Newsom to use every tool at our disposal, including the courts, to protect our people and keep our state forward-leaning."
Newsom's decision to reassign the California National Guard troops was criticized by Republicans, including former gubernatorial candidate and Assemblyman Travis Allen, now making a bid for Republican State Party chairman, who said in a social media post that the governor is "abandoning Border Patrol and leaving California borders undefended."
Some in California have also warned that the state's efforts to poke the administration in the eye could backfire, affecting residents.
Two days after Newsom's Jan. 7 inaugural address, in which he took a swipe at the federal government for separating children from their parents at the border, Trump threatened to cut federal disaster funding for California fire victims. The day after Becerra's speech, Trump indicated that talks with state officials were going well.
Robin Swanson, a Democratic political strategist, said Newsom is effectively using the bully pulpit to attack the president.
"That's where Donald Trump keeps score — in news hits and quotes and tweets," Swanson said.
Playing starring roles as Trump antagonists only offers a political benefit to Newsom and Becerra, both on the national level and in a state that favored Democrat Hillary Clinton by more than 4 million votes in the 2016 presidential election, she said.
"I think it's a smart move by both of them if they do have aspirations because they need to be known beyond the border of California," Swanson said. "Frankly, any time Donald Trump utters their names, it raises their profiles."
More stories from Taryn Luna »
Follow @tarynluna on Twitter and sign up for our daily Essential Politics newsletter.
Get our Essential Politics newsletter
The latest news, analysis and insights from our politics team.
You may occasionally receive promotional content from the Los Angeles Times.