California lawmakers reject cannabis tax cut but advance bill requiring more pot shops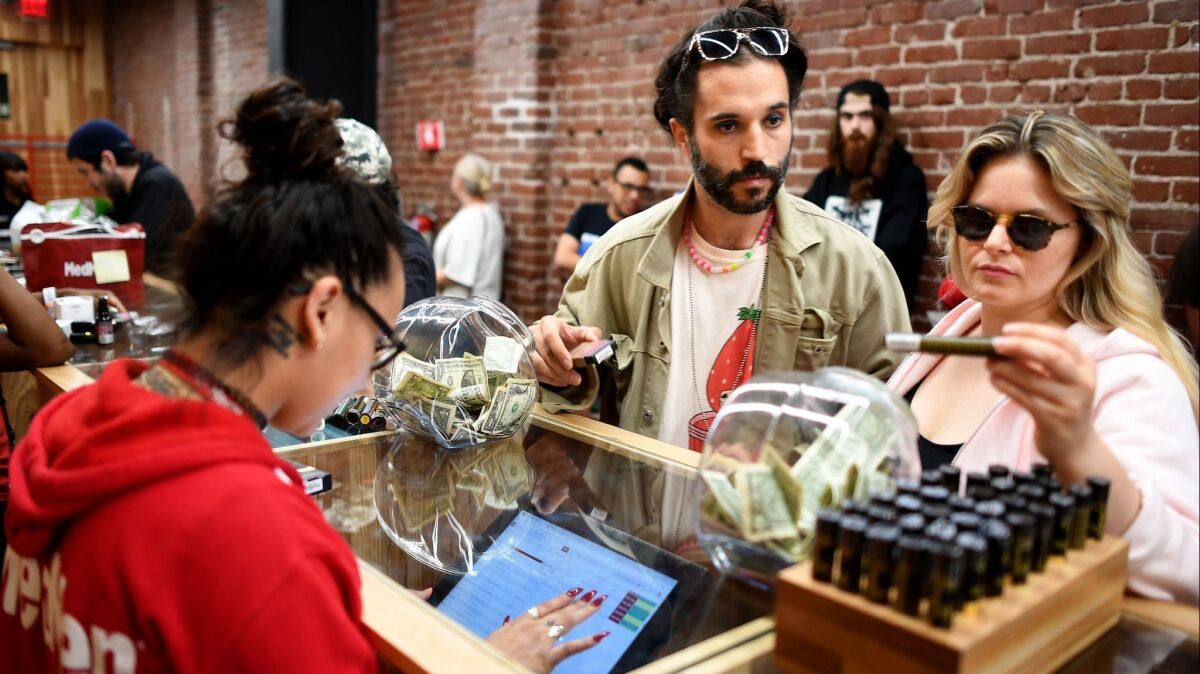 Reporting from Sacramento —
California lawmakers balked Thursday at cutting taxes on cannabis to help the foundering legal market, while they moved forward a proposal to require more cities to allow pot shops but reduced the number of new stores required.
Both bills were aimed at bolstering state-licensed cannabis sales and reducing the black market for the drug two years after Californians approved Proposition 64, which legalized its recreational use.
With two-thirds of cities outlawing pot shops, the state has licensed 631 retailers, about 10% of what state officials originally expected.
Cannabis sellers and consumers complained that state taxes on the drug were too high, providing an incentive for residents to buy it on the black market.
In response, Assemblyman Rob Bonta (D-Alameda) authored a bill that would have reduced the state excise tax on cannabis sales from 15% to 11% for three years and suspended the cultivation tax of $148 per pound during that period.
The Assembly Appropriations Committee shelved the bill for the year after its staff estimated it would cost the state $227 million in revenue for the fiscal year starting July 1.
The measure was supported by state Treasurer Fiona Ma and the California Cannabis Industry Assn. as a way to create a more level playing field for the legal market.
"We are deeply disappointed that the committee chose to hold the bill," said Amy Jenkins, senior policy director for the association. "Reducing taxes on the compliant cannabis industry is essential to ensuring that licensed operators can compete against the illegal market."
Supporters said the proposal may resurface next year.
"I'm not happy," Ma said after the bill was delayed. "You are just killing the businesses of the people who are trying to do the right thing and comply."
A committee staff review said a tax cut could draw a lawsuit challenging the Legislature for altering a voter-approved initiative. Staffers recommended the committee "may wish to consider whether this bill is premature given that the legal industry has been operating for just a few years."
Assemblywoman Lorena Gonzalez (D-San Diego), the committee chairwoman, declined to comment on the decision to hold the bill. Last year the committee shelved a similar bill that she called "really expensive."
As it is, Gov. Gavin Newsom this month reduced his estimate of cannabis tax revenue for next year to $359 million, down $156 million from earlier estimates.
A leading supporter of Proposition 64, Newsom had not taken a position on the tax cut legislation but urged those concerned about the slow growth of the market to be patient, saying it could take five or more years to reach its potential.
A second bill aimed at helping legal cannabis sales was advanced by the committee to the Assembly floor Thursday, but only after it was changed to reduce its effects on cities.
The measure would require cities to approve cannabis stores if a majority of their residents supported Proposition 64.
The measure by Assemblyman Phil Ting (D-San Francisco) originally would have required one cannabis store for every four bars and restaurants with liquor licenses or 10,000 residents, whichever is less.
The Assembly panel amended the bill Thursday to require one pot shop for every six liquor licenses or every 15,000 residents.
Ting noted that while voters approved Proposition 64 in 388 of California's 540 cities and counties, two-thirds of local governments have outlawed cannabis shops.
The lawmaker said he was pleased that his bill moved forward to a floor vote. "We must ensure legal cannabis businesses can compete against the black market," Ting said. "AB 1356 will bolster public health and safety, and help the regulated market succeed."
The change in the bill did not convince representatives of cities, including Burbank Mayor Emily Gabel-Luddy, to drop their opposition to Ting's proposal. Proposition 64 gave cities authority to ban cannabis stores, the cities said.
The amended bill, Gabel-Luddy said Thursday, "still violates the terms of the initiative that was passed."
The proposal also continues to be opposed by the California State Assn. of Counties, according to spokeswoman Sara Floor.
"The bill infringes on local control and the ability to decide when and where commercial business are permitted in cities and counties," Floor said after the Thursday vote.
Ting's proposal ratchets up a dispute over cannabis sales after cities sued the state recently to challenge a rule allowing home delivery in areas that have banned pot shops.
His original bill would have required about 2,200 new cannabis stores to be approved. State officials said they are still calculating the effects of the amended bill.
The Assembly panel shelved some 249 of the 721 bills it considered Thursday. Those sidelined for this year include a bill that would have placed a $25 excise tax on the sale of new firearms with the proceeds to go to programs aimed at reducing gun violence.
Assemblyman Marc Levine (D-San Rafael) proposed the measure just weeks after a gunman killed 12 people at a Thousand Oaks bar.
The lawmaker hoped the issue could advance next year.
"The sad reality is that more children will be killed in schools and more families will be killed in their houses of worship until we take serious action to end gun violence," Levine said late Thursday. "Now is the time to act, and I hope my legislative colleagues will show courage when this bill is considered in January."
Sign up for our Essential Politics newsletter »
Twitter: @mcgreevy99
---
Life is stressful. Our weekly mental wellness newsletter can help.
You may occasionally receive promotional content from the Los Angeles Times.