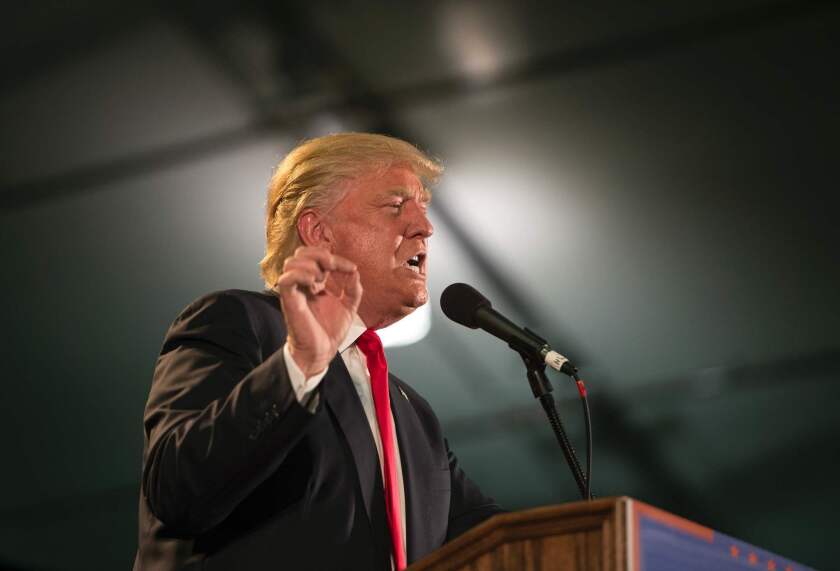 For Republicans, the news wasn't great last week. Donald Trump's response to the Orlando mass shooting was panned even by some in his own party. Discord erupted between his campaign and the Republican National Committee. Deficits surfaced in his campaign's fundraising, data capacity and organization.
By the end of last week, House Speaker Paul D. Ryan had announced in an NBC interview that party candidates should follow their consciences in deciding whether to back Trump. And rumbles renewed about an insurgent move to replace the presumptive presidential nominee at the July convention.
So it was more than strange that good GOP news arose in, of all places, California.
California has been a graveyard for statewide Republican hopes for two decades now, apart from the quirky happenstances of the Arnold Schwarzenegger years.
Before the primary here, many Republicans here worried that Trump's presence on the ballot would depress turnout, threatening party candidates down the ballot. That possibility was heightened when Trump's challengers dropped out weeks before the California vote, making the result a foregone conclusion.
What happened on June 7? Republican turnout went up compared with California's last presidential primary.
It's impossible to know what drove Republicans to the ballot box, but drive they did.
Overall, Republicans lost almost 300,000 voters between 2012 and 2016, to just under 4.9 million this year.
But in the votes tallied by Saturday afternoon, Republicans increased their turnout from 1.9 million in 2012 to nearly 2.1million. More than 1 million ballots remain to be counted and many of them are undoubtedly Republican, meaning that the increase will only get bigger.
Already, Trump had won more votes than Mitt Romney did in 2012 here, with 1.55 million votes. His vote also will grow as more tabulations are done.
As to overall GOP voting, the results were in line with turnout boosts among Republicans all over the country.
"Generally people have been pretty excited and engaged in this election cycle," said Harmeet Dhillon, the state Republican Party's vice chairwoman. "The Trump thing is one factor. It brought some Republicans who had not necessarily been engaged before."
Dhillon noted that Republicans worked to boost voter registration and turnout in key areas of the state with competitive legislative and congressional seats. But the growth in turnout was evident nearly everywhere.
Based on the most recent registration numbers, Republican turnout was more than 42%, a figure that will rise as more ballots are counted. The comparable figure in 2012: 37%.
Republicans saw a turnout boost both in counties which they control and in counties where they are underdogs.
The party's most successful region is the Central Valley — and in Fresno, Tulare and Kern counties, Republicans on June 7 notched turnout increases in double-digit percentages.
In Fresno County, fewer than 55,000 Republicans cast ballots in 2012; by Friday night more than 63,000 had been counted for this year's primary, a 15% increase and growing. Increases were even higher in Kern and Tulare counties.
More populous Southern California counties saw turnout jumps as well.
In the Inland Empire, voters responded to Trump's campaign with turnout far ahead of 2012 — by almost 38% in Riverside and 26% in San Bernardino. Most of that increase was accounted for by Trump's advantage over Romney.
This year's presumptive nominee also increased his edge over Romney along the coast, but not by the margins seen in the more conservative inland areas. In Los Angeles and Orange counties, about 14% more Republicans showed up. But Trump's advantages over Romney in those counties were far smaller.
Turnout is a concern for all political parties for a simple reason: Voters are most often lured to the polls by the candidate at the top of the ticket. Once there, they tend to stick around for races lower on the ballot. If Republicans are turned off by Trump this year, candidates all the way down the ballot will suffer.
That fear was not realized in the primary. In Central Valley congressional districts that are perennial battlegrounds between Republicans and Democrats, a drop in GOP turnout could mean losing the seat. Yet in the district held by Democratic target Rep. Jeff Denham, GOP turnout was up 13%; in the nearby district held by Rep. David Valadao, turnout was up nearly 17%.
None of this means California will turn red in November, despite Trump's public statements that he will contest the state. (presumptive Democratic nominee Hillary Clinton has so far won more than 2.5 million votes-and-counting here, about 1 million more than Trump.) And Trump's presence on the November ballot may well increase the turnout of his opponents.
There is also the problem of Trump himself. The swell seen here occurred before many of Trump's recent remarks renewed concerns about his candidacy. Republican leaders here know that turnout in the general election cannot be taken for granted.
"This is the primary," Dhillon said. "There continue to be concerns and uncertainty for the general election."
Twitter: @cathleendecker
ALSO
Bernie Sanders lists his demands and declines to praise Hillary Clinton—but has his leverage ebbed?
Kamala Harris strengthened, Loretta Sanchez weak as general election begins, new poll finds
California's presidential party is over, and here are some lessons
Full results from the June 7 primary
Updates on California politics
---