Column: Maybe not a bond, but there's a connection between Jerry Brown and Gavin Newsom as governors of California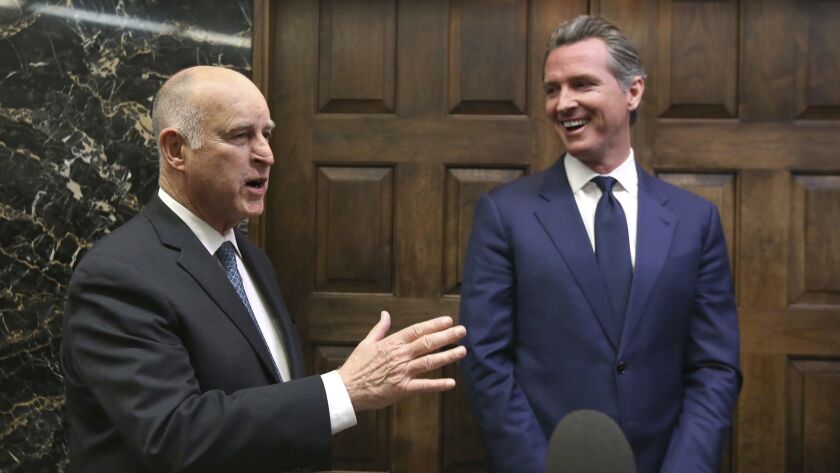 Sacramento Bureau Chief
It's unlikely two consecutive California governors have ever shared the multigenerational family connection that links Gov.-elect Gavin Newsom to his predecessor, Gov. Jerry Brown. But beware those looking for something deep: Any ties that bind together the two Democrats do so loosely.
"It's just not a normal political relationship," Newsom, who will be sworn in Monday, said in an earlier interview with The Times.
Brown is a singular figure in California's modern history, the scion of a political family whose meteoric rise in the 1970s gave way to failed efforts at the presidency and U.S. Senate before an electoral rebirth as a mayor, attorney general and governor. And it was Newsom, then a brash, young San Francisco mayor, who briefly stood in Brown's way, launching an ambitious campaign for the 2010 governor's race that fizzled almost a year before the election.
But the story goes back much further: Brown and Newsom are members of a political fraternity that dominated their shared hometown of San Francisco for much of the 20th century.
On crime and punishment, Gov. Jerry Brown leaves behind revised rules and a new focus on redemption »
Former Gov. Pat Brown, the current governor's late father, was elected that city's district attorney in 1943 after a campaign financed by three friends, including William A. Newsom II, the governor-elect's grandfather and son of a prominent builder and bank investor.
"If they hadn't agreed to put up $5,000 [each], I wouldn't have been a candidate," Pat Brown said in a 1978 interview for UC Berkeley's oral history project.
In 1960, Brown's administration awarded a Squaw Valley concession contract to the elder Newsom, a deal panned by a legislative analyst as the state "paying for everything and getting nothing."
The two men's sons grew up alongside each other. William A. Newsom III, the governor-elect's father, who died last month, was a few years older than Jerry Brown. Both graduated from San Francisco's St. Ignatius High School and Bill Newsom once briefly dated Brown's sister, the governor told the crowd at her eulogy in 2015.
During his first term as governor in 1975, Brown appointed Bill Newsom to the Superior Court in Placer County and then to a state appeals court. The governor-elect's father once recounted how his interest in environmental law and preserving Lake Tahoe had intrigued Brown.
"I went up a couple of times when Gavin was a little boy, and we met with Jerry and talked about things at the lake," Bill Newsom said in his own oral history interview with UC Berkeley in 2009.
Decades later, the young Newsom and an older Brown ended up on a political collision course. In 2011, frustrated with Brown's slow pace for appointing members of an economic commission he chaired as lieutenant governor, Newsom drafted his own statewide proposal. Brown, deep into an effort to erase a $27-billion budget deficit, didn't look kindly on the effort and grabbed the issue for himself by appointing a statewide jobs czar.
"Looking back, I wish I had a do-over," Newsom told The Times last spring. "He's dealing with triage and solvency. I would approach it differently."
In the years since, Newsom has praised Brown's fiscal philosophy for teaching that "you do not have to be profligate to be progressive," a mantra to be tested once hundreds of bills — with spending projections sure to run into the billions of dollars — are sent to his desk by the Legislature.
But on Monday, it will be Newsom's call on what to do, though few expect Brown — now with plenty of time to offer advice — to disappear altogether.
At a campaign event last fall, already preparing to move to his Northern California ranch, he had a simple message for his successor: "I'm only an hour from Sacramento," he said. "So, Gavin, do not screw up."
Follow @johnmyers on Twitter, sign up for our daily Essential Politics newsletter and listen to the weekly California Politics Podcast
---
Life is stressful. Our weekly mental wellness newsletter can help.
You may occasionally receive promotional content from the Los Angeles Times.