Column: Years in the making, the political showdown has finally arrived over California's money bail system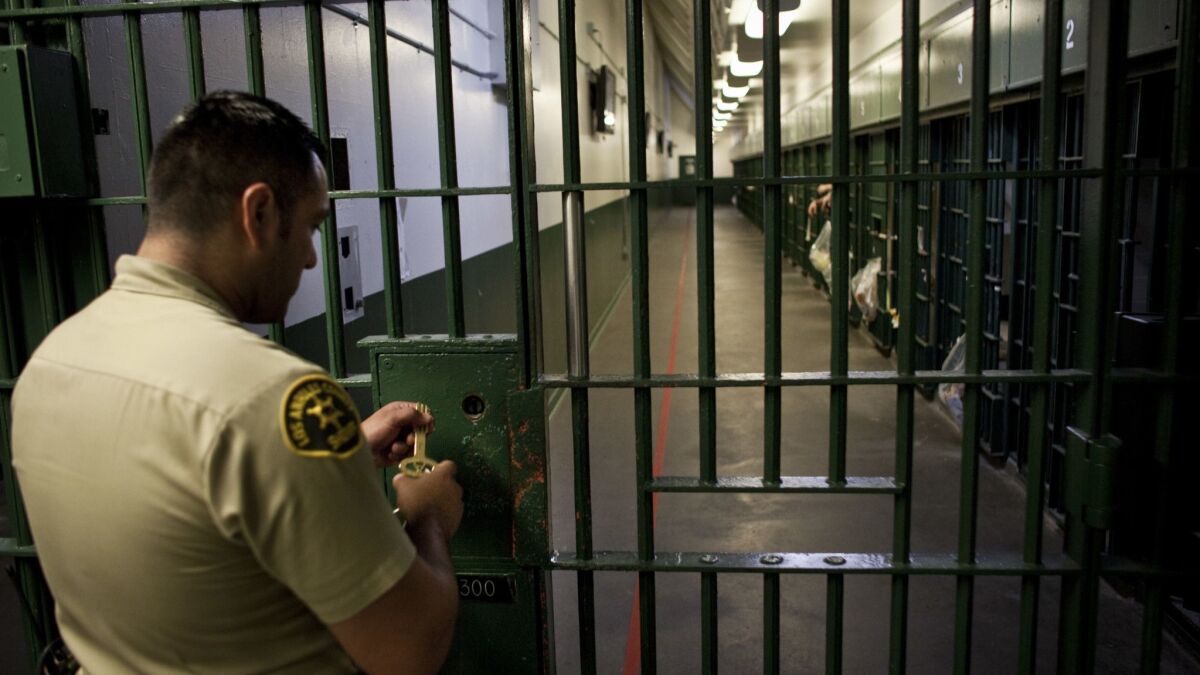 Sacramento Bureau Chief
With so many battles being waged over these final weeks of the California Legislature's session — contentious issues including wildfire liability rules and net neutrality — a crowd of Sacramento political watchers last week seemed surprised by the topic that's on the top of the to-do list for legislative leaders.
"Bail reform," Assembly Speaker Anthony Rendon (D-Paramount) said in remarks to the Sacramento Press Club. "It's something I consider to be not only a criminal justice issue, but an economic justice issue."
Senate President Pro Tem Toni Atkins (D-San Diego), who was sitting beside him, quickly chimed in.
"This has been a long discussion, and I couldn't agree more," she said.
Changes to the rules governing pretrial release — when bail is offered as a way to ensure someone doesn't skip town — have been considered, and rejected, in the Legislature for decades. Each time, the status quo prevailed.
This time, advocates for revamping the money bail system have some heavy hitters on their side, including Gov. Jerry Brown and state Supreme Court Chief Justice Tani Cantil-Sakauye. The chief justice's working group last year called the existing rules "unsafe and unfair" and urged reforms focused less on who has money, and more on who poses a danger to the community if released while awaiting trial.
Millions of Californians are poor, and they don't always live where you'd expect »
The proposal now on the table, Senate Bill 10, would require counties to establish a new system to evaluate the release of defendants and would limit the amount of money posted for bail to the "least restrictive level" needed to ensure the person shows up for court. The bill would give prosecutors the power to ask a judge to block the pretrial release of a person deemed too dangerous and would require those risk assessments to be done in a matter of hours.
While the effort is driven by a desire to prevent lack of money from being the primary reason an arrestee is kept in jail before trial, it's also seen as a way to tackle the high cost of cash bail to local governments.
"The current system takes up bed space at a cost of our governments between $116 a day in Los Angeles County and $215 a day in Santa Clara County," said state Sen. Bob Hertzberg (D-Van Nuys), the author of SB 10, in a hearing last summer. "And they're there for one reason, and one reason alone and one wrong reason: They can't afford to leave."
But critics worry about making it harder to find defendants who've been released and don't show up — especially if there's no bail agent involved with an incentive to track the person down and recoup costs. Others have criticized a one-size-fits-all statewide standard that doesn't take into account conditions that vary by community.
Historically, efforts to change the money bail rules have placed criminal justice reform groups on one side — led by those who believe serious economic and racial disparities are at play — and law enforcement organizations on the other, aligned with crime victims and the bail bond industry.
Private discussions over the fate of the bail system have lasted most of the current legislative session, and the specific bill language of SB 10 hasn't been touched in nine months. That means we're likely to see important changes as soon as this week, when the proposal faces a do-or-die moment in the Assembly Appropriations Committee.
The stakes are high and criminal justice debates in Sacramento are often a messy mix of partisanship and interest group arm-twisting. With so many prominent leaders engaged on the topic of bail reform, this month may be the time when the issue finally gets its moment on California's political center stage.
Follow @johnmyers on Twitter, sign up for our daily Essential Politics newsletter and listen to the weekly California Politics Podcast
Get our Essential Politics newsletter
The latest news, analysis and insights from our politics team.
You may occasionally receive promotional content from the Los Angeles Times.