As California lawmakers grapple with the state's fiery future, utility company liability dominates the discussion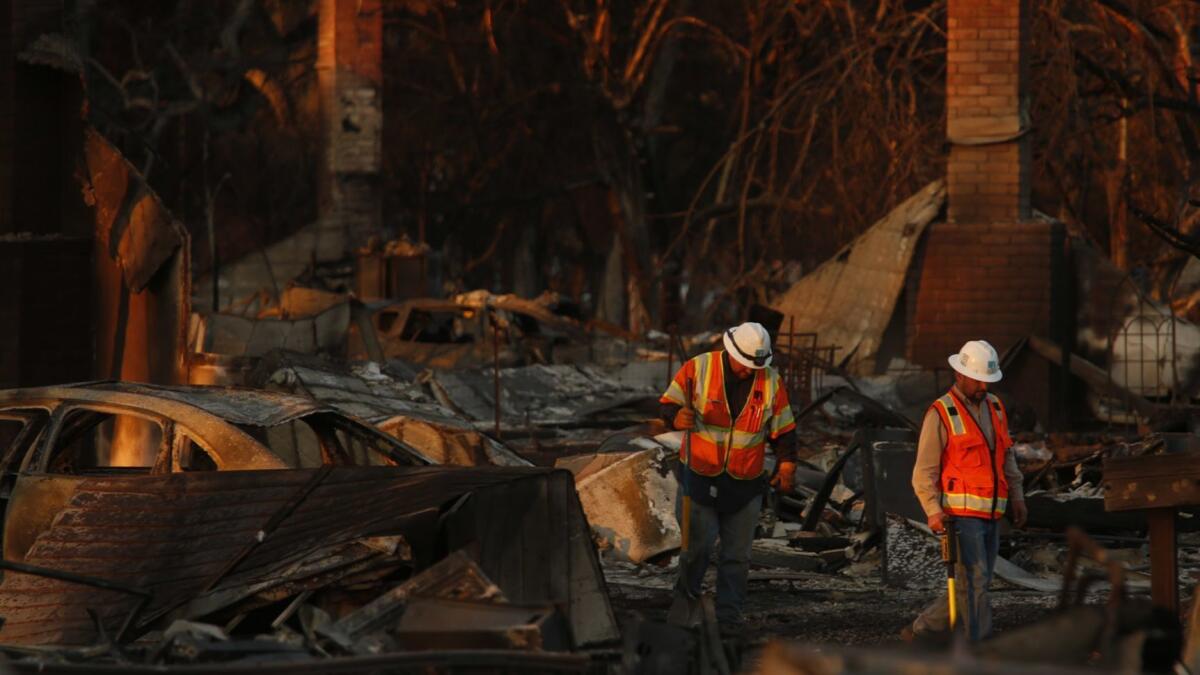 Reporting from Sacramento —
California lawmakers who vowed to craft a plan to address the growing danger of wildfires this summer knew they'd spend a lot of time talking about life and death. Few may have known how much time they would spend talking about the survival of electric utility companies.
In public and private discussions at the state Capitol, a pitched battle is underway over how much slack the Legislature should — or can — provide for the state's utility companies facing liability under a strict standard they have been held to for more than a half-century. Industry representatives have warned that those rules, combined with the forecast of a hotter and drier California, mean that proactive fire policies won't be enough to prevent the kinds of costs that could lead to bankruptcy.
"Even if the utilities take all those actions, and even if they are without fault, they could nonetheless be held liable," Henry Weissmann, an attorney representing Southern California Edison, said during legislative testimony Thursday.
As many as seven public hearings on the issue — easily the most high-profile and heavily lobbied topic of the summer in Sacramento — are expected to be held by the time the Legislature adjourns for the year on Aug. 31. Legislators are not required to change the rules governing utilities and the impacts of wildfire, but those who support such efforts are working to instill a sense of urgency under the Capitol dome. Additional attention was drawn to their case this week by thick smoke from fires in Lake and Shasta counties that hung heavy over Sacramento, a poignant reminder of what scientists call the "new normal" for wildfires in California.
While each of the hearings convened so far was expected to focus on different ways for utilities to improve wildfire prevention, the sessions have all been drawn back to the thorny topic of legal liability. On Thursday, lawmakers discussed the merits of a proposal by Gov. Jerry Brown to create a new standard for "inverse condemnation," the legal principle that governs billions of dollars in payments made by utility companies whose equipment contributed to sparking a fire.
Gov. Jerry Brown warns California's climate change efforts hinge on changing wildfire liability law »
If there were any legislators who supported Brown's plan, they didn't speak up. In particular, they criticized it for attempting to set a standard for a utility's actions without consensus on what a company's responsibility is in preventing its equipment from causing fires.
"Who's to decide at this point, when there aren't any standards, what is and isn't negligent conduct?" state Sen. Hannah-Beth Jackson (D-Santa Barbara) asked.
California's current crop of deadly fires has not been linked to sparks caused by power lines or other equipment, attributed instead to a vehicle mishap and alleged arson, among other things. Last year's fires, however, saw a strong linkage to the utilities. Pacific Gas and Electric Co., which owned equipment that state officials blamed for multiple Northern California fires last year, has estimated liability costs of at least $2.5 billion. PG&E is also asking the Legislature for help borrowing money to cover those costs, which would be paid back over time.
Lawmakers were adamant in Thursday's hearing that they wouldn't do anything to push costs onto utility customers. Last year, state regulators refused a request by San Diego Gas & Electric Co. to recover some $379 million in fire costs from ratepayers.
"I'm particularly concerned about affecting the ratepayers with anything we do," Sen. Ben Hueso (D-San Diego) said.
The existing liability standard potentially puts a utility company on the hook for all costs, even if it followed safety rules. But legislators have received sharply conflicting advice throughout their July and August deliberations on whether they have the power to overhaul the liability standard: State regulators and the utility companies say they do, while local governments and consumer groups insist the California Constitution limits any changes.
The issue has been the focus of intense lobbying by both investor-owned and municipal utility companies. State records show the industry has spent a record-high $34.5 million on lobbying for the year through the end of June. PG&E, in particular, has stepped up its spending on legislative lobbying. The company also sent $110,000 in contributions to the California Democratic Party earlier this week.
Lawmakers were told last month that only Alabama has a liability standard similar to California's. James Ralph, an attorney with the state Public Utilities Commission, said the governor's proposal would allow discretion by judges in assigning responsibility for a fire's origins. That would include taking into account whether the utility company followed all regulations, the nature of the harm to property and whether a safer electrical system was available but not used.
Ralph said that California's three large investor-owned utilities — Southern California Edison, PG&E and SDG&E — could face lower credit ratings and higher insurance costs as fire dangers rise around their power lines that stretch across the state.
"It leads to higher costs to ratepayers," Ralph said.
Representatives of local governments and the insurance industry, however, urged the Legislature not to loosen the liability standard — even if Brown's plan would pass legal muster.
"They want a financial shift to vulnerable people," Rex Frazier of the Personal Insurance Federation of California said of the utility companies. "It is irresponsible to solve one problem by creating many others."
John Dunbar, the mayor of Yountville in Napa County, told lawmakers the money paid after fires is urgently needed by victims. A change in the system, he and others argued, could result in lawsuits that drag on for years.
"It violates an individual's right to receive just compensation," Dunbar said of the governor's plan to loosen the liability standard.
Whether the Legislature can navigate the contentious issues regarding liability in just three weeks until the legislative session ends remains unclear. In the remaining days, lawmakers might also consider proposals that would connect California's electrical grid to a new multi-state partnership, and a sweeping plan to require utility companies to speed up the transition to renewable energy sources. In both cases, last-minute negotiations could become entangled in the debate over the utility industry's wildfire responsibilities.
And some lawmakers expressed frustration Thursday that so little time was being spent on ways to prevent the fires, including vegetation removal and the permits needed for utility companies to access private property and create more defensible space around the state's estimated 4 million electrical poles.
"Our citizens at home … they want us to get down to business," Sen. Jeff Stone (R-Temecula) said. "I think we're being hamstrung by this one issue."
Follow @johnmyers on Twitter, sign up for our daily Essential Politics newsletter and listen to the weekly California Politics Podcast
---
UPDATES:
1:28 p.m. Aug. 10: This story was updated to provide additional details about lobbying by PG&E and Thursday's legislative hearing.
This article was originally published at 7:15 p.m. Aug. 9.
Get our Essential Politics newsletter
The latest news, analysis and insights from our politics team.
You may occasionally receive promotional content from the Los Angeles Times.