Column: Millions of California voters saw same-party races on November's ballot and left the space blank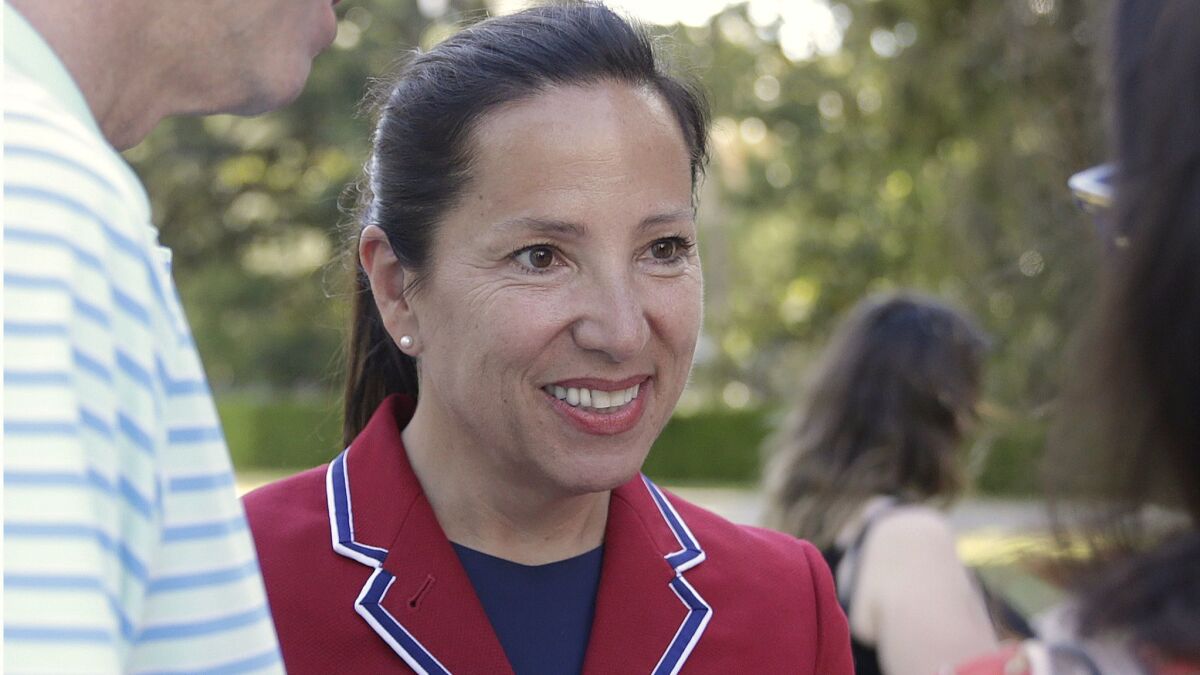 Sacramento Bureau Chief
As November's election results become clear, so does a new California conundrum: Voters may like the top-two primary — which doesn't guarantee any political party a spot on the fall ballot — but a lot of them skipped last month's contests in which the only choices were candidates with the same party affiliation.
It was not a lack of enthusiasm for the election. The percentage of registered voters who turned out was the highest for a regular gubernatorial election since 1982. Final results, expected later this week, will show about 12.7 million ballots cast statewide.
But some races were left blank, in what elections officials call an "under-vote." The reasons vary — some voters get confused or forget, and others simply don't like either of the two contenders.
A review of results from all 20 statewide races — eight constitutional offices including governor, the U.S. Senate and 11 ballot propositions — found three races were passed over by millions of voters. In each, both hopefuls were Democrats and the under-vote was substantial.
California's new Legislature will look a lot like the old one — and that's just what voters ordered »
Most glaring is a comparison between the total number of votes in the races for governor and lieutenant governor. Only 2% of California ballots didn't have a selection in the governor's race won by Gov.-elect Gavin Newsom, while 18% — nine times as many — skipped voting for or against Lt. Gov.-elect Eleni Kounalakis. In all, more than 2 million voters declined to pick the person who replaces the governor in the event of death, resignation or when he travels outside California.
Sure, the job doesn't have much political sizzle. But in 2010 and 2014, 95% of all ballots had a selection for lieutenant governor. Even in this year's June primary to winnow the field there were votes on almost 92% of ballots. Simply put, a sizable number of California voters were less enthusiastic by the fall.
Things weren't much better in the U.S. Senate race won by Sen. Dianne Feinstein over fellow Democrat Kevin de León, where there was an undervote on about 13% of the ballots. That's only slightly better than the percentage of ballots left blank for the intraparty U.S. Senate election in 2016.
Historically, the statewide race most skipped is for superintendent of public instruction, the only one where candidates don't list their political affiliation. Through the years, as many as one in four ballots have left this race blank — this year, though, 83% of participating voters weighed in. That might be because of massive campaign spending from charter school advocates in a losing effort for Marshall Tuck against the ultimate winner, Tony Thurmond.
No other statewide race received votes from fewer than 91% of ballots cast in November, even those for less prominent posts or overlooked ballot measures. And so the question is whether a lack of sharp contrast — candidates who clearly seemed different from each other — may explain the lack of interest.
Supporters of the top-two primary promised more competition and more voter interest. Early in the governor's race, there was buzz that a second Democrat, former Los Angeles Mayor Antonio Villaraigosa, could end up on the fall ballot alongside Newsom. But the final results suggest more voters, ostensibly led by Republicans, might have left the race blank.
Partisanship is not everyone's cup of tea. More than one-fourth of all California voters have declared themselves "no party preference" in their registration. But parties remain a key part of the voting experience. In races where voters seem to know little about the candidates, party affiliation serves as a hint to the person's ideology and, even after efforts to limit the influence, still drives turnout.
Follow @johnmyers on Twitter, sign up for our daily Essential Politics newsletter and listen to the weekly California Politics Podcast
Life is stressful. Our weekly mental wellness newsletter can help.
You may occasionally receive promotional content from the Los Angeles Times.